Download Canon MX870 Drivers Updates
Canon MX870 error 6a80? Canon MX870 error 6c10? Canon MX870 b200 error?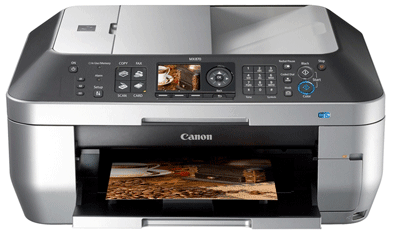 Canon MX870 error 6a80 and error 6c10
The first thing to do when presented with either of these Printer errors, is to turn the printer off and unplug for about 10 minutes. If the error was being shown incorrectly then this action should clear it and all should be working fine again.
Unfortunately it is not always so simple, so if your 6a80 or 6c10 error still persists, read on.
If you are seeing these or any other Canon errors, then follow the steps set out below to troubleshoot the error and get your MX870 device working again.
Turn off the printer
Open the top
Turn the power back on
The print cartridge will move to the centre and when it does so, close the top
Check if this has cleared your error
If error 6c10 or 6a80 still persists then you may need to clean the ink pads and printheads inside the printer. You can do this using a q-tip to reach inside, rubbing alcohol will help to remove the ink from any areas it has accumulated. To clean your MX870 of accumulated ink/ debris do the following:
unplug the printer
open the top of the printer and locate the ink tray (it may be covered in ink but is originally white)
clean all around and inside the tray using a q-tip dipped in rubbing alcohol
clean the rail that the tray is mounted on
leave the top of the printer open for a few minutes to dry all the cleaned areas
when dry close the top of the printer and plug back in
This should clear your error 6c10 or 6a80 error.
Canon MX870 b200 error?
The b200 error can sometimes show if one or more of your ink cartridge is low so the first thing to do is check you ink levels and replace any cartridges as necessary.
If replacing the ink cartridges does not clear the error then try the following steps:
turn the printer off
open the top and move the print cartridges section along the rials to the left of the machine
press the on button quickly 5 times (alternatively you press and hold the stop button for 3 seconds > press the on button and release stop button > while still pressing on button press the stop button 5 times > release all buttons)
close the top of the printer
Hopefully the B200 error should be cleared.
How will a Driver Update Tool fix my Canon MX870 Drivers?
A Driver Update Program will instantly resolve your drivers problems by scanning your PC for outdated, missing or corrupt drivers, which it then automatically updates to the most compatible version.
Why should I download Driver Update Software?
Apart from updating your Canon MX870 Drivers, installing a Driver Update Tool gives:
Up to 3 times faster internet connection and download speeds
Better PC performance for games and audio applications
Smooth-running of all your PC devices such as printers, scanners etc.
Better all-round performance of your PC due to automatic driver updates which will keep all your devices and your PC in top condition