There are several reasons for your Canon printer not responding. These reasons can vary from something as simple as a loose connection, to the printer not being switched on (it happens!) or the printer not being connected to the network.

These are just a selection of the more common reasons for your Canon printer not responding, there are of course many other possibilities, which are discussed in the article below.  If you are using a wireless Canon printer, connection problems can also happen if the printer is not able to detect the correct network before printing.
If your Canon printer is not responding, here are some troubleshooting methods to follow:
Wireless Canon printer not printing
In most cases (with wireless printers), the communication issue is the reason behind the Canon printer not responding.  Below are troubleshooting steps you should follow in these circumstances: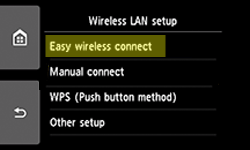 Press the Setup button on the printer
Go to Wireless LAN setup and then Press OK
Select Easy Setup and Press OK
Select Access Point
Type WiFi password
Press OK
Insert the Setup disk in computer
Run the setup program to install the printer again
Click Easy Install > Install
On the new page, click Printer on Network
Click Next to begin installation
After the installation is completed, try printing
If the above solution does not work, use the print troubleshooter option.
Method 1- Using the Print troubleshooter
Click Start button
Click Control Panel
In the search box, type troubleshooter
Select Troubleshooting from the list
Under the Hardware and Sound option, click Printer
Click Next
Select the Canon printer from the list
Click Next
Method 2- Check Print spooler service
The Print spooler service needs to be started to print. Here are the steps to check the print spooler service.
Click Start
In the search box, type Services
In the services window, look for Print Spooler service and right-click on it
Select Properties
In the General tab, under the Startup type, make sure Automatic is selected
If the services is not running, under the Service status, click Start
Click OK
Method 3 – Turn on Network Discovery
Network Discovery is an important network setting that affects whether your computer can see other computers and devices on the network and vice versa.  By default, Windows Firewall blocks Network Discovery but you can enable it by following steps set out below:
Click the Start button
Click Control Panel
Click Network and Internet
Click Network and Sharing Center
Click Advanced Sharing settings
If the Network Discovery is Off, click the radio button Turn on network discovery