How To Fix or Update Audio & Sound Drivers

Most audio problems on Windows PCs arise due to driver related issues. The article below will show you how to fix various types of audio and sound driver problems.
However, let's first explain what sound drivers are and what these Drivers do.
What are Audio and Sound Drivers?
Computer hardware and operating systems do not speak the same language. To communicate, they need a mediator- and this job is done by Drivers.
A Sound Driver or an Audio Driver is a software program that helps your operating system communicate with your sound card.
Audio and Sound Driver errors can occur due to many reasons. The most common reasons for Sound Driver errors in Windows 7 are:
Outdated Sound Driver
Missing Sound Driver
Incompatible Sound Driver
Corrupt Sound Driver
Common Audio and Sound Problems in Windows 7
Issues with your Audio and Sound Drivers may prevent your Windows Operating System from communicating with your sound card. As a result, your Windows PC may fail to produce any audio and you will therefore have sounds problems or no sound on your Windows 7 PC. In addition, you may receive an error message on your screen relating to the sound problems.

Some common audio and sound error messages in Windows: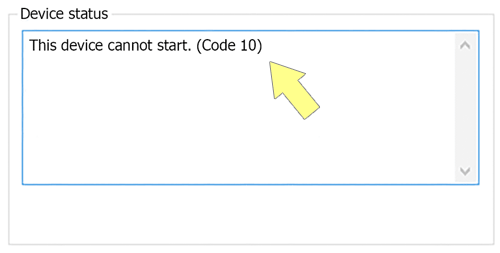 "This device cannot start. Code 10″
"The drivers for this device are not installed. (Code 28)"
"Audio Driver Error: The following driver(s) either do not support the current audio format, or are in use by another application."
"Bad DirectSound driver. Error code 88780078."
What can I do to fix Audio and Sound Driver problems?
Reinstall the Driver / Audio Driver Download
Common sound errors and fixes are covered in this post.
Windows computers come with a built-in utility called Device Manager which allows you to uninstall, install, and update Device Drivers. Most Audio and Sound Driver problems occur due to corrupt Device Driver files. You can fix such errors by uninstalling and reinstalling the problem Device Driver.
To uninstall and reinstall Drivers in Windows 7, follow the steps set out below:
Click the Windows icon in your Taskbar, type device manager in the Start Search box, and then press Enter
Double-click on Sound, video, and game controllers
Locate and double-click the driver that is causing the error
Click the Driver tab
Click Uninstall
Insert the Driver disc, and then follow the on-screen instructions to install the Driver
Use a Windows 7 Driver Update Tool
The easiest and best way to permanently resolve Audio and Sound Driver problems is to allow a Driver Update Tool such as DriverDownloader to run a scan on your computer.
DriverDownloader will quickly scan your computer, identify all the installed hardware, and then update the Device Drivers for the installed hardware (such as speakers, microphone and other sound devices).
A good driver management tool helps you save time and money. More importantly, it can prevent you from using an incompatible Device Driver that can cause more problems on your computer. You do not need to be tech-savvy to be able to use a driver management tool. With a reliable and efficient driver management tool such as DriverDownloader, all you ever need to do to fix audio and sound driver problems is to click the SCAN button in your software's user interface. DriverDownloader will take care of the rest.
List of the most common Audio and Sound Drivers
Realtek high definition audio driver
PCI Audio Driver
AC97 Audio Driver
SIS Audio Driver
ALi Labs WDM Audio Driver
Legacy audio drivers
Soundmax integrated digital audio driver
C Media audio driver
Conexant HD audio Smartaudio 221 driver
AC97 audio driver
How to Fix Windows 7 Drivers Problems >