Realtek is one of the most common audio Drivers which comes packaged with many computers and laptops. Realtek Drivers are usually responsible for delivering sound/audio to your PC. As with all drivers, Realtek Audio Drivers can have issues and problems with installation. The article below will help you to fix Realtek Audio Drivers for Windows.




These Driver problems can usually be fixed by downloading Audio driver updates, reinstalling the Audio Driver or using a Driver Update Tool to fix the Drivers for you.
Download Realtek Audio Drivers through Windows
You can download Realtek audio drivers or updates through Windows by following the instructions set out below: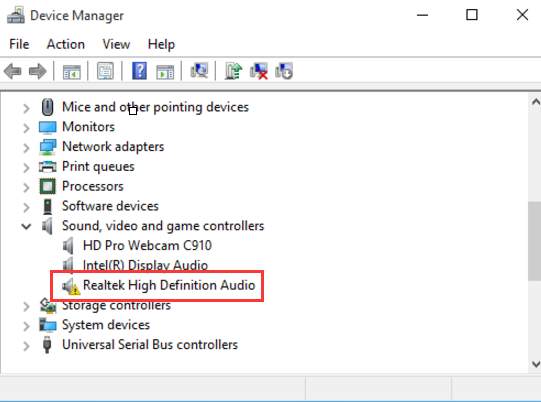 – Open Device Manager > Open Run dialog box(Windows key + R)
– Enter devmgmt.msc in the run dialog box
– Click to expand Sound, video and game controllers > right-click on Realtek High Definition Audio
– Select Update Driver Software
– Select Search automatically for updated driver software
– you will then be advised as to whether or not you need to update your drivers
– If new drivers are installed you will need to restart your machine
How to fix Realtek Audio Drivers for Windows
As well as Realtek Driver errors, which can be resolved easily using a Driver update tool, there are many other Realtek audio errors that you may come across. To Fix Realtek Audio Drivers for Windows read the solutions below or download a driver update tool (download link at end).
One of these errors is 'Realtek digital output has no sound' where users are not getting sound from their computer-connected speakers. Digital output usually refers tohigh definition digital audio devices connected to your computer (often a smart TV or a home theatre system). Click on the link above if you are having issues with Realtek Digital Output.
There are also many Realtek error codes that you may come across (such as 0x000005b3 Error or 0xE0000227 Error), click here to view a list of these errors and their meaning.
If you need to reinstall Realtek audio drivers then you will find help in the post 'How to Reinstall Realtek HD Audio Manager', this will be very helpful if you are seeing the 'Realtek audio manager is not found error'.
Automatic Realtek Driver Updates
If you are having difficulty updating your Realtek Audio Drivers, and can't get the relevant driver from the Realtek Drivers site then you can use a driver update tool like DriverDownloader to automatically update the Drivers for you and keep them up-to-date.
IMPORTANT NOTICE: Downloading the latest Driver releases helps resolve Driver conflicts and improve your computer's stability and performance. Updates are recommended for all Windows 10, Windows 8, Windows 7, XP and Vista users.