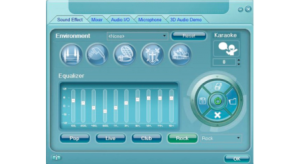 Realtek is a Taiwanese company with a strong focus on Audio Devices and thus Audio Drivers. These Audio Drivers interact with the sound card of the computer in order to produce sound. Audio Drivers are constantly  updated and it is therefore very important to ensure you have the latest version of Audio Driver installed to enable the smooth-running of your audio devices.
Realtek is probably best known for AC'97 Audio Drivers but HD Audio Drivers have now replaced AC'97 and are far more advanced. HD Audio Drivers produce higher quality sound and are compatible with Windows 2000, 2003, XP, Vista, Windows 7 and Windows 8. HD Audio Drivers also support endless formats of sound and have a high frequency bandwidth and possible speech recognition. Since 2014, the latest version of HD Audio Drivers is 2.75.
Various errors can arise when trying to configure your Audio Drivers and installing the latest Sound Driver updates. It is important to understand what each of these errors mean, enabling you to troubleshoot the problem. Below are some common errors that often occur when dealing with HD Audio Drivers.
Common HD Audio Errors:
0001 Error
The main reason for Error 0001 occurring is damage to the windows file system. Incorrectly deleting applications or hardware and deleting any incomplete installations usually results in system file errors. Shutting down the computer improperly or recovering the computer from spyware etc. can also result in system files being corrupted. These corrupted files can cause problems for applications seeking system file information.
0101 Error
This error usually arises when the operating system becomes corrupted. Other reasons can be the presence of spyware, malware and programs not installing properly. Over time all these issues build up in the registry which slows down other programs, preventing them from starting or working efficiently. After a while your PC will start to experience lag and irregular crashes.
0xE0000227 Error
This is a common error in Windows XP and can occur during the installation process. This driver issue causes the installation to freeze. Previously installed incorrect Drivers can also cause lead to this error.
0x000005b3 Error
This error indicates a problem during Driver installation. While updating or installing the Audio Driver, if the currently installed Driver is either corrupt or partly uninstalled, it will cause a problem with the installation of the latest Driver and will result in this error.
0x000003e3 Error
This error is a result of the absence of system files on the computer during the process of uninstalling Realtek or other drivers from the computer.
If you are experiencing other problems with your Realtek Audio Drivers, you could download a driver update tool to check for driver issues.