The Realtek Audio Manager is installed with Realtek High Definition Audio Driver that delivers high-quality, Dolby Digital, DTS Surround sound capabilities to your system. The Realtek Audio Manager interface is used for changing sound settings on your Window system.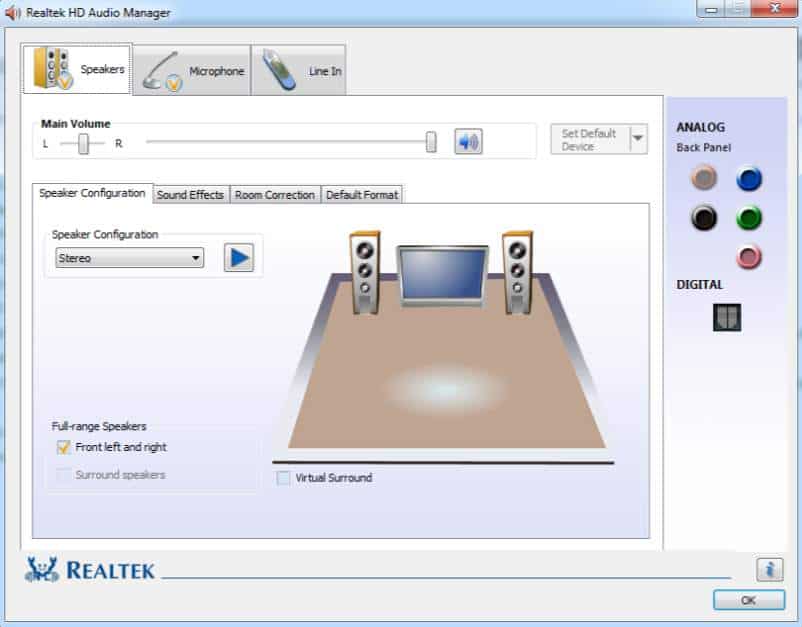 If the sound drivers on your Windows system are corrupt, you will not have access to Realtek Audio Manager. To get back Realtek Audio Manager, you need to install Realtek High Definition Audio Driver again.
There are two ways to install Realtek sound drivers – manually and automatically.
Steps to manually update Realtek audio drivers
Updating Realtek audio drivers is a bit risky as you cannot go to Realtek website and download the drivers. The motherboard manufacturers make several customizations to audio ICs and you may not get all features supported by your motherboard.
You need to go to your motherboard manufacturer website, search for latest Realtek audio drivers for your motherboard model and download drivers that are compatible with your Windows system.
As you can guess, updating Realtek audio drivers manually is not an easy thing to do. It is a time-consuming task that needs some technical expertise.
If you are looking for an easy way to update Realtek audio driver, we suggest you, try Driver Downloader that can update Realtek audio drivers automatically.
Steps to update Realtek audio drivers automatically
When you use Driver Downloader software to update Realtek Audio Driver, you don't need to go to Realtek website nor to the motherboard manufacturer's website to download latest audio drivers. The Driver Downloader will scan your system for outdated and corrupt audio driver and download the latest audio driver for your windows system.
With Driver Downloader you don't have to worry about knowing the motherboard make and model, the Windows version nor the Windows architecture (32-bit or 62-bit). The Driver Downloader software takes care of everything for you and downloads latest Realtek audio drivers for your system.
The driver update software will also update other system drivers along with Realtek Audio drivers.
Here are the steps to update Realtek audio drivers automatically with Driver Downloader.
Click Start Download to download Driver Downloader software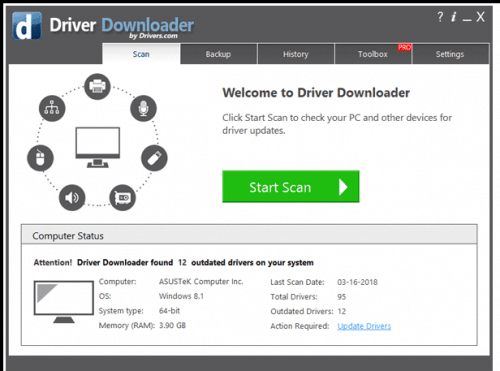 When you click Start Download, the software download is initiated and you get two options –Run or Save. If you select Run option, the browser will start downloading Driver Downloader setup file. After the file is downloaded, you will see a pop-up with an Install If you select Save option, the browser downloads the Driver Downloader file to the Downloads folder. You have to browse to the Downloads folder and double-click on the setup file to start the installation

Click Install and follow on-screen instructions to install Driver Downloader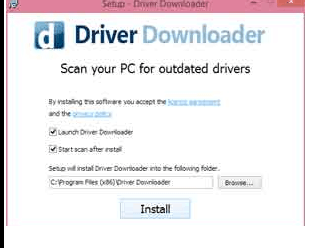 Once Driver Downloader is installed, it will scan your system for outdated audio drivers and present you with the detailed information of the outdated sound drivers and other drivers as well. It will also present you with the option to update Realtek audio drivers with a single click or an option to Update all.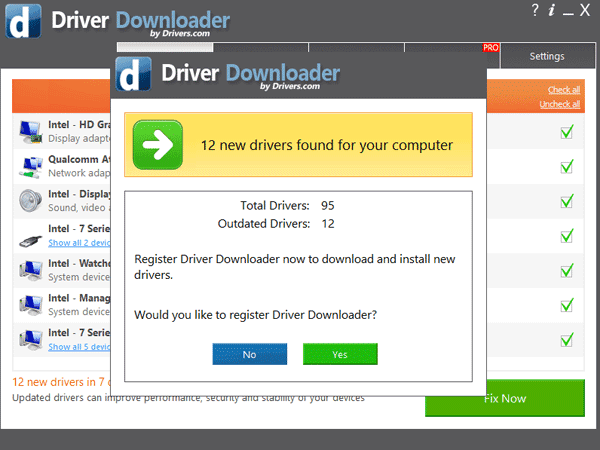 After the Realtek audio drivers are successfully updated, you will have access to Realtek Audio Manager again.
To access Realtek Audio manager, follow the steps given below
Steps to access Realtek Audio Manager
Click Start
Type Control Panel in the search box
Select Control Panel from search results
In the Control Panel window, switch the view to Small icons
Look for Realtek HD Audio Manager option and click on it to launch Realtek Audio Manager Interface
If you don't find Realtek HD Audio Manager option, browse to C:\Program Files\Realtek\Audio\HDA and look for RtkNGUI64.exe. file
Double-click on the file to launch Realtek Audio Manager Interface