A Bugcode USB driver error, also referred to as a blue screen error, occurs when a USB driver (the term USB is an acronym for Universal Serial Bus) causes a stop error. This error means that your PC has abruptly shut down to safeguard itself against potential data loss or corruption.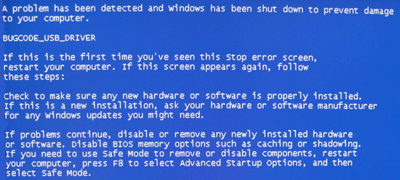 There are many reasons why this error occurs, but the good part is that a Bugcode USB driver error is often easy to resolve.
Run the FIX IT solution from Microsoft
You may be able to troubleshoot the error by downloading the FIX IT solution that is available on the Microsoft website. Run the solution after installing it to get rid of the error.
If the error persists, we recommend you perform these steps in the order they appear below.
Adjust the power settings of your computer
The following two adjustments may help you to reduce the frequency of this error.
Deselect the USB selective suspend setting:
Open the Control Panel window, and then select System
In the System window, click Hardware
Click Device Manager
Double-click Universal Bus Controller to see all the listed devices
Click each USB Root Hub one by one and check the box before Allow the computer to turn off this device to save power (this option is available under the Power Management tab)
Check if a system BIOS update is available for your computer
Many manufactures have released BIOS updates to resolve such issues. It is possible that the manufacturer of your computer may have also released such an update. So contact the manufacturer's website to see if a BIOS update has been released for the specific model that you are using.
Install the latest USB Drivers
In case you recently added a new device such as a USB hub, check if a driver update is available. Even when you have not installed a new hardware device, it is recommended that you install any driver updates available.
There are two ways of updating and installing new drivers. One is by using a reliable and fast driver update tool. Such tools offer you numerous advantages, such as:
Update your drivers quickly – When you use a driver update tool, you can update all your drivers at the click of a button.
Get only 100% genuine drivers – To install a driver manually, you need to download it from the manufacturer's website. However if the required driver is not listed on the manufacturer's website, you will need to get it from an online driver directory. The problem with this approach is that with free online driver directories you can never be sure about the source of the driver provided.
Schedule the application to perform driver updates at regular intervals – You can configure your driver update tool to run periodic checks and install any new drivers available. This, in turn, allows you to keep your drivers up to date, limiting the chances of experiencing driver-related issues.
The other method is to update drivers manually. Because it can be both tedious and time-consuming, we recommend you to use a driver update tool for updating drivers.