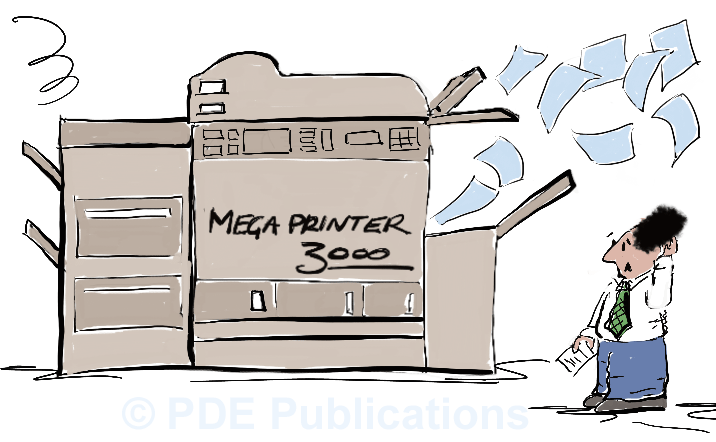 Buying the right printer can make everyday printing tasks cheaper and easier. Buying the wrong printer will result in a lot of frustration and possibly an expensive piece of hardware gathering dust on a shelf. In order to help guide you in making the right choice when buying a new printer, we have put together a list of the top 5 mistakes people make when buying a new or replacing an old printer.
Mistake #1 – getting hung-up on the ticket price
When buying a new printer, it is important to make your assessment based on the overall value rather than the ticket price alone. Printers can be cheap and capable of doing the job, yet the cost of running a cheap printer (taking into account consumables such as ink) can more than outweigh any savings you make on the initial purchase price. It may make more sense to spend more on the initial piece of hardware and save money on cheaper, more widely available ink cartridges or other consumables.
Mistake #2 – A printer is a printer
This is a common misconception. There are many different technologies and types of printers e.g. Laser printers and Inkjet printers serving very different purposes. Buying a single functioning type of printer instead of an all-in-one may be a big mistake if you think you may need a scanner or copier. Think about what you will use your printer for before committing to a purchase e.g. an Inkjet printer that can only print documents will prove useless when it comes to printing photographs. A photo printer will be equally useless when you find the need to scan a document.
Mistake #3 – getting a great deal on an old printer
Some older printers may not be supported by newer Operating Systems, so even a free printer in this case is not a good deal if it is not compatible with your system. Not all printers work with all operating systems and not all printers support the latest technology or vice versa. It is best to buy a new printer rather than an older printer since it will most likely support older and newer computers and Operating Systems. The specifications of a new printer will set out the Operating Systems it will work with (may be PC and Mac compatible or may just be Windows 7 and Windows 8 compatible – this is an important section to read)
Mistake #4 – Not considering where the printer will 'live'
The dimensions and the weight of a printer will vary greatly depending on its type and functions. If you are restricted to a small shelf space, there are certain designs of printers which are very narrow with collapsible feed trays. Similarly, if you plan to keep the printer on the top shelf of a wardrobe in your bedroom, then you will want to make sure that it has wireless functionality.
Mistake #5 – Not thinking about what you need the printer for
Research is essential in choosing the right printer. Researching the right printer does not have to mean hours of review-reading online or even meticulously comparing specifications. Research is simply deciding what you need the printer for, e.g. mostly text documents, some photographs and a scanning function, and where you will store the device e.g. on a desk or a shelf. If you don't need to print hundreds of documents at a time and need an affordable option that will also allow for printing in colour, then an Inkjet printer is probably going to be the best option. To narrow the options down further you will then need to research the running cost of various models (ink, toner etc.)
The right printer can be a great asset so it is worth taking the time to research your printing needs, and what type and model will meet those needs.