Click here to Run a Free Graphics Drivers Scan, or update your Graphics Drivers >>
In order to go into sufficient detail about Graphics Cards, we have broken this post into two parts, this being the first, use the link at the end to continue to the second part which deals with how to choose a Graphics Card and how to find out what kind of Graphics Card you are currently using.
What is a Graphics Card?
A Graphics Card is a hardware component which converts all 2D or 3D images so they can be displayed on the screen. There are two types of Graphics Cards – Integrated Graphics Cards and Discrete Graphics Cards. Integrated graphics are best suited for watching videos, writing word documents, browsing the internet and playing internet games, to name but a few. Discrete/dedicated graphics cards are suited for serious 3D gaming, graphics design and video/photography HD editing. AMD, Intel and Nvidia are the three major contenders when it comes to Graphics Cards.
Graphics cards can be interchangeably referred to as video cards and GPUs. A GPU or Graphics Processing Unit, is the chip side of the Graphics Card and acts as the processor for rendering 3D images. The actual Graphics Card is the hardware itself which contains the GPU.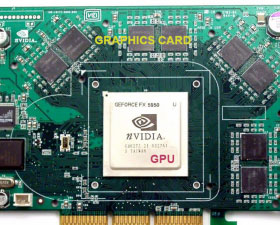 Nvidia GeForceFX 5950 Ultra Graphics Card displaying the GPU
Two Types of Graphics Cards
1. Integrated Graphics
Integrated graphics are built into the motherboard of the CPU (Central Processing Unit). They don't use their own RAM and therefore share the memory and resources of the processor. If the processor is busy executing other forms of data, the graphics side is greatly impacted which results in displaying poor graphics quality. Integrated graphics work efficiently with low-end graphics processing, producing less heat and consuming less power.
Intel Graphics Cards dominate the integrated graphics market and usually come packaged with many home computers and laptops.
2. Discrete/dedicated Graphics
These graphics greatly improve graphic quality and are far stronger in comparison to integrated graphics. Discrete graphics contain their own memory and CPU and are more demanding, faster and more powerful than their integrated counterparts. In contrast, they produce more heat and consume a lot of power. Discrete graphics are essential for 3D rendering and serious gaming. AMD and Nvidia are recommended when it comes to discrete GPUs for the best graphical experience.