Google strives to make improvements to Android with every new version, and Android 8.1 Oreo reflects this. Android 8.1 Oreo offers many exciting features. We have listed our top 12 of these new features below:
Improved Menu in Android 8.1 Oreo

Google has worked hard to make the settings menu smaller in Android, meaning you will have to scroll less to see all the options. Additionally, the settings menu is more nested. This basically means the different options are categorized to reduce the menu size vertically.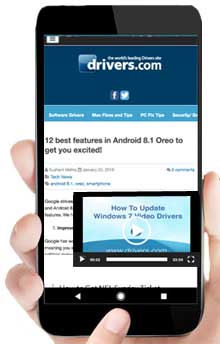 For example, you will not find different options for WiFi hotspot, mobile networks, tethering, data usage, VPN, and airplane mode; all of them are grouped into one category – Network & Internet.
Though you have to dig into the menus, the categories make the settings menu look more refined, and systematic. Besides, Android Oreo also has a Quick settings menu where you can find most accessed settings. This reduces the need for delving into the main settings menu again and again.
Power Saving features in Oreo
Battery draining is a big problem for Smartphone users and Google has made the power saving feature more effective in Android Oreo. In the new operating system, you have more control over apps running in the background which can be one of the main battery guzzlers. With Android 8.0, Google has provided greater user control to check and restrain the background activities of all apps. You can selectively control the background activity of any app and restrict background activities like location updates and broadcasts. With background activities under your direct control, the smartphone can preserve battery power and give you a much greater standby time.
Android Oreo's Enhanced Safety and Security
Malware and spam apps are an unfortunate reality and a huge threat to privacy and data stored on the Android phone. Google has introduced a new safety feature known as Google Play Protect that tracks the suspicious activity of apps installed on your phone.  It not only scans apps when you download them from the app store but also supervises the functions of the app. If it finds any app that is harmful, it will give you a notification and an option to remove the app in question.
Picture-in-Picture mode in Oreo

With Android 8.0, you can continue watching videos while working on other apps. If you want to use another app while watching the video, just tap on your home screen and open the app. The video screen will float and stick to any one side of the screen while the newly opened app gets a bigger screen area, meaning that this new PIP (picture-in-picture) feature allows entertainment and work to go hand in hand.
Neighbor Awareness Networking in Oreo

The Neighbor Aware Networking simplifies the sharing of data between two Android devices. With Android 8.0, your device can connect with other compatible devices directly. To exchange files, you need to connect through a central access point or use the same WiFi network. The NAM (Neighbor Awareness Networking) features will come in handy to play games and share applications.
New emojis in Oreo

Never underestimate the selling power of emojis! If you are a fan of emojis like the ones used in Facebook Messenger or the Whatsapp mobile app, then you will have reason to rejoice! Google has finally said goodbye to blob emojis and with Android Oreo, you get new round emojis popular in online chats and communication. The circular emojis on Android Oreo are not only more refined but the number of emojis has also increased.
Oreo's improved Bluetooth and Audio support
Google has teamed up with Sony Electronics and provided LDAC wireless technology that renders better audio listening experience through Bluetooth. This proprietary wireless technology from Sony can transfer data at a speed of 990 kbps or more.
This in turn improves the music listening experience over Bluetooth. Google has also introduced a new Android C API named AAudio that lets applications read and write data to streams. AAudio is useful for high-performance audio applications which require low latency.
Smart Text Selection in Oreo

The humble copy/paste feature in Android has undergone a radical change; it now integrates machine learning technology. The phone can now understand the text you want to select and does it all by itself.
For example, earlier if you had to copy a phone number, you had to place the cursor on the first digit of the phone and drag the cursor to the last digit of the phone number to copy the phone number. With Android O, a single tap on the phone number copies the phone number and pastes it onto the dialer.
The same goes for the address, if you select one word of the address, the smart recognition technology goes ahead and copies the complete address to the clipboard, ready for paste. Android users would love this new feature which makes text selection so much easier.
Better password management in Oreo

Before Android O, we depended heavily on 3rd party apps for password management which was a bit risky. Things have changed with Android Oreo, as you get an inbuilt password management feature with an Autofill option. This makes remembering or typing passwords unnecessary. The password management features works smoothly and the Autofill feature is launched automatically like the keyboard.
Improved Search Feature in Oreo

Earlier, the search option could only find apps, but with Android Oreo, the search option can also find app info along with applications.
Oreo has better control over notification channels
Android Oreo gives you better control over notifications by grouping similar notifications from different apps. There are three categories of notifications- General Notifications (high priority), Offline notifications (low priority), and third category which is more account based. You can selectively snooze app notifications for different time intervals such as 15 minutes, 30 minutes or 1 hour. Once the snooze interval time elapses, the system will start displaying notifications again and there is no chance of missing any important notification just because you forget to switch the notifications "On" for a particular app.
Turn on WiFi automatically in Oreo
Earlier Android users had to turn their WiFi on or off when moving places. If you left your WiFi on, the phone would scan for open WiFi hotspots constantly, causing a huge battery drain. If you kept WiFi off, you would have to manually turn it on upon reaching your home or office. This has changed with Android Oreo and the phone will turn on the WiFi automatically when you reach your home or office.  In other words, Android Oreo can instantly recall the locations where you have accessed WiFi in the past and uses that information to switch "On" the WiFi automatically.