Galaxy S8 is a great phone [image below from http://www.samsung.com/us/mobile/phones/galaxy-s/galaxy-s8-active-64gb–at-t–meteor-gray-sm-g892azaaatt/], but can be a little too fragile. If that's the reason you didn't buy it, S8 Active may be of more interest to you – it's pretty much the same phone as the S8 but tougher!
S8 has an all-glass body, making it a little more prone to falls and slips. More worryingly, it didn't have quality bumpers to protect it against abrasion, shock, twisting or tilting.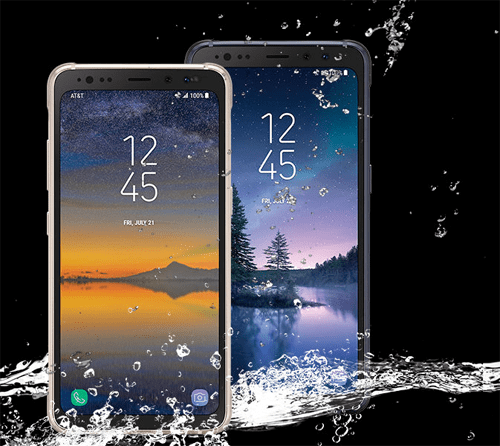 S8 Active is made using military grade materials. Its frame has four bumpers for added protection. What's more, its screen features an effective shatter-resistant layer, along with a tough, rugged texture at the backside.
The end result of these changes is a phone which is much sturdier and considerably less prone to falls and slips. Otherwise, as said above, it is basically the S8, featuring the much-appreciated 5.8 inch super AMOLED display, a quality 12 megapixel camera, and Snapdragon 835 chip.
As expected, the additional features make the phone a little bulkier than the standard S8. While the S8 measured at 148.9mm x 68.1mm x 8mm, Galaxy S8 Active measures 151.9 mm x 74.9 mm x 9.9 mm.
And compared to S8, which weighs 155 gm, S8 Active weighs 208 gm. However, the change is not significant, and some of it is due to a bigger battery. S8 Active comes with a considerably larger battery of 4,000 mAH; whereas, S8 features a 3,000 mAH one.
At normal usage levels, Galaxy S8 Active can last for more than one day. You can charge S8 active wirelessly, just like its predecessor.
One more gripe which many users had with S8 untill recently was the absence of full Bixby support. You will not face this issue with S8 Active, which comes with complete Bixby support, and this includes Bixby Voice.
There's also a new, smarter shortcut menu in S8 Active, which you can use to access the flashlight, barometer, compass, and stopwatch.
As expected, all these goodies come at a price. Galaxy S8 Active 64GB is priced at $850. That's $100 more than S8. At present, you can purchase it in 2 colors: gold and gray.
Conclusion
Ever since Samsung launched the S4, they have been coming up with active variants of Galaxy phones. And these active variants have never disappointed.
At the very least, the same can be said about the S8 active, because the changes are more than just cosmetic: it features a massive battery.
If you want a premium phone experience, you might want to seriously check out the Samsung S8 Active.