YouTube is a popular video sharing and social media platform. Millions of people (if not more) use it on a daily basis, but that doesn't mean it cannot throw up an error every now and then.
A common problem that users report is "YouTube Not Working in Google Chrome."
Are you facing the same issue? If so, this post is just for you. We have discussed seven solutions to this problem. Of course, you don't have to try each one of them. Start with the first one in the list and move to the next solution and so forth until you are able to fix the issue.
Before anything else
Before you follow any troubleshooting solution, you need to check a few things like your internet speed and the video quality (resolution) selected in the YouTube app. YouTube allows you to watch YouTube ads in HD which requires a fast internet connection. By default, YouTube video resolution is set to change automatically depending on your internet speed.
If your internet is slow (it happens sometimes), automatic settings can cause problems. Hence, you need to check your internet speed and try playing the YouTube video at a lower resolution.
Solution One –Close Chrome through Task Manager
There is a possibility the YouTube Chrome issue is temporary and restarting the Chrome can help resolve the issue. You don't need to close the Chrome browser like you normally do. Instead, close it via the Task Manager. This will end all processes related to Chrome.
Here are the steps to follow.
Press Ctrl+Alt+Delete on the keyboard to open Task manager.
In the Task Manager window, right-click on Google chrome listed under Apps
Click End task from the task list.
Restart your browser and see if YouTube is working.
Solution Two- Clear Chrome browsing data
Deleting the browsing data helps troubleshoot and it also improves the performance of web applications. Many times the browser does not load a new version of the application and continues to use information from the cache when loading a particular web application. By deleting browsing data, the browser will be forced to connect to the application's web server and load the new version. Here are the steps to follow.
Open Chrome browser
Click the three dots on the top right-hand side to open the Chrome menu
Look for option More tools and click on it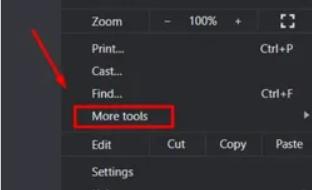 You see a new column with an option Clear browsing data
In the next window, you will find an option Time Range. You need to select All time from the drop-down menu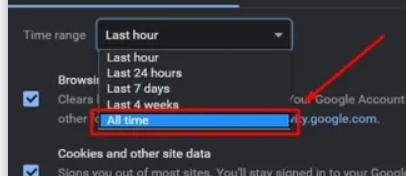 Close all menus
Refresh the page and try loading YouTube again.
Solution Three – Turn Off hardware acceleration
Hardware acceleration is a feature in Chrome that allows the application to offload certain tasks to specialized hardware components instead of CPU.
Many users have mentioned turning off hardware acceleration has helped them resolve YouTube not working on Chrome issue.
Here are the steps to turn off hardware acceleration.
Open Chrome and click the three-dot menu on the top right-hand corner
Click Settings
In the Settings window, type hardware acceleration to find the option
In the search results, look for the "use hardware acceleration when available" option and click the toggle switch to turn it off.

Restart Chrome browser and see if the YouTube not loading issue is resolved
Solution Four – Enable JavaScript
According to experts, the embed code of YouTube is an iframe that links to a normal HTML page that uses JavaScript to load the video you want to see. However, you can also watch YouTube videos without enabling JavaScript in Chrome. Here we will try enabling JavaScript and see if it helps resolve the issue.
Here are the steps to enable JavaScript.
Open Chrome browser
Click the Menu option and then click Settings
Under "Privacy and security", you will find an option Site settings, click on it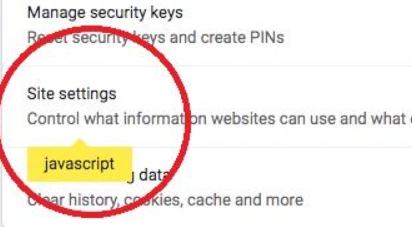 In the next window, click JavaScript

A new window will open that provides you the option to enable JavaScript. Click the toggle switch to enable JavaScript.
Close Settings window
Solution Five – Use Chrome's Incognito Mode
Chrome offers an Incognito mode that does not track any user information. Open the Chrome in Incognito Mode and try playing YouTube videos. If the YouTube videos play well in Incognito mode, the issue could be related to your Google Account or its settings.
Solution Six – Update Video Drivers
The YouTube not playing in Chrome could be related to your graphic drivers. There is a possibility the graphics drivers are outdated.
You can update graphics driver in two ways — manually and automatically. The latter is a much simpler and faster process and doesn't require any technical knowledge. All the same, we have given the steps for both methods.
Updating Graphics Card Manually
Press Windows logo key + R together to bring up the Run command
In Run command, type devmgmt.msc and click OK
In the Device Manager, go to Display adapters and expand it
Right-click your graphics card and click Properties
Go to the driver tab and click Update Driver
In the next window, select Search automatically for updated driver software and follow onscreen instructions
Windows will search the internet to find a driver update and install it. If it does not find a driver update, you have to manually download the graphics card driver and install it.
Open Internet browser
Go to the Graphics Card manufacturer website
Go to the Download section and select your product
Download the graphics driver compatible with your OS. For instance, Windows 10 32-bit users should download the driver meant for 32-bit PCs. Likewise, if you use 64-bit Windows 10, go for a driver designed for 64-bit.
Double-click on the driver setup file to install the driver and follow onscreen instructions (if any)
Restart your computer
Updating Graphics Card Automatically
We recommend you use DriverDownloader to update your drivers automatically. The software comes with three main advantages:
It's free to download, install, and run (So, you can see the issues plaguing your Windows computer without spending a penny.)
When you register it, you get automatic updates (That is, you won't have to life even a finger to get the latest drivers. The software does that automatically when you launch it.)
It comes with a 30-day money-back guarantee (If you change your mind within 30 days of purchase, you will get all of your money back. No questions asked)
Plus, registered users enjoy round-the-clock access to customer support.
Here's the link to download DriverDownloader
Solution Seven – Reinstall Chrome
As a last resort, uninstall and reinstall Google Chrome. Here are the steps to follow.
Click Start and type Control panel
In the control panel, click Uninstall a program
Right-click Google Chrome from the list and select uninstall

After Google Chrome is installed, open Microsoft Edge and download and install the latest version of Google Chrome