You might have read in a tech forum or been told by a techie to update your drivers at some point in time, but what does this really mean? What are drivers and why it is so important to keep them up-to-date?
Read on to know the answers…
What are Drivers?
A hardware device and Windows system and applications don't speak the same language.
Or to be specific, there's no way for Windows system and other applications on your computer to use a hardware device directly unless something helps them to do so.
And this is where drivers come into the picture.
Drivers are computer programs which allow Windows system and applications to interact with installed hardware device.
As you can guess by now, drivers are mighty important. Without them, you can't do much on your PC. For instance, you can't print anything if the printer drivers are missing, corrupt, or outdated.
When You Might Need to Update Drivers?
There are many scenarios which might require you to update drivers.
A hardware device is not working properly
This is a no-brainer. If a hardware device is not working at all or not working properly, you should consider updating drivers. For example, if your network card is behaving erratically and a latest driver is available for it, you should definitely consider updating the driver before attempting any other more complicated resolutions.
When you plug in a hardware device for the first time, more often than not, Windows will install a generic version of the driver itself. There are things for which the generic version is fine and others for which it is seriously inadequate.
For example, generic sound drivers will never give you advanced features like room correction or virtual sound. To enjoy such features, you'd need to get the latest drivers released by the manufacturer.
Similarly, doing away with the generic video drivers and installing the latest drivers is almost necessary. Latest drivers will offer you a host of advanced options to allow you to personalize your graphic performance.
In most cases updating a driver will not improve the device's or PC's performance notably—but there are exceptions. For instance, updating your video driver might boost your card's performance significantly.
This is not common, but at times you might learn that a particular driver has some potential security concerns. In such a case, updating the driver would be the right thing to do.
How to Update Drivers?
Well, there are two ways to do this—manually or automatically.
Updating drivers manually can take a long time. And at times, you still mightn't be able to locate the latest driver.
A better way is to use a driver software tool. We recommend you to use DriverDownloader because it is fast, accurate, and easy to use.
DriverDownloader will recognize your system and match the required drivers. So all you need to do is download, install and run.
If you want Driver Updates, you will need to register the software. However, it is absolutely free to download and run. When you do this, you will get a free drivers report.
In case you decide to register, you will enjoy automatic Driver Updates, super-efficient customer support, and a 30-day, no-questions-asked money-back guarantee.
How to Download, Install, Run, and Register DriverDownloader?
Step 1 – Download DriverDownloader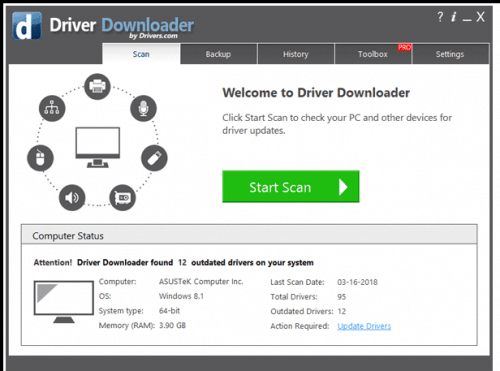 Step 2 – Click Run or Save
You might see the following message at your screen or you might see a pop-up window.

If you select the Run option, the browser will download the Driver Downloader setup file. After the file has been downloaded, a pop-up with an Install option will appear on your screen.
On the other hand, if you click the Save option, the browser will download the Driver Downloader file to the Downloads folder. Once the download is complete, go to the Downloads folder and double-click the setup file to launch installation
Step 3 – Install DriverDownloader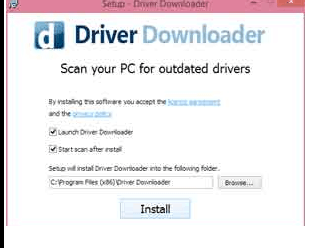 Click the Install button that appears on your screen and follow the on-screen instructions to install the software.
Step 4 – Register DriverDownloader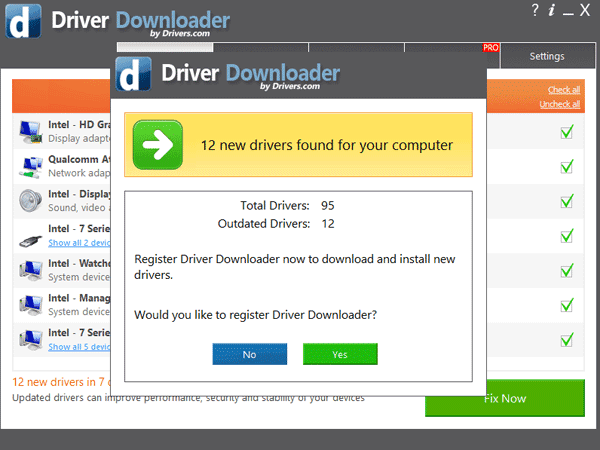 It is always a good idea to register this driver software. When you do that, you will be able to update all your drivers with a single click.