Plugged in an external USB drive only to find your computer isn't recognizing it? And when you open the Device Manager window, you see the following error: Unknown USB Device (Device Description Request Failed).
You're not alone. This is a fairly common error. Thankfully, it is also relatively easy to fix. In this post, we'll discuss four DIY solutions.
But before we look at them, let's first check out why this error occurs in the first place.
Why Does Unknown USB Device Error occur?
You'll see a yellow triangle on the USB device in the Device Manager window.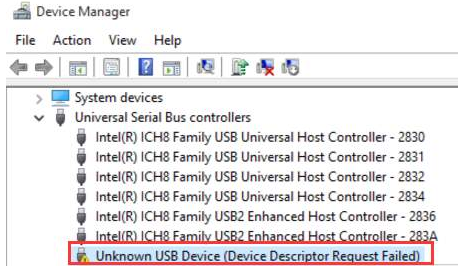 Often, this problem arises due to hardware issues. Therefore, we recommend you follow these simple instructions first.
Try connecting the device on a different USB port. This can help your whether a broken port is the root cause or not.
Try connecting the device to another PC. This can help you check if the problem lies with the external device itself.
In case the problem lies with neither the device nor the USB device, you should give the following solutions a try. Of course, there's no need for you to try all of these solutions. Simply start from the first one, and if that doesn't work, move on to the next one in the list and so on.
First Solution – Remove Power Supply
If the issue is triggered by Power Supply, you'll be able to resolve the issue by following these steps:
Remove your power supply plug from the computer
Now, re-plug the power supply
Restart Windows and now connect your external device to the USB port
Second Solution – Uninstall the USB driver
If the previous solution didn't fix the issue, try uninstalling the USB driver. Here are the steps to follow:
Open Device Manager
Expand category Universal Serial Bus Controllers. Next, identify the USB device not recognized by Windows
Right-click the device and click Uninstall
Let the uninstallation process finish. Then restart your computer. Windows will automatically reinstall the driver.
Third Solution – Update Your USB driver
A faulty or outdated USB driver could also cause this error. That's why it is necessary that you update your USB driver. The easiest way to do so is by using a reliable driver update tool. We recommend you use DriverDownloader.
Why?
Because it's super-fast and super-reliable. Plus, it has a 30-day money-back guarantee. If you didn't like the software, you can get a full refund. Moreover, registered users enjoy customer support, which can come in handy if you get stuck at something.
Here's the link to download DriverDownloader:
Fourth Solution – Disable Fast Startup
In case Windows boots up too quickly, it may fail to detect the external device before the booting is complete. For this reason, it's a good idea to disable the fast boot option.
Here're the steps you need to follow:
On your keyboard, press Windows key + R key simultaneously
In the Run dialog box, type control and then click the OK button
Now in the Control Panel window, set View by to Large icons
Click Power Options
Click Choose what the power buttons do (This option will be visible in the left pane)
Now, click Change settings that are currently unavailable
Now go to Shutdown settings. Here uncheck the box before Turn on fast startup (recommended). Now click Save changes button
Reboot Windows and check if the issue is fixed or not