Continued from "Specifications of a Gaming Laptop – Part 1"
4. SSD
Solid-State Drives or SSD's are the ultimate storage solution. An SSD is necessary for storing games and the Operating System and seriously reduces the load and boot time of a game. Endurance of an SSD refers to the length of time it will take to wear out the drive while storing data. Since SSDs have no moving components in contrast with Hard Disk Drives (HDD), they last longer and are able to withstand physical accidents without the loss of data.
SSDs are undoubtedly more expensive but they are faster and have higher endurance in comparison to HDDs.
5.  Display and Size
1080p (1920 x 1080 pixels) resolution is the essential minimum display for any gaming laptop and seems to be the dominant resolution in the computable future. Bear in mind that the larger the screen, the more cumbersome the laptop will be and the greater the power consumed e.g. a laptop with a 15.6 inch screen will weigh at approximately 2.6-3kg whereas a 13 inch laptop will weigh at approximately 1.5kg.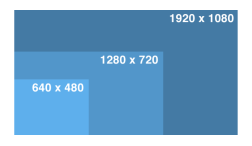 Different screen resolutions
Extra Factors to Consider
Cooling
Gaming laptops will heat up when running power hungry games. The cooling system of a gaming laptop should be considered before purchase. It is also recommended to add a cooling pad to help with the over-heating issues.
Operating System
The Operating System does not have a huge bearing on gaming needs so this shouldn't influence your choice of laptop to any great extent.
Headphones
Very few gaming laptops come with good quality speakers, noise cancelling headphones are a good purchase with any gaming laptop to help improve and enhance the user experience.
Conclusion
GPU should be considered before buying a gaming laptop since it will determine the gaming quality and graphics of the game
 CPU is the next priority and preference should be given to quad cores over dual
 RAM can range from DDR – DDR4 and is responsible for the space the games will run in. Aim for 8 to 16 GB
SSDs are important for storing games and the Operating System and decreases the load time of a game
1080p resolution is more favourable. Laptops with large screens will be heavier and the battery life will suffer