NVIDIA's GeForce Experience is used with the GeForce GTX card. The application automatically optimizes your game settings and keeps drivers up to date.
Many users have complained of the issue where GeForce Experience not opening. If you are facing a similar problem, this post should help you out.
We have provided 7 solutions that could fix the GeForce Experience issues.
You probably won't need to try all of these fixes – start with the first solution and if it doesn't work then move to the next solution and so on.
Solution 1: Check the GeForce Experience Service
The GeForce Experience service is responsible for running programs associated with GeForce GTX card.
If you are having a problem with GeForce Experience program, there is a possibility the GeForce Experience service is not running.
In that case, a simple solution to fix the GeForce Experience issue is starting the GeForce Experience service manually.
To manually start the GeForce Experienc:
Open Run command by pressing the key combination Windows logo key and R on the keyboard
In the Run command, type services.msc and click OK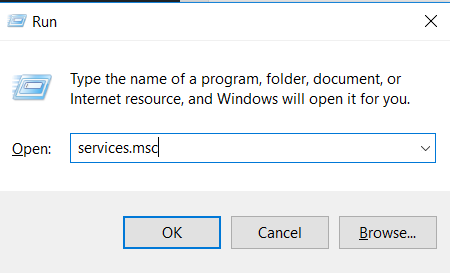 In the Services window, locate NVIDIA GeForce Experience service and right-click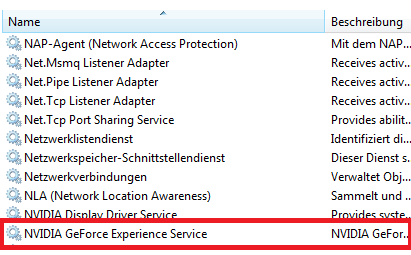 If the service is not running, click Start. If the service is running, click Restart
Close all windows
Check if the GeForce Experience program starts without any error
After starting or restarting the GeForce Experience service, the problem should get resolved. If the issue still remains unresolved, try the next solution.
Solution 2: Restart NVIDIA Telemetry Container service
Open Services window
Locate the service – NVIDIA Telemetry Container and double-click it
Click Properties
Click on "Log on" Tab
Change the option here as Log on as: Local System account
Click General tab
If the service is not running, click Start. If the service is running, click Restart.
Try to open GeForce Experience now
If the above solution does not work for you, move to the next solution.
Solution 3: Check Graphics card driver
If the graphics card driver is missing or corrupt, it could affect the working of GeForce Experience.
To rule out this possibility, you need to uninstall the existing graphics card driver and install the latest graphics card driver.
You can update the graphics card driver manually or automatically. Here we have given steps for both methods.
Method 1: Update graphics card driver manually
Press Windows logo key and R together to invoke Run command dialog
In the Run command dialog, type devmgmt.msc and click OK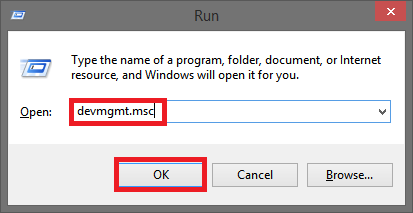 In the Device Manager window, go to the Display adapters category and expand it
Right-click on GeForce and click Uninstall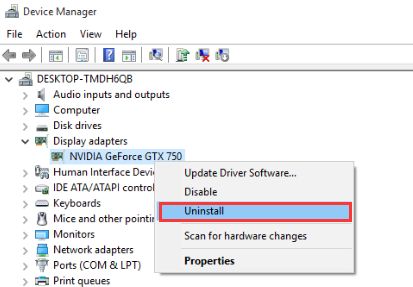 Now go to the official website of GeForce
Download the latest version of the driver
Install the driver and restart your PC
Try launching GeForce Experience to see if the issue is resolved. If you are still getting an error, try the next solution.
If you find the manual driver update method difficult, you can use the DriverDownloader software to update graphics card driver automatically.
Method Two- Update Graphics card driver automatically
Manual update process, apart from being time-consuming, requires a certain degree of technical know-how.
A much simpler, not to mention faster, method is to use a reliable driver update tool, like DriverDownloader.
To download the software, click the green button below.
Solution Four- Reinstall GeForce Experience
There is a possibility the GeForce Experience installation has become corrupt.
In that case, you need to reinstall GeForce Experience by following the steps given below.
Download the latest GeForce Experience application on your computer
Click Start-> Settings
Navigate to Control Panel -> Programs and Features
Find GeForce Experience in the list
Right-click on GeForce Experience and click Uninstall
Restart your PC
Now install the latest GeForce Experience software on your PC
Solution Five- Update Operating system
The latest graphics driver won't work well with an obsolete operating system.
Hence, you need to install all pending updates and see if it resolves the issue. Here are the steps to follow.
For Windows 7
Click Start
Click Control Panel->System and Security -> Windows update
Click Check for updates
Restart your PC after all updates are installed
For Windows 10
Click Start and click on Settings(gear icon)
Go to Update and Security -> Windows update
Click Check for updates to prompt Windows OS to check for latest updates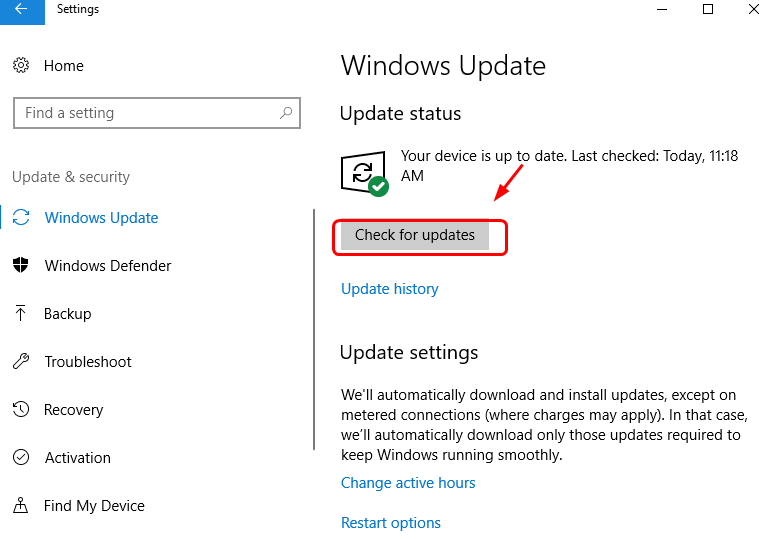 Windows OS will download the updates automatically
Restart your PC to install updates
Solution Six- Check hardware issues
Have you installed any new hardware recently?
If the new hardware is not compatible with program, it can lead to errors while launching GeForce Experience.
To keep your PC hale and hearty, you should always use compatible hardware.
Check the specification of the new hardware and ensure it matches with your graphics card.
Solution Seven- Disable antivirus program
Some anti-virus programs are known to cause problems with GeForce Experience.
To rule out this possibility, disable anti-virus temporarily.
The steps to disable anti-virus are unique to each antivirus software. Read the software documentation to know about exact steps.
Here we have shared steps to disable Avast antivirus software temporarily.
Right-click on Avast antivirus icon
Click Avast Shields control
Select any disable option you want.

After disabling antivirus, launch GeForce Experience on your computer.
In most cases, the GeForce Experience issue would be resolved by one of the solutions given in the post.