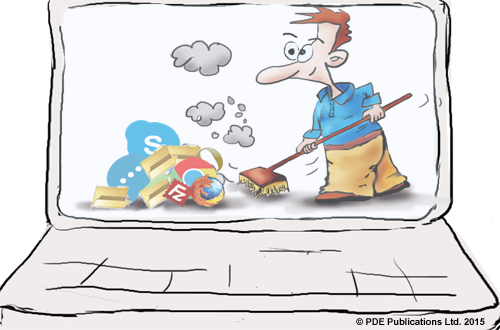 Over time your PC will inevitably slow down. In most cases this means that everyday tasks take that little bit longer but in some cases a PC can become so slow that it is almost unusable. In both of these situations life can be made a lot easier by taking a few simple steps to speed up your PC. Like anything, your computer needs a spring clean, programs, add-ons and data begin to clog up your hard drive and slow down both the startup of the computer and everyday programs such as mail and web browsers.
In order to save yourself a lot of time and frustration, you need to take 10 minutes to run a quick PC clean up and speed up that slow PC!
First things first – back-up everything!
1. See what is hogging your system resources
To check if there is any particular program eating up your resources you will need to go to the Task Manager. To access the Task Manager you can right-click on the Taskbar and choose 'Start Task Manager' – alternatively, a shortcut is to press Ctrl + Shift + Esc.
Click on the Processes tab once the Task Manager is open. There are a number of columns in the processes tab, but the one that is relevant here is the CPU column. The CPU column shows the percentage of CPU activity taken up by a specific program.  If you are using close to 100% of the CPU then it is likely that you have one program that is 'stuck' and needs to be closed and restarted.
To view what programs, if any, are using a high percentage of CPU resources, sort the CPU column by clicking the header. If you find a program that is using a lot of resources, and cannot close it in the normal manner, then you can select the program in Task Manager and choose 'End Process' (make sure you have saved work before doing this if possible)
2. Streamline your start-up programs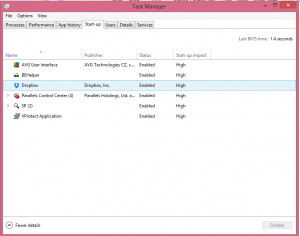 When you are running multiple programs at once this can significantly slow down your PC.
In many cases programs will automatically start up when the PC starts (this depends on the settings of the Programs in question), the user may be unaware of these resource-hogging programs running in the background. These programs would show up in Task Manager and you can choose to remove the programs entirely or change the settings so they are not automatically launched.
To view and edit the programs which are auto-launching on start-up, click the 'startup' tab within the Task Manager.
3. Check for viruses, malware and spyware
This is particularly important if your PC has suddenly slowed down or experienced performance issues. It is good practice to regularly check antivirus software (ensure there are automatic updates) and also to run manual scans of your PC for potential malware or spyware. If you do not have a anti-malware or anti-virus program install, then click here to download our recommended antivirus tool.
4. Do housekeeping on large files
This step depends on how you structure your files and data. In many cases of slow PC's, users don't have a structure and everything ranging from work emails to family movies go somewhere on the same hard drive. If you have a lot of photos, music or other media files it is a good idea to store them on an external hard drive or buy some cloud space for storage (view our article What is Cloud Storage and should I use it?)
While doing housekeeping on large files, you should also make sure to delete temporary files and empty your recycle bin.
5. Delete unused Programs
It is very unlikely that you use all the Programs on your PC and it is very likely that you have downloaded numerous Programs over time, many of which may never be used again. These may be trial versions of Programs or simply Programs you no longer use. Either way, if there are Programs on your PC that you do not use – uninstall them.
In the Add/ Remove Programs or Uninstall a Program feature of the Control Panel, you can view the amound of space a Program takes up. From here you can also select the unused Program and click 'uninstall'.
Check out our related articles below for other PC Speed Tips