YouTube buffering is not a new issue for Internet users and things have not changed much, either. However, there can be several reasons for the "YouTube is slow" issue.
Some of the reasons could be slow speed of your internet connection, overloading of the portal (youtube.com) or browser issues.
In this post, we have provided some solutions that could fix the YouTube slow speed issue.
Before proceeding to solutions, here are few checks that you need to consider.
Before trying solutions
Firstly you need to check your internet connection is steady and the Internet connection is not slow. On an average, you need 5 to 6 mbps Internet connection speed to watch HD quality videos. Though you might have a 5-6 mbps internet connection, there is no guarantee your computer is receiving all Internet bandwidth.
In many cases, the Internet bandwidth is shared between devices connected to your Wi-Fi network and the average Internet speed that your computer is receiving can be much lower than your actual Internet connection speed.
You need to also check there is not any outage which could create a problem for your internet connection. Once you have confirmed there is no problem with your Internet connection, you can proceed to the solutions given below.
Solution One – Make a small change in the URL
No one knows why this tricks exactly works, but many users have found this trick useful. So you should try it to and see if the slow YouTube issue is resolved. Here are the steps to follow
Play YouTube video in the browser
Replace www in the URL with ca
For example – https://www.youtube.com/watch?v=mPJCZl6UVM8 to https://ca.youtube.com/watch?v=mPJCZl6UVM8
Solution Two – Change the default video quality setting
There is no way to know the exact reason for YouTube buffering. However, playing the video at a lower resolution might reduce YouTube buffering and you can enjoy stutter free playback experience when watching YouTube videos.
The default video quality setting of YouTube is dynamic and depends on the quality of the Internet connection. It may also change if the quality of the Internet connection improves or degrades. However, a user can change the video quality of any video he/she is watching on YouTube.
If you are experiencing buffering issues while playing a certain YouTube video, you can lower the video quality setting to reduce buffering. Here are the steps to follow.
Play any YouTube video you want in the browser
Click the gear icon that appears on the right corner of the player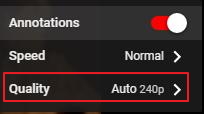 Select any lower video resolution than what appeared in Auto resolution.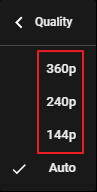 Note – In our case, the auto resolution was 240p so we need to select 144p which is the only lower resolution available for the video we played. The highest and lowest video resolution is different for every YouTube video.
If you have more than one lower quality, select it one after another and see if the video buffering vanishes.
If the steps in this solution did not resolve the slow YouTube issue, move to next solution
Solution Three – Clear Browser Cache and temporary files
When you load a webpage or any YouTube video for the first time, your browser stores it in cache so that it can load the video faster next time. This may work well if you want to repeatedly see the video but not if you want to watch a new video on YouTube
Over time the size of the cache and temporary files grows to big proportion and slows down the browser. If you have not cleared browser cache and temporary files for a long time, it could be the reason behind YouTube being so slow.
Clear the browser cache and temporary files and check whether YouTube speed has improved. Follow these steps to clear browser cache
For Google Chrome
Launch Chrome
To access Chrome settings, click the three vertical dots that appear at the right corner of the address bar
In the dropdown menu, click More tools and then click Clear browsing data

In the Clear browsing data window, go to the Basic tab
In Time range, select All time
Check mark following options – Cookies and other site data and Cached images and files
Click Clear data
 For Firefox
Launch Firefox
To access Firefox settings, click the three horizontal lines that appear at the right corner of the address bar
In the dropdown menu, click Options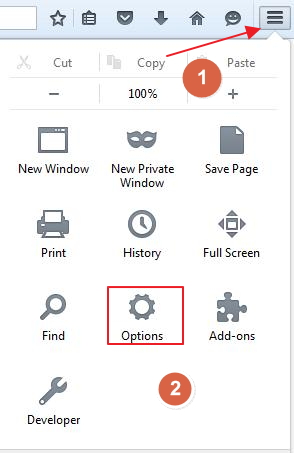 In the Settings window, click Privacy in the left pane
click clear your recent history in the right pane

In the Clear Recent history window, select Everything for Time range to clear
Check mark following options – Browsing and download history, cache, offline website data
Click Clear now
Solution Four – Update Flash
This solution is for select Firefox users. If you are using Firefox versions 36, 37, 38, 39, your browser might be using Flash to play YouTube videos.
From Firefox version 40 onwards, HTML5 is the default player for YouTube videos. To update flash player on your computer, visit Adobe website and install the newest version of Flash player.
In Chrome, HTML5 is the default video player for YouTube. If you are using other browsers other than Chrome or Firefox, you need to check if the browser version installed on your computes uses Flash or HTML5 player for YouTube website.
A simple way to check this is right click the YouTube video player in your browser and select Inspect Element from the menu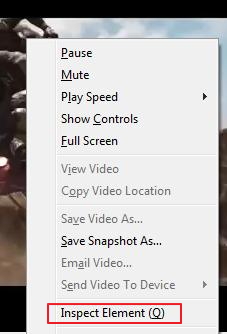 You will see the code for the page which also mentions player.  Here we have presented result for FireFox browser.

Solution Five – Block CDN IP addresses used by YouTube
Majority of the YouTube content you watch in your browser is delivered by Content Delivery Networks. YouTube uses a CDN network closest to the user location to deliver the content faster and help the user get the best possible experience.
Also, different CDNs server might be storing different cached videos. YouTube buffering might be the result of the CDN server experiencing high traffic.
Some ISP's limit the connection between you and these CDNs which affect the YouTube loading speed. Blocking the IP addresses of these CDNs can resolve the problem.
When you block CDNs IP addresses your browser/network skips CDS and video actually starts buffering from YouTube server itself. Here are the steps to follow.
Click Start
Type cmd in the search bar
Right-click cmd from the list of results and select Run as administrator
In the command prompt window, type the command given below hit Enter on the keyboard

netsh advfirewall firewall add rule name="YouTubeTweak" dir=in action=block remoteip=173.194.55.0/24,206.111.0.0/16 enable=yes
Wait for command operation to complete
Close the command prompt window
To enable access to CDNs again, open command prompt with administrator rights and type following command in command prompt window and press Enter
netsh advfirewall firewall delete rule name="YouTubeTweak"
Open any YouTube video in the browser and see if the speed problem is resolved. If this solution does not resolve slow YouTube issue, move to next solution
Solution Six – Use VPN
Since YouTube content uses loads of data, some ISP's may be throttling your Internet connection without you knowing it. When you use VPN, all incoming and outgoing traffic is masked by encryption, it would be hard for ISP to know which websites you are visiting and it might not limit your internet connection.
There are several free and paid VPN services. Select a good VPN service and start using it to reduce or eliminate YouTube buffering issues.