An IP (Internet Protocol) address is a unique address which serves to identify a device on a network such as the internet or a local network.
An IP address is an identifier which allows for information to be sent across a network, if there is a problem with the IP configuration then this communication will not be possible.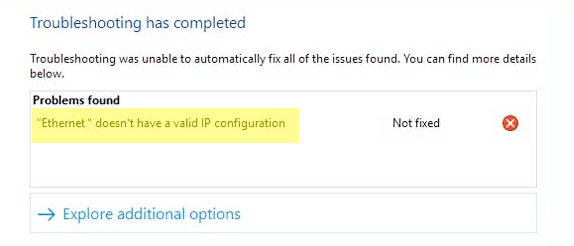 'Ethernet Doesn't Have a Valid IP Configuration' error message
This error appears when your computer, for whatever reason, fails to get a valid IP address and therefore cannot connect to the internet.
Restart your PC or laptop
The first solution to always try is to restart your computer. This seems very low-tech but it works in a surprising number of cases! This is because it can clear out any glitches and is always worth a try before progressing to other solutions.
Restart router
If you have restarted your PC and are still experiencing 'ethernet doesn't have a valid IP configuration' error message, the next step to take should be to restart your router. If this doesn't solve the problem then move on to the next step, configuring network adapter settings.
Check antivirus software settings
If you are running antivirus on your PC then it would be worth temporarily disabling it to check if this fixes the issue. If it does fix the issue then you will need to look into the settings of your anti-virus software to see why it is causing problems with assigning an IP address.
Configure your network adapter settings
The IP address is usually automatically allocated but in some cases the settings may be different and you may have to assign your own IP address.
To do this  do the following:
 select Win+R and Run ncpa.cpl
right-click on your network adapter > select properties
select TCP IPV4 > click properties
If the option Obtain an IP address automatically is set, try setting your own IP address. Most home networks are 192.168.1.180
If it is already assigned an address try switching it to automatic assignment and test this
When making any changes such as those above, make a note of the original settings so you can change back if it doesn't work.
Update your Network Drivers
If you are still having problems connecting to the internet you can check if your network drivers need to be updated. You can also use a driver update tool for this such as DriverDownloader.