Is your PC compatible with Windows 11?
This is Windows first major upgrade in 6 years so understandably there will be questions about compatibility. According to Microsoft the new Operating System should work with most PC's and they have targeted the middle of 2022 for all Windows 10 devices to have the capability to download and install Windows 11.
Microsoft has a PC Health Check app which will help you determine if your PC meets the basic requirements to run Windows 11.
If you find that the PC Health Check app is not working for you or does not provide enough information, an alternative app is WhyNotWin11 which may be less user-friendly but provides more feedback on compatibility.
System Requirements to run Windows 11
Minimum 4GB RAM
64GB storage
1GHz or greater with minimum of 2 cores on 64-bit processor
720p display
Internet access for updates which also requires a Microsoft account
Windows 11 features
Windows 11 has a number of new features which aim to help the user work more efficiently and with a recognition of the changing way we are using our devices.
Improved support for touchscreen, voice and pen, better app integration and desktop customisation features all aim to make the user experience more seamless and efficient.
Integration with Android apps
If you are the owner of a Samsung Galaxy phone then you will have had access to Android apps on Windows 10 but Windows 11 includes native integration of Android apps allowing for more seamless operation between mobile and desktop/ laptop devices.
Android apps will be available in the Microsoft Store
Updated interface in Windows 11
The Windows 11 interface features a cleaner design which has been compared to that of the Mac OS. Along with other visual updates, the Windows 11 start menu has moved to the centre of the Taskbar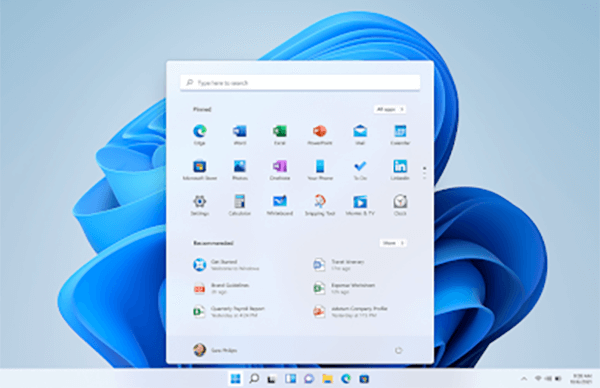 Microsoft Teams on Taskbar
Teams has been given much greater prominence in Windows 11 and can be accessed directly from the Taskbar. Teams itself has been updated to get a new look. Many users now have a personal and work or school Teams account and this has been taken into account in an interface that labels the accounts so they are accessed separately rather than via one application as before.
Personal Teams accounts will also have an easy-to-access chat function, this feature will not be available on work/ school accounts.

Desktop customisation features:
Windows 11 features 3 main desktop customisation features: Windows widgets, Snap layouts and Virtual desktops.
Windows widgets
Windows widgets will allow for greater personalisation of your desktop with the ability to customise the widgets according to your preferences.
Snap layouts
Snap layouts will be a very useful feature for jumping between personal and home/ school use on your device. This feature allows you to organise and group apps according to their use, and then open this group with one action, saving you from minimising/ maximising individual windows.
Virtual desktops
Virtual desktops were available in Windows 10 but this feature has been revamped in Windows 11. Virtual desktops allow users to toggle between different desktops such as those for personal use, school or work.
Gaming improvements in Windows 11
Better integration with Xbox gaming consoles recognise the need for improved gaming capability on Windows PCs.
How to upgrade to Windows 11
Windows 10 users can upgrade to Windows 11 for free, click here to check if you are eligible for this upgrade.