What is Identity Theft?
Identity theft is a crime whereby your personal information such as name, credit card details, or other identifying information is stolen by a third party, usually with a view to committing identity fraud. Identity fraud can be as simple as impersonating someone using a fake Twitter account or as complex as taking out a loan in someone's name using personal details you have gained access to.
There are many forms of identity theft. Criminals can go to great lengths to obtain your personal information, from snooping around bins (Dumpster Diving), to calling you in an attempt to extract personal information.
Identity Theft has been taken to a new level with the proliferation of internet access and the sharing of personal information online. The culprit and the victim rarely come into contact with each other and the various techniques used by criminals makes stealing your identity simpler than ever before.
Victims of identity theft are rarely ever aware of the damage done until it is too late. The consequences of identity theft can be devastating and it may take you years to restore your reputation, credit history and other vital aspects of your personal identity.
5 common identity theft risks
1. Providing personal information
Posting any personal information online will make you susceptible to identity theft. Caution should always be exercised when posting personal information online – is the information visible to anyone or just those you allow to view it, could this information be misused? Sometimes personal information can be used by itself but other times it can provide a starting point for someone to find out more detailed information about you, e.g. an email address and name posted on a discussion board can be used to contact you to look for date of birth, postal address etc. (usually under the guise of confirming account information for a company such as PayPal)
2. Responding to 'Phishing' attempts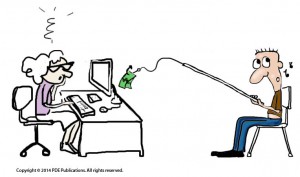 Phishing emails and websites are designed to gain access to your personal information and use it in a fraudulent manner. Phishing scams can take the form of clickable links in emails, a third party asking for personal information (usually claiming to be an established company with a recognisable brand) or a link that leads to the download of malicious software. This software may then compromise information stored on and sent out from your computer.
See article on phishing here >>
3. Using Public WiFi
Connecting wireless-enabled devices to unsecured wireless networks in public areas such as cafes and airports greatly increases your susceptibility to identity theft. Criminals are known to "sniff" public wireless traffic or establish their own fake 'hotspot'. When connected to a bogus hotspot, anything that a person types e.g. email password, bank passcode, is intercepted by the criminal's computer.
Read more about security and public WiFi access >>
4. Shopping Online
When buying online, you should always ensure that the site is trustworthy before submitting any credit card or personal details (look for little lock icon or https: before the address at the point where the information is requested).
5. Engaging in Social Networking Websites
Many social networking sites provide the perfect hunting ground for identity thieves who will seek out information on individuals. The more information they have on you, the more likely they are to be able to commit fraud using your details. Always review privacy settings on social networking websites and don't automatically friend anyone that requests it – your personal information is valuable so you need to protect it.
How to prevent Identity Theft
Personal information should never be given out online unless it is well known who is receiving the information and it has been established what it shall be used for.
Files, emails and websites containing suspicious links or spam should never be engaged with. Clicking such links can result in downloading Spyware which then makes all your data vulnerable
Always use a secure wireless network when sending or receiving information, even when in public. An extra precaution is to encrypt data using encryption software when sending data online
When shopping online, check the "privacy policy" of the website before entering any details. Check to see if the site shopping cart starts with "https", indicating a secure website. A closed padlock symbol is also another indication of a secure website
Posting more than necessary online is not a good idea. Always review privacy settings and set them accordingly. Use strong passwords and always log out when finished
Some software tools, such as Spyware detection and removal tools and firewall and malware tools, can be very useful in helping prevent identity theft. However, they should be used in conjunction with the above guidelines and not instead of the,
Conclusion
Identity theft is widespread and the more information you provide online, the  more you expose yourself to the possibility of becoming a victim of identity theft and subsequently identity fraud.