Task Manager is a basic Windows utility used frequently used for closing applications or killing process, among other things. If you have ever opened the Task Manager window, you might have come across a process called conhost.exe.
Wondering what is it and why is it running on your computer?
If you have NVIDIA graphics or run graphics-intensive applications, you might see several instances of conhost.exe. Contrary to what many think, this is a legitimate process and not malware.
What is Conhost.exe?
Conhost is short for Console Windows Host. The file is legitimate and completely safe. Microsoft provides the file as a part of the operating system and you can see it running on Windows 7, Windows 8, and Windows 10.
Conhost.exe is needed to run to allow Command prompt to work with Windows Explorer. One of its features enables you to directly drag and drop files/folders into the command prompt. Third-party utilities also use conhost.exe to access the command line.
Software that uses Conhost.exe
It is impossible to tell which processes are using conhost.exe by just looking at the Task Manager. According to experts, any program that uses the command line spawns the conhost.exe process.
Here are some processes that use conhost.exe.
NVIDIA's "NVIDIA Web Helper.exe"
Adobe Creative Cloud's "node.exe"
Dell's "DFS.Common.Agent.exe"
Plex's "PlexScriptHost.exe"
Is it a virus?
Conhost.exe is not a virus. In most circumstances, conhost.exe is a normal and safe process. It does need to be scanned for viruses or deleted. It is also normal to see multiple instances of conhost.exe in the Task Manager.
However, there are situations when a virus disguises itself as a legitimate file, such as conhost.exe, to evade detection. One sign that shows conhost.exe is fake or malicious is if it uses a large amount of memory.
Another indicator of conhost.exe being a virus is when it is stored in the wrong folder. The legitimate conhost.exe runs from a specific folder and from that folder only.
The simplest way to know whether or not the conhost.exe file running on your computer is dangerous is to check its description and location.
Here are the steps to follow.
Press Ctrl+Shift+Esc simultaneously to launch Task Manager
In the Task Manager window, go to the Processes tab
If there are multiple entries you need to follow the steps given below for each conhost.exe entry in the Task Manager
Navigate to the conhost.exe entry in the Task Manager and look to the far right under the Description column. It should read Console Windows Host. If you see any other description, you can consider that conhost.exe instance as a threat.
However, the right description alone does not indicate the file is safe; you need to also check its location.
Right-click conhost.exe process and select Open file location
The folder that opens will show the location of the conhost.exe. The real location of the conhost.exe process is C:\Windows\System32\. If the file is running from the System32 folder, there is a chance the process is not dangerous.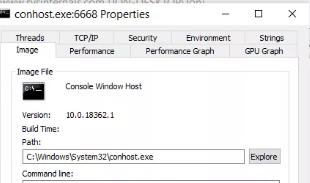 If the conhost.exe is using a large amount of memory, that could be a reason to worry. You should update your antivirus and run a full scan to make sure no malware is masquerading itself as conhost.exe.
Apart from regularly running antivirus scans to ensure smooth functioning of your computer, you should frequently update device drivers. Outdated drivers can not only slow down your computer but also cause all sorts of issues. The easiest way to update device drivers is by using a fast, reliable driver update tool like DriverDownloader.
Here's the link to download DriverDownloader