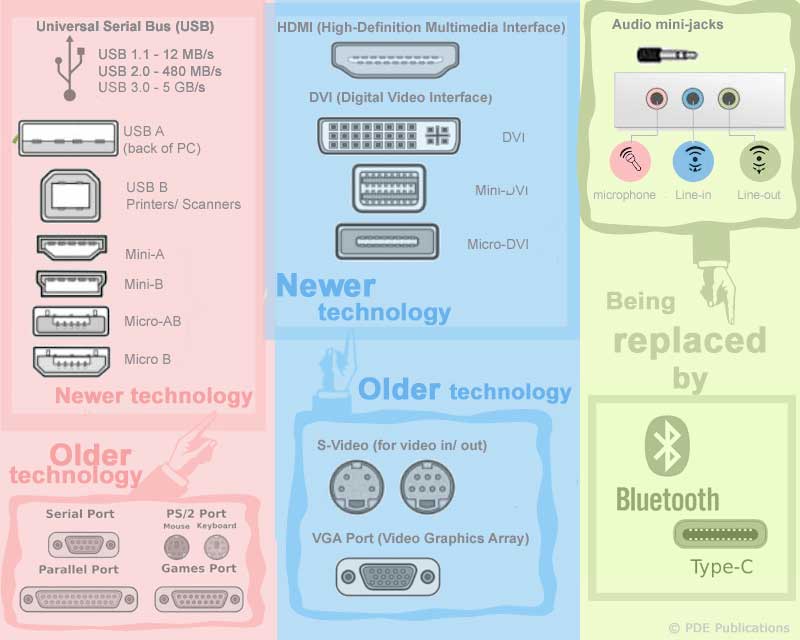 A computer or PC port is basically the slot on the motherboard into which external devices can be plugged. These external devices consist of printers, keyboards, cameras, speakers etc.
With so many different devices there are numerous different ports depending on your PC and the age of your PC. Ports can be categorized by their main function. The main categories of ports are: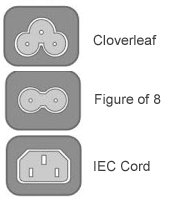 Power Connector ports
The power connectors on a PC are usually one of three shapes, the cloverleaf, figure of 8 or IEC cord
Serial Port:
serial ports were traditionally used for connecting external modems or printer. Because of their slow speeds (they transfer data one bit at a time), they have been replaced by USB which allows for a much faster connection. Most new PCs will not have a serial port.
Parallel Port:
Unlike the serial port, the parallel port can send and receive several bits of data at a time but similar to the serial port, it too has been superseded by USB ports.
PS/2 Port:
This port is informally referred to as the mouse or keyboard port reflecting its main function. Older computers usually had two of these ports, one for the mouse and one for the keyboard. The PS/2 port has largely been replaced by the USB port. Most Keyboard or Mouse peripherals you buy now will have a USB connector and not the older PS/2
Universal Serial Bus (or USB) Port
As you can see from the above, USB ports have largely taken over for connecting external devices such as printers, keyboards, external hard drives etc. USB ports are not only faster for the transfer of data but they also allow compatible devices to be charged via the USB port (phone etc.) Most computers or laptops will provide at least 2 USB ports.
Video ports
While many older computers used the VGA analog port, this has largely been replaced by digital HDMI and DVI ports. An even newer port is the DisplayPort and to make things even more confusing there are mini and micro variations of the HDMI, DVI and DisplayPort to facilitate smaller handheld devices.
VGA Port
A VGA or Video Graphics Array port connects the computer monitor to the video card and is used mostly on older computers or TVs. The VGA port uses analog signal and has largely been replaced by digital DVI and HDMI ports which are explained below.
DVI port
The DVI or Digital Video Interface port connects an LCD monitor to the computer's video graphics card. Unlike the VGA port, the DVI port uses a digital signal. However, the DVI port doesn't have audio support.
HDMI port
Because the HDMI port supports audio, it has become the standard for newer computers.
DisplayPort
This is a newer type of port which may not be as widely used as the HDMI port. In such cases you may need to use an adapter for compatibility.
Network ports
Modem Port
The modem port connects your PC to the telephone network.
Ethernet Port
The ethernet port connects your PC to a network/ internet.
Audio ports
The audio ports on your computer allow for audio in (via a microphone for example) or audio out via speakers or headphones. The audio ports allow you to connect these devices to the sound card of your computer. The different ports tend to be color-coded as you can see in the image.