Driver-related issues, like driver conflicts or faulty drivers, can cause "integrated webcam not working issue" after a Windows 10 update.
The first thing you need to do is check if there's a yellow mark against the webcam device in the Device Manager window. Here are the steps to follow.
Type devmgmt.msc in the Start Search box and then press Enter
In the Device Manager window, navigate to Other devices or Imaging devices. Expand this entry and check if there's a yellow mark against the webcam device (it might be listed as Unknown Device)
If you do see a yellow mark, update or reinstall the driver to solve the issue. In case that doesn't work, you will need to disable and then enable the said device.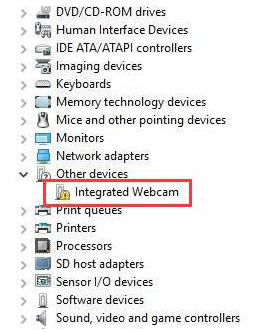 Reinstall the Driver
Here are the steps to follow:
Right-click the device and click Uninstall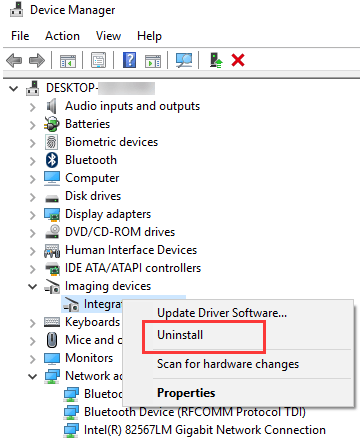 Click the OK button in the Confirm Device Uninstall window
Restart Windows. Upon restart, Windows will automatically reinstall the right driver
Now check if your webcam is working
Update the Driver
You can update the said driver either manually or automatically. We've listed both methods for you. You can check which one works better for you.
Updating the driver manually
You'll need to go to your PC manufacturer's site and locate the newest Windows driver for the webcam. Next, download it. Make sure you use a driver that's for your PC model and specific operating system. To know the version of operating system that you use, simply press Windows key and Pause/Break Key simultaneously. You will find the relevant details in the System Properties dialog box.
It is possible that the PC manufacturer may not have released Windows 10 driver for your PC model. In that case, you can use the driver for Win 8 or Win 7.
Once you've located the latest driver file, download and save it on your desktop. Next, double-click the .exe file and follow onscreen instructions.
Update the driver automatically
The easiest way to update any driver, including webcam driver, is to use a reputable and fast driver update tool. We recommend DriverDownloader to users because it is superfast and reliable. It can update your webcam driver in less than two minutes, provided you register it.
All registered users get access to customer support and are promised 30-day money back guarantee, meaning you can get a full refund if the software fails to live up to your expectations.
Click the link below to download DriverDownloader.