Bluetooth is a short-range wireless technology which can be used to connect to computers, wireless mouse and keyboard, mobile phones, headphones and other devices with Bluetooth functionality.
If you want to listen to music on wireless headphones or transfer files from your mobile phone to computer or vice-versa without connecting the two devices, you'd need to first activate Bluetooth on your computer.
In this post, we will show you how to use Bluetooth in Windows 10 and fix some Bluetooth issues in Windows 10
Steps to turn on Bluetooth in Windows 10
To open Settings window, press Windows key + I on the keyboard simultaneously
Select Devices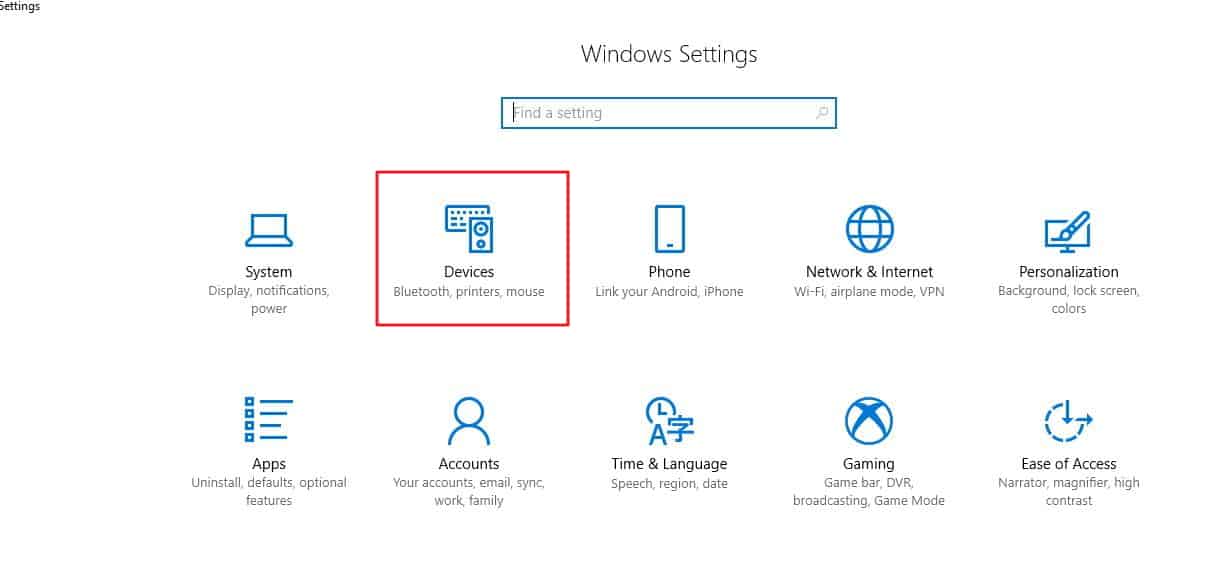 Click on Bluetooth switch to turn on Bluetooth. You will see On near the slider that indicates Bluetooth is activated.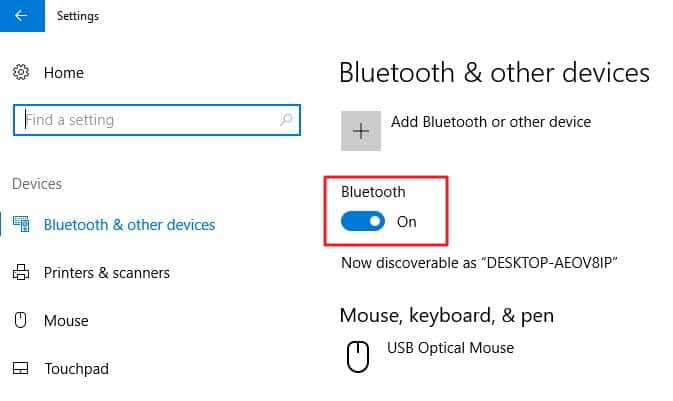 If you cannot find Bluetooth option in Settings, don't panic. We have provided some solutions that will help you get back Bluetooth settings on your Windows computer.
How to fix Bluetooth option not found on the computer?
Before you perform any troubleshooting steps, you need to ensure your computer has Bluetooth supporting hardware.  You can check your device manufacturer's website to know whether your laptop/desktop model has Bluetooth functionality.
Below are some solutions to fix Bluetooth missing issue.
Missing or corrupt Bluetooth drivers are one of the main causes of the "Bluetooth option missing in the Devices section" issue.
Start with the Solution 1 and if the issue is not resolved you can try Solution 2 and Solution 3.
Solution 1 – Update Drivers
If you have verified the device has Bluetooth supporting hardware, you can go ahead and update drivers.
There are two ways to update Bluetooth drivers- manually and automatically.
Manual update– You will need to visit the device manufacturer's website to download latest Bluetooth drivers. If you have upgraded to Windows 10 from Windows 8 or 8.1, you need to look for Bluetooth drivers compatible with Windows 10 on the device manufacturer's website.
If the device manufacturer does not offer Bluetooth driver for Windows 10, you can use the Driver update software to download and install Bluetooth driver.
Method 2 – Automatic update – We suggest you to try DriverDownloader software to update Bluetooth driver automatically.
After you install DriverDownloader, it will scan your system for missing or corrupt Bluetooth driver and update it automatically.
With DriverDownloader, you don't have to visit the device manufacturer's website, nor worry about the Windows version your computer is running.
The driver update software collects all information while scanning the system and downloads correct Bluetooth driver that would resolve the issue.
Here are the steps to update drivers through DriverDownloader.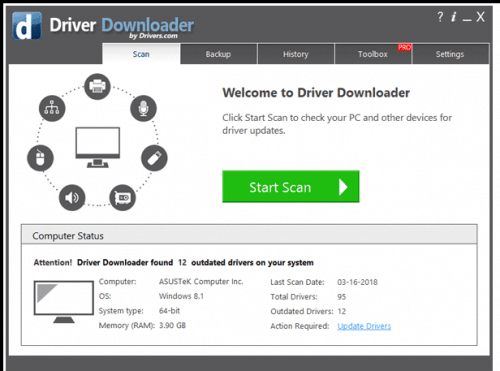 When the download is initiated, you are presented with two options Run and Save. If you select Run, the download will start and you will get an option to install the DriverDownloader software after the completion of the download. If you select Save option, the setup file will be downloaded to Downloads folders. To install DriverDownloader, you need to navigate to the Downloads folder and double-click on the setup

Click Install and follow on-screen instructions to install DriverDownloader software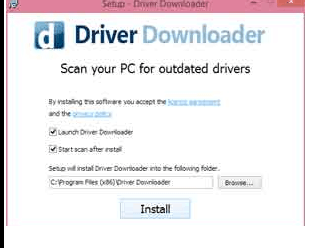 Once DriverDownloader is installed, the software will scan your system for missing or corrupt Bluetooth driver and present you details about drivers that need to be updated. The software will also update other drivers along with Bluetooth driver with a single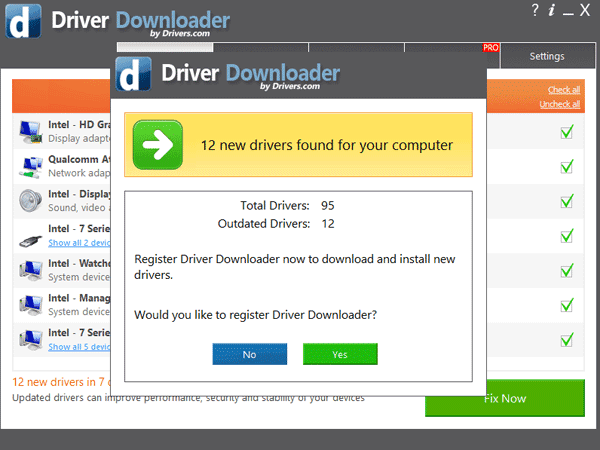 Solution 2 – Re-enable Bluetooth Device in Device Manager
Go to Desktop
Right-click on Start button and click Device Manager from the menu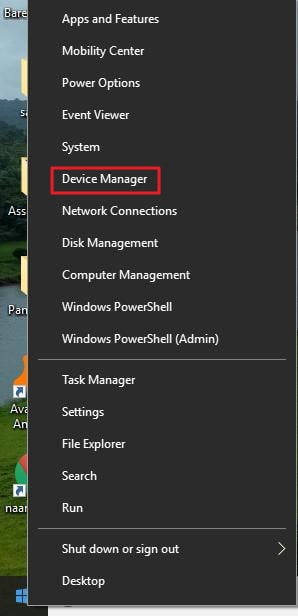 In the Device Manager window, click Bluetooth and expand it
Right-click on Bluetooth device software and select Disable device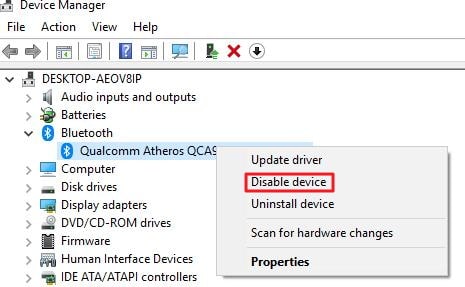 When you are asked for confirmation, click Yes
After you are completed above step, Right-click on Bluetooth device software and select Enable device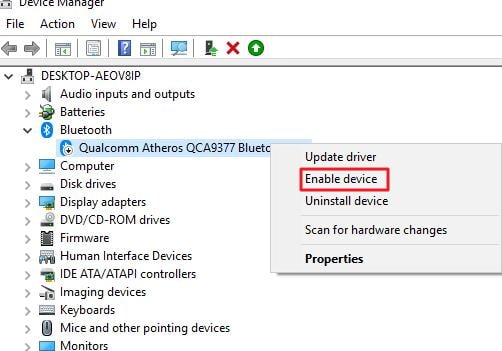 Close Device Manager window
Press Windows key + I on the keyboard to access Settings
Click Devices
In the Bluetooth section, you should see the Bluetooth slider button to activate Bluetooth.
Solution 3 – Check the Bluetooth Service
The Bluetooth service is an important component of the Bluetooth functionality. In this solution, we check if the Bluetooth service is active. If not, perform the steps to activate Bluetooth services.
Here are the steps to follow.
On your keyboard, press Windows key and R simultaneously to invoke Run command
In the Run command window, type msc and hit Enter on the keyboard
Right-click Bluetooth service and select Start
If the Start option is grayed out, click Restart
Right-click on Bluetooth services again and select Properties
Set the Startup Type to Automatic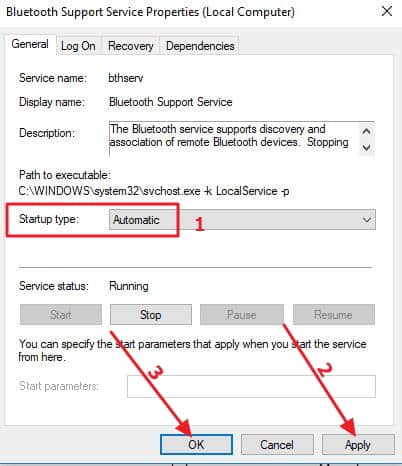 Click Apply -> OK
Close the Services window
Press Windows key + I on the keyboard to access Settings
Click Devices
In the Bluetooth section, click Bluetooth slider button to activate it