If you find the mouse pointer moves randomly on its own while you are typing, then the solutions given here might help fix the problem.
Here we have presented six solutions that have helped several others fix this issue. We are sure at least one of these — if not more — will work for you. So let's dive in.
Solution One- Restart your computer
The problem might be temporary which might get resolved by restarting the computer. Restart your PC and see if the mouse moving on its own problem is resolved.
If this solution didn't turn things around, you need to dig into mouse settings and make some changes.
Solution Two – Run Hardware Troubleshooter
Windows has a troubleshooter tool that can resolve common hardware and software problems. Here are the steps to run the troubleshooter.
Click Start
Type Control Panel in Cortana search box
Select Control Panel from list of results
n the Control Panel window, set the View by to Large icons
Select Troubleshooting from the control panel window
In the next window, find View all option in the left pane and click on it
Select Hardware and devices from the list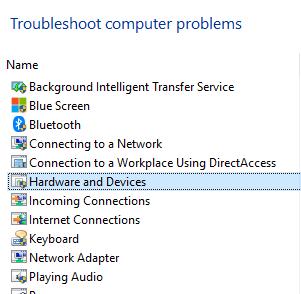 In the windows that pops us, click Next
Windows will try to find hardware problems. Be patient while the Troubleshooter scans for problems
Windows might prompt you to restart PC to fix the problem
When you are presented with option- Apply this fix, click on it
Solution Three – Check Mouse Settings
If the mouse pointer speed is set too low or high, it could lead to such problems. An easy solution to resolve the issue is to check mouse settings and make some changes as shown in troubleshooting steps below.
To bring up Run command, press the key combination – Windows logo key +R
In the Run command box, type control and click OK
In the Control Panel window, set the View by to Large icons
Click Mouse
In the Mouse Properties window, go to the Pointer options tab
Under the motion section, move the slider to the center position. This will ensure the pointer speed is neither high or low
Click Apply and then click OK
Solution Four – Change touchpad delay
Note- this solution is applicable to laptop users only
In laptops, the mouse pointer is controlled by the mouse (external USB mouse) and touchpad. There is a possibility there is some problem with touchpad settings that is causing such an issue. Here are the steps you need to follow.
Click Start
Type Settings in search box
In the Settings window, go to Devices option and click on it

When the list of devices is revealed, look for Touchpad option and click on it
In the right pane, set the Touchpad sensitivity to Medium sensitivity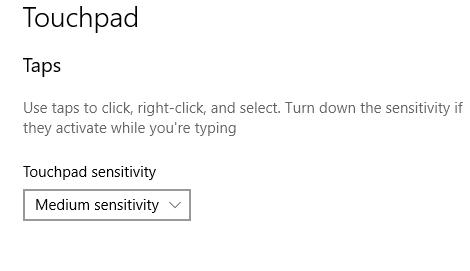 <insert- mouse moving on its own-medium sensitivity>
Solution Five – Update drivers
There is a possibility the mouse driver is corrupt. In that case, updating the mouse driver could resolve the issue. You can update the mouse driver manually or automatically. Here we have given steps for both methods
Steps to manually update the mouse driver
Press Windows logo key + R together to bring up the Run command
In Run command, type devmgmt.msc and click OK
In the Device Manager, go to Mice and other pointing devices category and expand it
Select your mouse and right-click on it
Select update driver from the list of options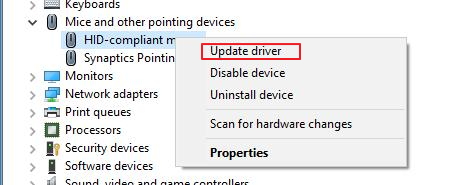 In the next window, select Search automatically for updated driver software.
Windows will search the internet to find a driver update and install it. If it does not find a driver update, you have to manually download the mouse driver and install it.
Open Internet browser
Go to the Mouse manufacturer website
Go to the Download section and select your product
Download mouse driver compatible with your OS version(Windows 7/8/8.1/10)
Double-click on the driver setup file to install the driver
Restart your computer
If you find the manual driver update lengthy and want an easy option, you can update drivers automatically
Steps to update the driver automatically
With the help of a reliable driver update tool, you can update your mouse driver and all other outdated drivers in a jiffy.
We recommend you use DriverDownloader – since it is easy to use and very fast.
It comes with a 30-day money back guarantee, so you can try it out without any problem. In case you didn't like the software, the chances of which happening are almost zilch, you can get a full refund.
What's more, you can even install and run the software for free, if a driver report is all that you want. However, to get automatic updates, you'll need to become a registered user.
Click the link below to download DriverDownloader for free— but don't forget to register it.
Solution Six – Check Mouse hardware
There is a possibility the mouse hardware has gone bad.
Connect the mouse to other PC and see how it works. If the mouse works normally on another computer, you can conclude the problem lies in your PC.
If you experience a similar problem on other PC as well, you can conclude the problems lies in mouse hardware. In that case, you need to get a new mouse for your computer.