Immersive gaming is critical for enjoying computer games. For this reason only, most avid gamers don't shy away from investing in the best hardware and software to enjoy their favorite games. However, one issue that can spoil the fun is screen tearing.
Screen tearing refers to horizontal splits on the screen at one or more places. It occurs when the monitor's refresh rate and GPU's rate are unsynchronized. This issue is not only limited to gaming; you can also experience it while watching movies or videos.
Why does your screen tear?
Screen tearing occurs when your computer's display outputs more video frames than your monitor can handle. The general refresh rate of a monitor is set at 60Hz. This means the screen refreshes visuals 60 times in a second.
If the video port gives out more number of frames per second than 60, it causes an out-of-sync situation. As a result, the monitor tries to adjust by displaying multiple frames at once on your screen, which is known as screen tear.
Another cause of screen gear could be corrupt or out-of-date display drivers. In that case, the easiest solution available is updating your display drivers.
Solution One – Update Display Drivers
You can update display drivers manually or automatically. The latter is a much easier, simpler, and faster method. Nevertheless, we have discussed both methods here. You can pick the one that works for you better.
Update Display Drivers Manually
Simultaneously press Win + R
In the run dialog box, type devmgmt.msc and then press the OK button
In the Driver Manager window, expand Display adapters, right-click your graphics card and then click Properties
Click the Driver tab
Next, click the Update Driver option
In the Update Driver Software window, click the first option (Search automatically…)
Follow the onscreen instructions
Alternately, you can download the latest drivers from your graphics card manufacturer's website and install it.
Updating Display Driver Automatically
As you can see, the manual updating process is tedious. It also requires a fair bit of technical knowledge. If you don't have the time or technical know-how to update the display driver manually, we recommend you use a reliable driver update software tool such as DriverDownloader.
DriverDownloader will update all your outdated drivers in a jiffy, provided you register it after you install it.
Here's the link to download DriverDownloader
If the issue is not resolved by updating display drivers, you should enable VSync. And see if it helps.
Solution Two- Enable VSync
VSync is a graphics technology that allows you to synchronize the frame rate of the game to the refresh rate of the monitor. The synchronization delivers uninterrupted and smooth gameplay for graphics-heavy 3D games.
Here are the steps to enable VSync.
For NVIDIA cards
If you have NVIDIA graphics cards installed on your PC, you need to follow the steps given below to enable VSync.
Click the Start button
In the search bar, type NVIDIA control panel and hit enter on your keyboard.
Click Manage 3D settings
Under the Global Setting tab, you should find a list of features.
Scroll down and find Vertical Sync
Using the dropdown menu to the right, select Adaptive or On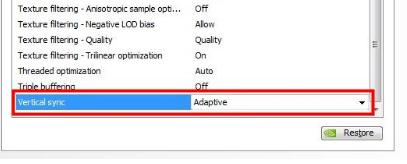 For AMD Radeon graphics card
Click the Start button
In the search bar, type AMD Radeon Software and press Enter on your keyboard
Click the cogwheel in the top right
Click Graphics tab
Under Wait for vertical refresh rate, choose Always on

For Intel graphics Users
Click Start
In the search bar, type Intel HD Graphics Control Panel and press Enter on your keyboard
In the control panel window, click 3D
Click Custom Settings.
Under Vertical Sync, click Driver Settings

In-game Settings
Popular 3D games have an in-built setting for VSync. Here are the steps to activate VSync in the in-game settings
In your game, go to Settings
Click Video -> Graphics -> Quality
Set VSync ON