Are you looking for Windows 10 Driver Updates?
Windows 10 and my personal data
Windows 10 is more cloud connected than any other operating system, and its aggressive data collection capabilities can be a concern for many users.
Microsoft has stated that it does not collect personal data, with the exception of random file data that is used to improve Window's functionality and the overall user experience. While this may well be true, the fact is that Windows 10 collected large amounts of data which causes concern among many users.
Do you value your privacy?
If you are someone who values your privacy above everything else, here's a step-by-step guide that allows you to reclaim your privacy while continuing to use Windows 10.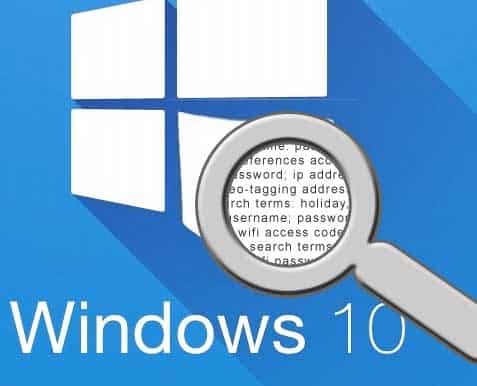 1. Advertising and Windows 10 privacy
Advertising is deeply integrated into Windows 10 and a large part of data collected is used to customize offers and content presented to you.  The data collected by Microsoft and other apps helps Microsoft and its partners analyse the type of content you consume online. Based on your choices, Microsoft and its partners customize the advertising shown on your Window 10 PC.
Today, we are used to seeing ads on websites we visit. However, it is irritating and maybe a little disconcerting to know your surfing habits and product interests are being tracked and that information is used to customize ads that are shown on websites your visit.
For example, if you have searched for a product on the web or any e-commerce site but have not purchased it, you will see the same products being displayed in the Ads. Some users like generic ads but do not like customized ads. You can turn off personalized ads by following steps given below.
Go to Settings > Privacy > General
Look for option that says "Let apps use my advertising ID to make ads more interesting to you on your app usage"
Move the slider to the Off position
Open your browser and go to http://choice.microsoft.com/en-us/opt-out
Look for the option "Let websites provide locally relevant content by accessing my language settings" and move the slider to the Off position
Also turn off the slider for "Let Windows track app launches to improve Start and Search results"
Click Manage my info that's stored in the cloud
You will see Internet browser (Microsoft Edge) launched and a page specifying different opt-outs for Microsoft are displayed
On the right-hand side, look for the option Personalized ads wherever I use my Microsoft account; Move the slider to the Off position
Look for the option Personalized ads in this browser and move the slider to the Off position
2. Cortana and Windows 10 privacy
Cortana, Microsoft's built-in digital assistant, is of great use to Windows 10 users. Cortana can be used to quickly set reminders, make note of appointments and events in calendars, sending an email and various other tasks.
The digital assistant works in similar ways as Google Now in Android.  Cortana is a cloud based personal assistant and it uses information stored on your Windows 10 system to personalize the range of features it provides.
Also, since it is connected to the cloud, it may also sync some data from your Windows device to the cloud account to offer personalized features across different devices connected to a specific Microsoft account.
If you are worried about data shared by Cortana, you can turn it off.  Follow the steps below to switch off Cortana completely
Launch Cortana from the search bar by clicking on the circle in the search bar
Click Settings (the wrench icon on the left-hand side)
Under the second option labeled Hey Cortana, slide the switch to the Off position
When you turn off this option, everything known by Cortana will be erased and the data collected in the digital assistant's notebook is deleted and your privacy restored.
Also, slide the switch to the Off position for the following options:
Taskbar tidbits
Keyboard shortcut
Scroll down in Cortana and look for My Device history
Slide the switch to the Off position
Click Clear my device history to remove Cortana related history from all signed-in devices
Once you are done with deleting data stored by Cortana on the device, you have to take additional steps to delete data stored by Microsoft Servers.
Open Internet browser
Go to Bing's settings page
This is where you can see what data is stored on Microsoft's Servers for personalization
Click on Personalization
Using the Microsoft account you are using on your computer, click the Clear button for both options – Clear personal info and Other Cortana Data and Personalized Speech, Inking, and Typing
Confirm Deletion
3. WiFi Sense and privacy
While an innovative feature, WiFi Sense can raise privacy issues. By default, WiFi is turned on, but that in itself is not the issue.
You can use this feature to share access to WiFi routers that are password protected. Your WiFi password is shared silently and individuals to whom you give permission to access your network don't ever see it, and as such cannot give sharing permission to others.
With this WiFi feature, you no longer have to give your router's password to friends who visit your home. All your digital friends using Windows 10 can log into your network.
In a way, this is far safer and certainly easier than sharing the network's password, because once someone knows it, he or she can share it with as many people as he or she likes.
If WiFi Sense is a big privacy concern for you, you can always turn it off by following the steps set out below:
Press the Start button
Type WiFi in the search bar
Click Change WiFi settings from the search results
From the applet that pops up, click Manage WiFi settings
Under the heading- For networks, I select, share them with my
Uncheck options for com contact, Skype contact, and Facebook friends
If you do not want to connect to the shared Wi-Fi networks (where you don't know the password), slide the pill switch to Off position for the option Connect to networks shared by contacts
4. One Drive and privacy

 If you are not interested in storing your files and data on the cloud, you can turn off the One Drive storage that will ensure the data is not stored on Microsoft Servers. Here are the steps to follow:
Click the upward facing arrow in system tray on the right-hand side of the taskbar
Right-click on the One Drive icon
Select Settings
In the new pop-up window that opens, uncheck the option 'Start OneDrive automatically when I sign in to Windows'
You can also uncheck two other options labeled as – Let me use OneDrive to fetch any of my files on this PC and Use Office to work on files with other people at the same time.
5. Turn Off other data gathering options in Windows 10
If you don't want Microsoft to collect data from your Windows 10 PC, go to the Privacy Settings page and tweak some options
Go to desktop
Type Settings in the search bar
Select Settings > Privacy
In this window, you will find several options which are related to different types of data collected by Microsoft.
Click Location
Look for Location Service
Switch Off for location tracking by sliding the switch to the Off position

Scroll down the screen and click Clear under Location history to delete all location related data stored on your device
Note – You can also change the location settings for individual apps by scrolling down and selecting apps that can use location
Switch Off location for desired apps
Click Speech, inking, and typing
Click Turn off Speech services and typing suggestions
Click Camera
Look for Let apps use my camera hardware
If you want to disable camera system wide, move the slider to the Off position
If you want the camera Off for specific apps, go to Choose apps that can use your camera and Switch Off camera access for desired apps
Click Microphone
Look for Let apps use my microphone
If you want to disable microphone system wide, move the slider to the Off position
If you want the microphone Off for specific apps, go to Choose apps that can use your microphone and Switch Off microphone access for desired apps
Note – For Privacy options like Notifications, Account Info, Contacts, Calendar, Call history and email, the steps to switch off system wide access and restrict app's access are very similar. The generic steps are as follows:
Click <Privacy option name>
Look for Let apps use my <Privacy option name>
If you want to disable <Privacy option name> system wide, move the slider to the Off position
If you want the microphone Off for specific apps, go to Choose apps that can use your<Privacy option name>
Switch off <Privacy option name> for desired apps
Note- while changing the privacy settings for different options, make sure the Mail app has access to Contacts.