With Netgear A6210, you get a USB solution which not only provides high speed but also extended performance and a wider range for reliable connectivity which aptly supports high-bandwidth requirements, such as:
Online gaming
Fast USB 3.0 performance
Good support for all standard Wi-Fi devices
HD video streaming (multiple sessions simultaneously)
Netgear devices are easy to use and install, and Netgear A6210 adapter is no exception. Here are some of the main features of this wireless adapter:
USB 2.0 compatibility
Setting up is a cinch, thanks to Netgear "Genie"
Push 'N' Connect single button installation provides secure connection
Better wireless range (thanks to high-gain antenna)
Flexible USB connection with laptops and easy placement for desktops
Beamforming+ technology provides wider range and better reliability
Windows OS compatible (at present doesn't work on Mac systems)
As the above listed features clearly indicate, A6210 has a lot going for it. As such, it should be an ideal solution if you are looking for consistent, fast wireless Wi-Fi performance. However, like with most technical devices, A6210 may behave erratically every now and then. For example, a common issue with it is that it simply disconnects for no good reason at all. Generally, the adapter keeps disconnecting intermittently, which can be frustrating to say the least.
Why Does Netgear A6210 Disconnects Intermittently
The A6210 adapter can lose connection for different reasons, such as the following:
In case the A6210 keeps dropping regularly, try a different USB port. Keep in mind that you require USB 3.0 port to run at 5GHz. In case your computer only has USB 2.0, restrict the bandwidth performance to not more than 2.4 GHz.
Long story short, ensure your USB is suitable for the bandwidth which you are trying to draw from your adapter.
Does the problem persist even when you switch to another USB port? If so, give another computer a try. If the adapter works fine on another computer, you can safely assume that there is no hardware problem with the adapter.
If you are using a cable extension with your adapter, make sure your cable is certified as USB 3.0. Otherwise, A6210 will not be able to work as USB 3.0.
In addition, avoid using longer cables. That is because there is a higher risk of voltage drop or the adopter running improperly.
Change the power savings options for the USB:
First open the Device Manager window and then click on the arrow before Universal Serial Bus controllers to view all devices under it.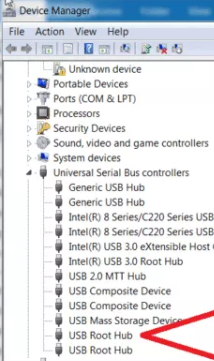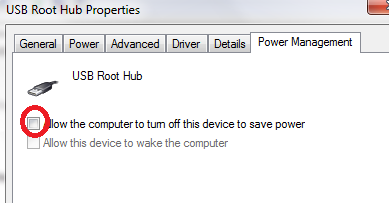 Right-click USB Root Hub, click Properties, then click the Power Management tab.
Uncheck the box before "Allow the computer to turn off this device to save power" and then click the OK button.
You will likely have more than one USB root hub entry. If so, repeat this action for each one of them.
Once you have made the changes for all the devices, restart Windows.
Perform These Simple Troubleshooting Steps First
The first thing you must do is eliminate any sort of problem related to networking configuration:
Ensure the firmware used by you is of the latest type. Firmware is internal software which runs the router.
Go to the manufacturer's site. If it has been a while since you last installed new updates, download all pending updates and install them
Also, it might be a good idea to turn off this setting for your adapter — Minimum Power Consumption.
Here is how you can do that:
Click the Start button, type devmgmt.msc in the Start Search box, and press the Enter key
In the Device Manager window, locate and expand Network adapters
Right-click Netgear A6210 Adapter, and then click Power Management
Deselect the check box before "Allow the computer to turn off this device to save power"
Now click Advanced and check whether the following entry is listed: Minimum Power Consumption
If you do see this entry and it is marked as "Enabled," change the entry to "Disabled"
Click the OK button
Problem Might Be With the Device Driver
Like other devices, the A6210 adapter needs drivers to function. However, if the required drivers are not up-to-date or if your Windows system doesn't have the latest Windows Updates, you may encounter issues with your wireless adapter.
Manufacturers regularly release updates to fix bugs in their software and to enhance performance. Microsoft too releases updates for the Windows OS and various components.
First, ensure that your Windows system is completely up-to-date. The Windows Update is an inbuilt service that automates downloading and installing of software updates.
Click Start, select All Programs, and click on Windows Update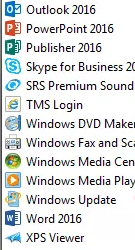 In the Windows Update window, click Check for Updates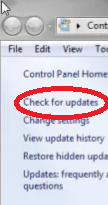 Windows Update will automatically check if there are any new updates for your version of Windows. If it finds any updates, you can download and install them
Keep in mind the entire process may take a little time, especially if it has been long since you last downloaded new updates
You may have to restart Windows after installing new updates
Update the A6210 Driver
After you have downloaded and installed new updates, use the A6210 adapter and check whether the issue is fixed. It is possible that the problem may persist because not all manufacturers are registered with Microsoft. In that situation, you will have to update the A6210 drivers yourself.
You can do this manually — through the Netgear's website or via device manager — or you can use a reliable driver software tool for this purpose. We have listed both the manual and automatic methods, so you can pick the one that works best for you.
Updating the A6210 Driver Manually
Updating the A6210 Driver from Device Manager
Press Windows logo key + R together to bring up the Run command
In Run command, type devmgmt.msc and click OK
In the Device Manager, go to Network Adapters category and expand it
Select your wireless adapter and right-click it
Select update driver from the list of options
In the next window, select Search automatically for updated driver software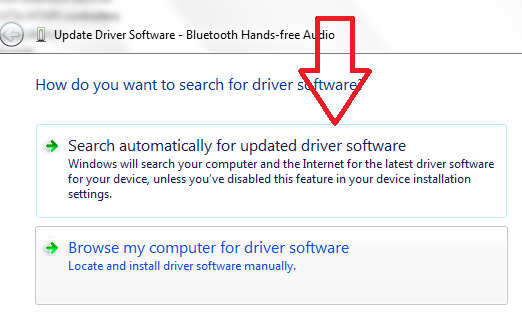 Windows will search the internet to find a driver update and install it. If it does not find a driver update, you have to manually download the mouse driver and install it (which is discussed next)
Updating the A6210 Driver from Netgear Website
Open the internet browser and go to Netgear official website. Search for the latest driver for your A6210 wireless adapter. Once located, download the driver file and save it in a suitable location, like the desktop. Make sure you download the driver file that is compatible with your Windows version. For example, if you use Windows 10 32-bit computer, the driver should be for 32-bit systems.
Now, open the driver folder and double click the executable file to start the installation process. Wait until the installation is complete and then restart Windows.
Updating the A6210 Driver Automatically
You can use DriverDownloader to automatically download the latest driver. The software will download the driver on its own and you will not have to do anything. DriverDownloader is free to use and run, but you will have to register to get automatic driver updates. The software is backed by a no-questions-asked 30-day guarantee, and as a registered user, you will enjoy full email-support.
Here are the steps to download, install, run and register driver software.
Download
Click the link below to download DriverDownloader
Click Run or Save

Depending on your browser, you'll either see message in a dialog box or a pop-up window on your screen.
If you click 'Run', simply go to the next step.
If you click 'Save', browse to the 'download' folder on your pc or to the location where you've have saved the executable file and double-click driverdownlaoder.exe to launch it.
Install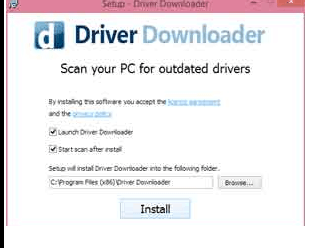 Just click the 'Install' button and follow on-screen prompts to complete the installation process, which shouldn't take more than a minute or two.
Register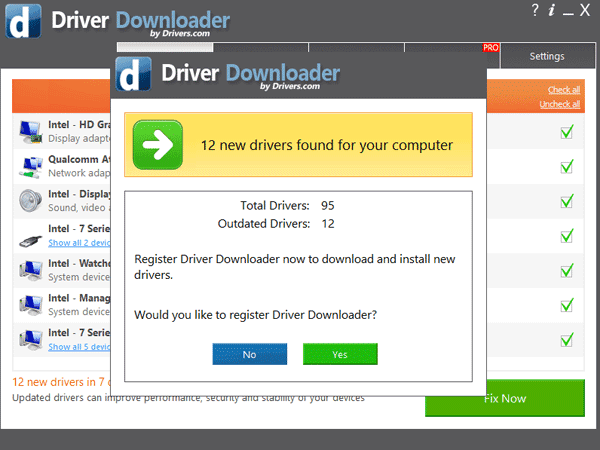 This is the last step. To get automatic driver updates, register DriverDownloader.