Great as Windows 10 is as an operating system, many users have complained of encountering a number of issues after upgrading to it. One such issue is "keyboard not working on Windows 10." This usually occurs after installation of the KB4074588 update
Are you also facing this issue?
If yes, there's nothing to worry about. While an irritating error, it's hardly a tough nut to crack.
In this post, I have listed 4 solutions for this problem. Let's start.
Solution 1 – Check the USB port
At times, a USB port stops functioning after you perform an OS upgrade. Typically, the cause is related to some driver problem.
So how can you check if the USB port is fine?
That's simple. Unplug your keyboard and plug it in into a different slot. Is it working fine now? If yes, this means something is wrong with the earlier USB port. In that case you should straightaway go to Solution 4. Otherwise, check out the next solution.
Solution 2 – Adjust Keyboard settings
Sometimes when Filter Keys — a special setting that lets you decide how Windows is going to deal with accidentally repeated keystrokes — is turned on, the titled issue can crop up.
Here are the steps to check whether Filter Keys are enabled, and if yes, how to disable them.
Click Action Center (its icon in there in lower right hand corner) on the PC desktop
Click All settings
Now click Ease of Access
Click Keyboard
Make sure Filter keys is set as OFF (Otherwise, use the slider button to turn it OFF)

Solution 3 – Reinstall drivers for your Keyboard
Problems with your keyboard drivers can cause the keyboard to stop working. For instance in case of faulty keyboard drivers, this issue can occur repeatedly.
Type device manager in the Start Search box and click Device Manager in the results
In the Device Manager window, expand Keyboards
Now right-click Standard PS/2 Keyboard and click Uninstall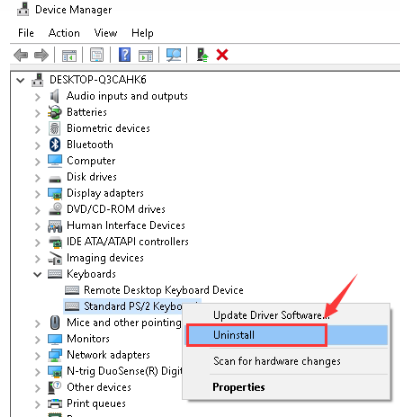 Confirm Device Uninstall pop-up will appear on your screen. Simply click OK
Reboot Windows
If the issue still persists, chances are your keyboard drivers are old, not faulty. You will have to try the steps in the next solution.
Solution 4 – Install the latest keyboard and USB driver
There are two ways to update your keyboard and USB driver – manually and automatically.
I've listed both the methods. Pick one that sounds more convenient to you.
Steps to update keyboard and USB driver manually
Press Windows logo key + R together to bring up the Run command
In Run command, type devmgmt.msc and click OK
In the Device Manager, expand Keyboards and now right-click Standard PS/2 Keyboard and click update driver
In the next window, select Search automatically for updated driver software.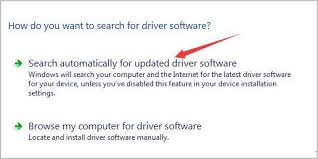 Windows will search the internet to find a driver update and install it. If it does not find a driver update, you have to manually download the mouse driver and install it.
Open Internet browser
Go to the Mouse manufacturer website
Go to the Download section and select your product
Download the keyboard and USB driver compatible with your Windows type (If you use 32-bit, use a driver for 32-bit Windows 10. If you use 64-bit, download a driver that's meant for 64-bit Windows 10) and save the file on the desktop
Double-click on the driver setup file to install the driver
Restart your computer
Steps to update keyboard and USB driver automatically
If you don't want to complete so many steps, simply download DriverDownlaoder by clicking the button below and register it. Then you will be able to get automatic driver updates with a click of the button.
The tool comes with a 30-day money-back guarantee, so there's no harm in giving it a shot.