If you have both PS3 and PS4 consoles, you might be wondering if the PS3 controller can be used with PS4.
Many times we get used to older things so much so that even when we get better or advanced things our love and preference stays with the older thing. Same things happen with many gamers and they want the PS3 controller to work with PS4 console.
Though PS4 controller is more advanced than its predecessor, you need time to get used it. Many gamers feel it would be great if they could connect PS3 controller to PS4 and enjoy latest games which the new console has to offer.
If you want the same thing, this post is for you.
Can you use PS3 controller with PS4 console?
The official answer is No—but don't lose heart.
The Sony PlayStation website and gaming forums clearly mentions that the PS3 and PS4 are two different devices and the DualShock PS3 controller is not compatible with PS4.
However, don't worry as there are workarounds that makes this possible.
The DualShock PS4 controller used with PS4 is much more advanced than its predecessor (the PS3 controller). One of the big differences is touch screen. Also, PS4 console has several advanced features incorporated which are needed to play latest games on PS4.
Despite all this negative thumping, we can surely help you to get the PS3 controller work with PS4 console.
How to use DualShock PS3 controller on PS4?
We have mentioned about workarounds that can make this possible.
You need to use a controller converter device to achieve this feat.  When PS4 was launched, many gaming and technology companies searched for ways in which old hardware (PS3 controller) can be used with new PS4.
Their efforts bore fruit in the form of controller converter or adapter. The controller adapter is a device that allows you to use your favorite controllers on any gaming console.
One of the advantages of using controller adapter is you can use any of your old controller and need not spend money on buying new controllers.
There are several controllers' adapters available online. You can buy any controller that you like or that fits in your budget.
Before selecting any controller converter, make sure it works with PS3 controller and PS4 console.  Here we have discussed two popular controller converters – Brook and CronusMAX Plus, both can help you use PS3 controller with PS4 console.
Method One – Use CronusMax Plus as Controller Converter
A CronusMax plus Controller Converter can allow you to use PS3 controller with PS4 console. You can purchase CronusMax Plus online and get started. After you have purchased the CronusMax Plus, you need to download Cronus Pro and install it on your computer.
If you are not sure about how to install the software on your computer, you can read the manual available at their website.
After you have completed the installation, you will need to configure the Cronus Pro software so that it can work with the CronusMax Plus connector converter.
Here are the steps you need to follow.
Step One= Unpair DualShock4 from the PS4
Before you pair the PS3/DualShock3 controller with PS4, you need to unpair the DualShock4 that is earlier wirelessly paired with PS4. Here are the steps to follow.
Connect the DualShock4 to CronusMax Plus with the mini-USB cable.
Now connect the CronusMax Plus to the PS4 Console
Power on the PS4 console
On the PS4 console, select – Settings

Select Devices-> Bluetooth devices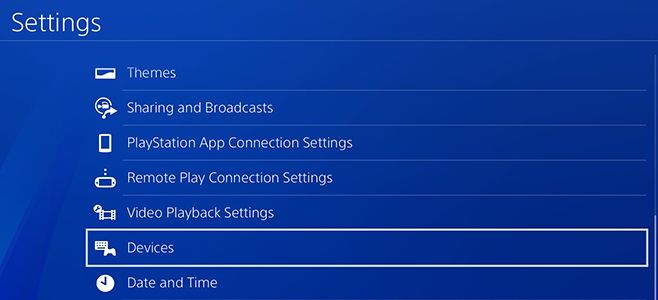 Select the DualShock4 controller from the list

Select Forget Device from the right-hand pane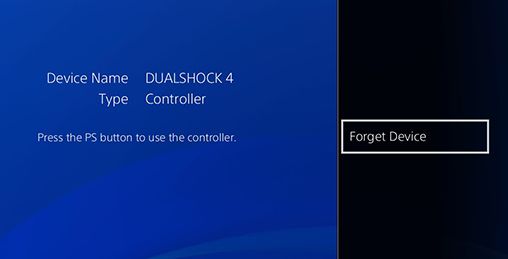 In the next screen, select OK
<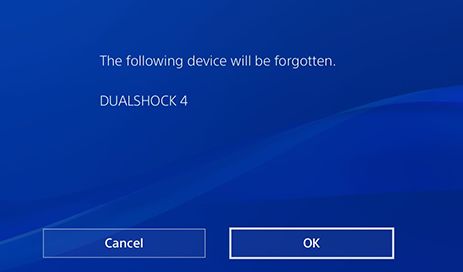 Now that you have unpaired the DualShock4 from the PS4 controller, you can go ahead with the process of pairing DualShock3 with PS4 console through CronusMax Plus.
Step Two – Prepare CronusMax Plus for PS4 console and DualShock3 controller connection
Use the mini-cable provided to connect the CronuxMax Plus adapter to your PC. Some USB 3.0 ports (blue colored) do not work well with the connector adapter, so we recommend connecting the mini-cable to one of the USB 2.0 port.
Now launch Cronus PRO software on your computer and click in following order – Tools -> Options
In the Options window, go to Device tab
In the Output Protocol, select PS4
In the Configurations section, check mark following options
Enable remote control of slot on each device
Automatic DualShock3 Bluetooth pairing
The device will remember the last active slot when restarted
In the Speed Up Settings section, check mark following options- Inframe out and 1ms Response
After you have made recommended settings above, click Close
In the Options window, go to CMax Plus
In the CMax Plus configuration section, put a check mark for the option Enable PS4 Partial Crossover support.
Click Close to close the options window
Step Three – Pairing DualShock3 controller with CronusMax Plus
Open Cronus Pro and click Tools
In Tools menu, select DS3/SixAxis pairing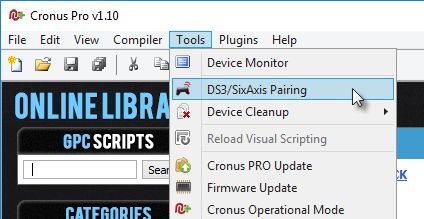 Now take the Bluetooth USB adapter that is provided with CronusMax Plus and insert the Bluetooth USB adapter into input port of CronusMax Plus
You will now see a DS3/SixAxis Bluetooth pairing wizard appear on your computer screen
In Step 1, click Next to continue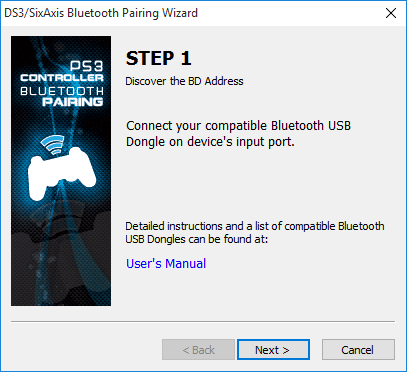 When the Step 2 of DS3/SixAxis Bluetooth pairing wizard appears on the screen, do the following
Remove the Bluetooth USB adapter from the CronusMax Plus input port and connect your DualShock3 controller to CronusMax Plus using a mini-USB cable
Click Next
The pairing is now complete and the CronusMax Plus has paired the Bluetooth USB adapter with your DualShock3 controller. Click Finish to close window.
Now you need to disconnect the DualShock3 controller from the CronusMax Plus adapter by unplugging the mini-USB cable that connects them
You can also remove CronusMax Plus from your computer
Step Four – Connecting DualShock3 controller to PS4
Connect the CronusMax Plus into one of the USB ports on your PS4 console.
After the CronusMax Plus is connected to PS4 console, you should see spinning standby animation in the LED panel of CronusMax Plus
Now connect the Bluetooth USB adapter to the input port of CronusMax Plus connector
Switch on the DualShock3 controller by pressing PS button
After few seconds the LED panel of the CronusMax Plus should go from spinning standby animation to a number (0 or any other number which depends on the slot it is connected to). This indicates the DualShock3 is connected to PS4 console and you can enjoy games.
Note- since we have used the PS4 Partial crossover support, the PS4 console will check the controller after every 10 minutes. You will receive a disconnecting and reconnecting messages during the game but don't worry these messages won't interrupt your gaming and the games will run smoothly.
Solution Two- Use Brook connector converter
Brook is another connector converter that would help you connect DualShock3 connector to PS4. In comparison to CronusMax Plus, it is a relatively simple device that needs fewer configuration steps to work.
Here are the steps to follow.
Insert the Brook connector converter into one of the USB ports of PS4 console.
Now using a mini- USB cable connect the DualShock3 connector and Brook Connector
You would see the LED1 on the DualShock3 blinking that indicates the connection is complete
you can remove the mini USB cable connecting the DualShock3 connector and Brook connector
Now try playing games using DualShock3 connector