Cookies are text files and small pieces of data that are stored by websites on your computer. They store personal information like username and password and are used to identify your computer. HTTP cookies are used to identify the user and improve the browsing experience.
There can be several reasons to remove cookies in Firefox. For instance, you might be seeing pop-up ads you are not interested in.
If you are concerned about privacy and scared of cookie hijacking, you may want remove cookies in Firefox.
Here are the steps to follow.
Open Firefox
Click three horizontal bar icon on the top right corner of the browser. It opens the browser menu
Click Settings from the menu

In the Settings window, click Privacy and Security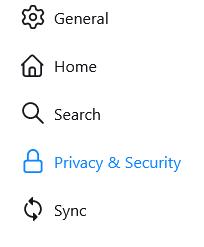 In the right-hand pane, locate Cookies and Site data

Click Clear data
In the Clear data window, check the Cookies and site data and Cached web content options
Click Clear
The above actions will remove cookies from Firefox. If your browsing experience has not improved after removing cookies from Firefox, try updating drivers.
Outdated drivers can cause a number of issues, so it is best to keep your drivers up-to-date. Given the fact that updating drivers using a reliable driver update software such as DriverDownloader is easy and simple, there's no reason to not update them on a regular basis.
The best part about DriverDownloader is that it comes with a 30-day money-back guarantee, so you can try it out without any worry. While the software is free to download, install, and even run, you will need to register to enjoy automatic updates.
Here's the link to download DriverDownloader