When it comes to versatility, Google Chrome beats other browsers to the punch. With Chrome, you can easily tweak the settings to meet your personal browsing needs. In this post, we'll show you how to change default settings in Chrome. So, keep reading.
Reasons for changing Chrome's Default Settings
Chrome's default settings work fine for most users. However, if you want to change them, it's something you can do easily and quickly. There are several reasons why someone might want to change the default settings. For instance, if you want to change Chrome's looks or the way it works, you will have to make changes to its settings. Likewise, if you prefer more privacy and security or want to clean Chrome, you will first need to change the default settings.
Changing Chrome's Default Settings
You can see each and every Chrome configuration setting on the master Settings page. To change a setting, you'll need to open this page.
Step 1 – Open Chrome's Settings Page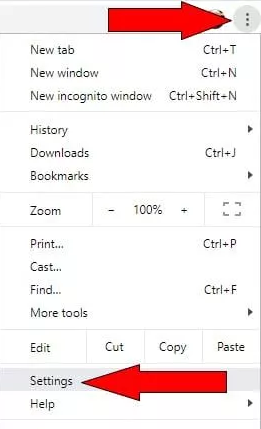 First, click Chrome's hamburger (3 vertical dots) menu, and then click Settings. This will open the Settings page.
Step 2 – Change People Settings
Google syncs your browsing data across multiple devices when you sign in to your personal Google account via Chrome. All of this is managed by the settings in the People section of the Settings page. (You will see this setting at the top of the page)
Depending on your needs and preferences, you can:
Disable or enable personalization and syncing
Import bookmarks (as well as other settings) from other browsers
Change your Chrome picture and name
Manage the Google account
Step 3 – Change Autofill Settings

Chrome has the ability to auto fill various forms that you come across on different websites. What Chrome does is store data that you feed into such forms for later use. If you want to disable or enable saved addresses, passwords, and payment methods, browse to the Autofill section of the Google Chrome Settings page.
Step 4 – Change Chrome's Looks
Not a great fan of how Chrome looks by default? You can change it with a few clicks. Simply browse to the Appearance section of the Chrome Settings page and make the desired changes.
You can change the following here:
Your browser's theme
Show a bookmark bar or Home button
Change the font size or type
Zoom in or out on your current page
Step 5 – Change Chrome's Default Settings

Chrome is configured in such a way as to use the Google search engine by default when you run a search query. However, it is possible to make some other search engine, like Yahoo or Bing, as the default one. To do this, browse to the Search engine section in Settings page. Next, click at the Search engine list. This will allow you to view the names of all other search engines. You can select the any name you want by clicking Manage search engine.
Step 6 – Set Chrome as the Default Browser

There's a good chance that Chrome is already the default browser. However, if that isn't the case, simply browse to Default browser and then click at Make default on the Settings page.
Step 7 – Tweak Startup Behavior

Want to know what happens when Chrome gets launched? Browse to On Startup in the Settings page. You can set various settings here. For instance, if you can have Chrome to open a New Tab page every time you launch the browser. Alternately, you can have it open a specific page or a set of certain pages or display the previously opened page.
Step 8 – Tweak Privacy and Security Settings
Chrome makes it rather easy to change Security or Privacy settings. For this, you need to click the Advanced option (scroll down the page to see it). In this section, you will see several new configuration settings. You can use the Privacy and Security section to make the browsing experience more secure and private or to make it less secure and private. This section also allows you to clear cookies, cache, and other types of browsing data.
Step 9 – Tweak Language Settings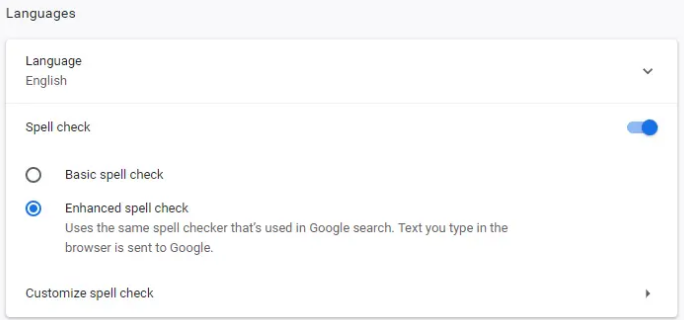 Chrome shows the same language as on your laptop or computer in its Settings page. Of course, you can change that with a single click. If you want, you can ask Chrome to run an Enhanced spell check. Both the settings can be tweaked by browsing to the Languages section.
Step 10 – Change Download Behavior
Chrome is configured to save all files that you download from internet in the default Download's folder. But if you want to change that, browse to Downloads in the Settings page and select a new location. Alternately, you can have Chrome ask you where you would like to save a file every time you download one.
Step 11 – Configure Print Settings
Want to add a Cloud Print device for printing web content? Simply go to Printing in the Settings page and set up new devices.
Step 12 – Add Accessibility Features
One of the more useful features of Chrome is that you can make it more accessible for someone with physical or visual challenges. All of this can be done from the Accessibility section. You can find and download accessibility features that you require.
Step 13 – Change System Settings
Want to tweak how Chrome runs on your PC or laptop? You can change such settings by going to the System section.
Step 14 – Restore and Clean Up Chrome

Last but not the least, Chrome offers two tools, which can be accessed by going to the Reset and cleanup section, for restoring it to its prime condition. You can either opt to restore the browser's default settings or clean up the computer by allowing Chrome to search for and get rid of harmful programs and software.
Updating Device Drivers Can Improve Your Computer's Performance
Is your computer performing sluggishly? Do you frequently receive frequent errors or issues? If so, we recommend you to make sure your device drivers are up to date. Outdated drivers are the main reason behind Windows poor performance. With help of an advanced tool, like DriverDownloader, you can update all outdated drivers in a matter of a few minutes.
The software will scan your computer to identify outdated drivers and then automatically download and install their latest versions. Cool, eh? What's even more impressive is that DriverDownloader comes with a no-question-asked, 30-day money-back guarantee.
Here's the link to download DriverDownloader