The keyboard is an important input device for your laptop, and if it suddenly stops working, you are likely to face certain difficulties in using your laptop.
Such hardware issues usually come unannounced. Dell laptop users who have upgraded to Windows 10 often face this problem.
If you are facing a similar keyboard problem, you don't need to worry. We have provided three simple solutions that can get your keyboard working once again.
Though we have listed three solutions in this post, you are not required to try every solution. Follow the troubleshooting steps given in Solution One. If that doesn't resolve the keyboard issue, try next solution and so on.
Let's get started.
Solution One – Restart your laptop
Sometimes the problem with the keyboard is a minor one. A simple restart might be enough to resolve the issue. So just restart your Dell laptop and see if the keyboard problem is resolved. If your keyboard is still not working, try the next solution.
Solution Two – Uninstall keyboard driver
There is a possibility the keyboard driver has become corrupt, and because of which, your keyboard has stopped working. A simple solution to this problem is uninstalling the keyboard driver. The result will be Windows 10 will install a new keyboard driver from its database that would get the keyboard working.
Here are the steps to follow.
Since your keyboard is not working, you need to connect an external USB keyboard (wired) or wireless keyboard to perform the troubleshooting steps.  If you don't have any of these, you can also use the on-screen keyboard that is built in the Windows operating system.
If you don't have a physical keyboard to perform troubleshooting steps, follow the steps to access on-screen keyboard in Windows 10.
If you have a physical keyboard, you can skip the next part and move to Steps to uninstall keyboard driver.
How to access on-screen keyboard in Windows 10?
Click the Start button
Click Settings(gear icon)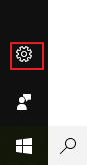 In the Settings window, click Ease of Access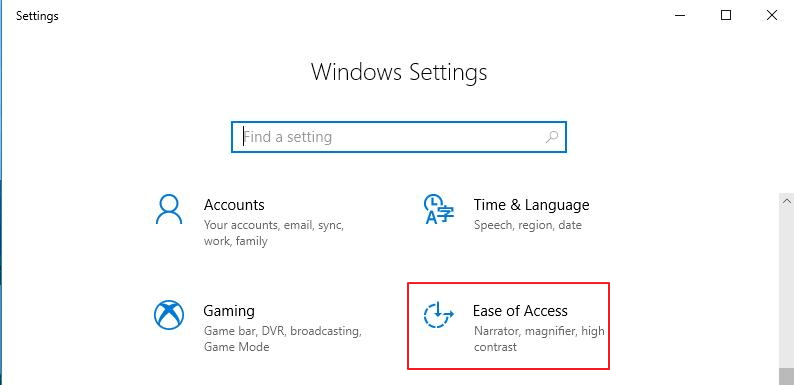 In the Ease of Access window, scroll down and click keyboard in the right pane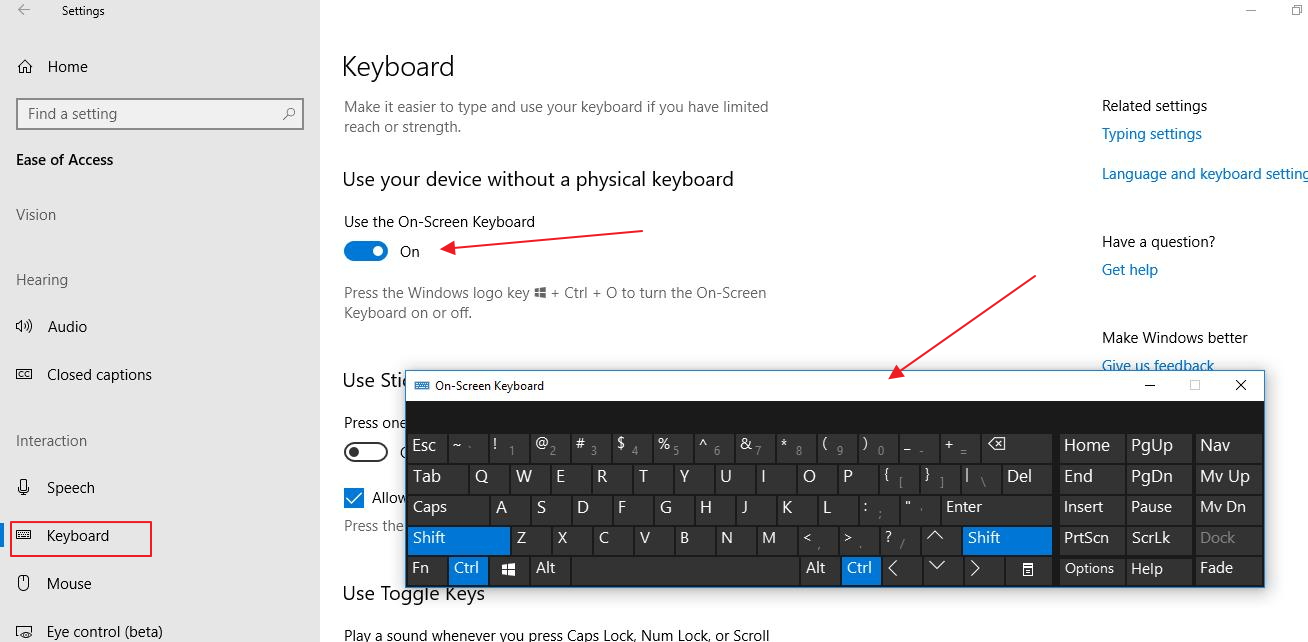 In the left pane, click the toggle key Use the on-screen keyboard to turn the feature on
When the on-screen keyboard is activated, you can see a black on-screen keyboard displayed on the screen.
You can move this keyboard to any area of the screen and use it to type the commands in the solution given below.
Steps to uninstall keyboard driver
Press Windows logo key and R simultaneously on the keyboard to bring up the Run command console
In the Run command window, type devmgmt.msc and click OK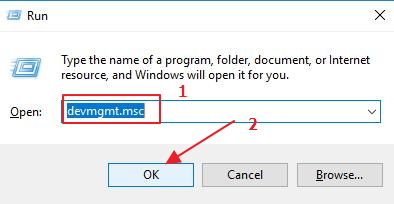 In the Device Manager window, click Keyboards to expand the category
Right-click Standard PS/2 keyboard and click Uninstall device. You may also see HID keyboard as device name in the keyboard category. The steps to uninstall keyboard remains same irrespective of the keyboard device name in the category.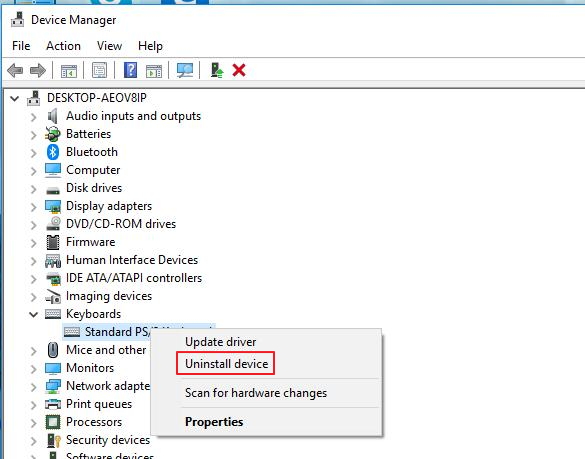 Close all windows and restart Dell laptop
During restart Windows 10 operating system will detect missing driver for keyboard and install a generic driver for a keyboard that would get the keyboard working again. If the keyboard is not working after these steps, try next solution.
Solution Three – Update Drivers
As you might know, you can update drivers in two ways—manually and automatically. The advantages the second method has over the first are many. For instance, when you update drivers automatically, there's no risk of installing wrong drivers by mistake. No less importantly, the whole process takes no more than a few minutes whereas in case of manual update, the process can take a good half-an-hour, if not more, if you have to search the manufacturer's website to locate the necessary.
We advise you to use DriverDownloader for updating your drivers. It is super-quick, extremely reliable, and very affordable.
You can download, install, and run it for free. When you run DriverDownloader, you'll get free driver report. However, to update your drivers, you need to register it.  Registering the software gives you access to customer support. You can get a refund within 30 days of your purchase if you're not happy with it—the chances of this happening, however, are almost zero!