Did you know that Playstation 4 works pretty well with mouse devices and keyboards? What's more, you might even be able to play at least a couple of your favorite games (if not more) using your mouse and keyboard. Interesting, eh?
Before we look at how to connect and use a mouse and keyboard with PS4, let's the advantages of doing so.
Mouse and keyboard control, according to some PS4 enthusiasts, leads to better aiming, which can be a great advantage to have in shooting games. So much so, that many users believe it's not fair for someone with access to mouse and keyboard control to play along with someone who doesn't. They believe the former enjoys a significant advantage.
Anyway, currently there are only a handful of games that support mouse and keyboard control. These includes, among others, War Thunder, Paragon, Overwatch, and Final Fantasy XIV.
So, let's now get to the meat of the matter and check out how you can use your keyboard and mouse with PS4.
Connecting a Keyboard and Mouse with PS4
Keyboard and Mouse, whether wired or wireless, can be used with PS4. There are two ways in which you can achieve this (both are discussed ahead). You can pick the one that works better for you.
Solution 1 – Connecting a Wireless Bluetooth Keyboard and Mouse with PS4
As Bluetooth is pretty standardized, you can use pretty much any brand of wireless keyboard and mouse with PS4.
Here are the steps to follow.
Ensure your PS4 is able to find your wireless keyboard and mouse
Click the Settings button of your PS4
Now click Devices
Select Bluetooth Devices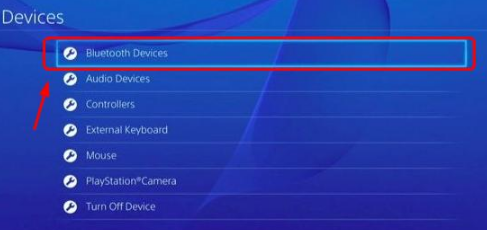 Here your Bluetooth keyboard and mouse will appear. All you got to do is pair up them. It is possible that you might have to enter a password. Simply follow whatever onscreen instructions flash on your screen
You can even customize the wireless mouse and keyboard as per your needs. For this, click Settings and after that click Devices
You can click Mouse or External Keyboard
If you have clicked External Keyboard, a preference page like this one should appear on your screen
Just select your preference and that's it. Your keyboard and mouse is all set up
Connecting a Wired USB Keyboard and Mouse to PS4
Compared to connecting a wireless keyboard and mouse, wired ones are much easier. Of course, all you actually have to do is to connect them to functional USB ports. Having said there's much more you can do.
Let's see how.
Connect the USB keyboard and mouse to PS4
The PS4 will automatically pick up the new devices. With help of the arrow keys, you should be able to easily go forward and back. However, if you want, there's a lot more that you can do
Using the keyboard or controller click Settings. Next, click Devices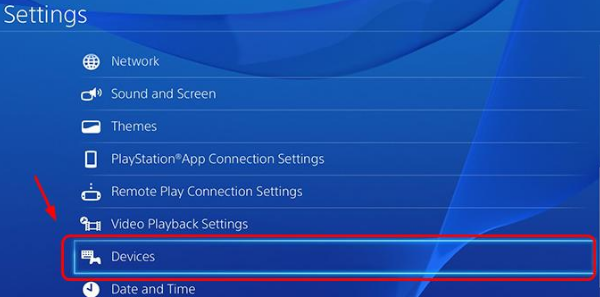 Click Controllers
Click Communication Method
Select Use USB Cable
That's it. You have set up your USB keyboard and mouse