Does your computer randomly restart without any error?
If yes, there could be some underlying problem that might be causing the issue. It is important that you investigate the issue and resolve it, because otherwise over time it might turn into something serious.
In this post, we have discussed few solutions that could resolve your problem.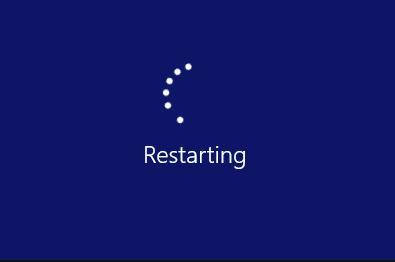 If your computer restarts randomly often, it could hamper your productivity. Many a time Windows restarts after a Blue Screen of death, and that's understandable and not a cause of worry. However, it your computer restarts without any obvious cause, you must look into the matter without any delay.
In this post, we have provided you with four solutions that could resolve the computer random restart issue.
You need not try all solutions given in this post. The best approach is to start with the first solution. If it doesn't work for you, try the next solution and so on until the problem is resolved.
So, Let's get started.
Solution One – Disable automatically restart feature
The Windows operating system has an inbuilt restart system where the operating system restarts in case of hardware failure or any other severe cause. There is a possibility this feature might be causing the random computer restart. The simple solution to this problem is disabling the automatic restart feature. Here are the steps to follow.
Type this in Cortana search box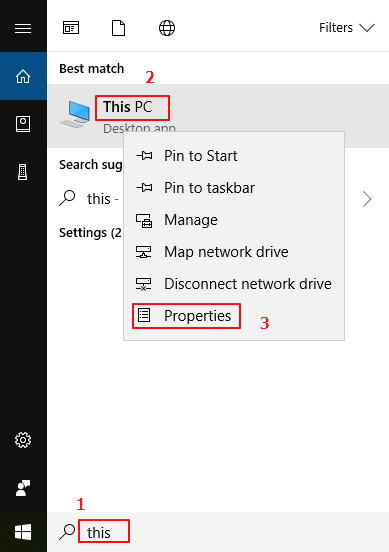 Right-click This PC from the list of search results and click Properties
In the next window, click Advanced system settings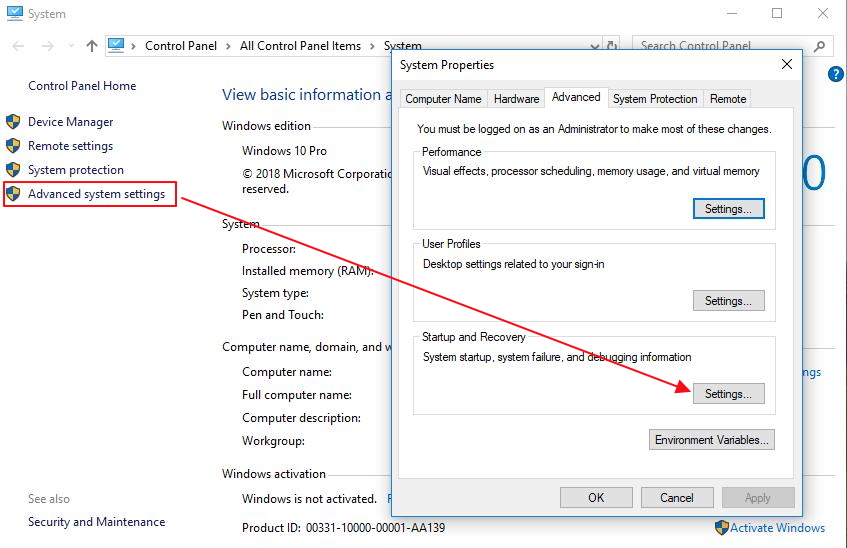 In the System properties window, click Settings under Startup and Recovery
Under System failure section, uncheck Automatically restart and then click OK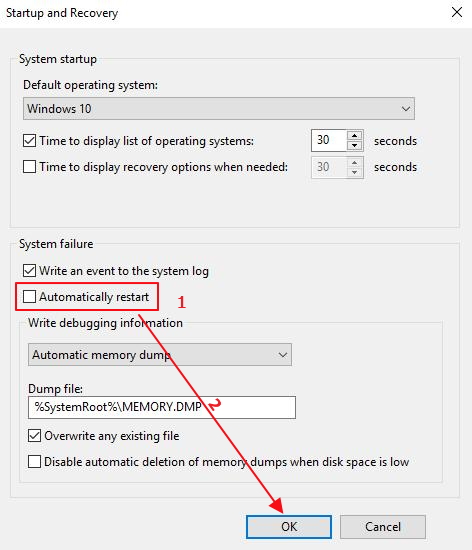 Close all windows and work for a computer for a while to see if the computer restarts randomly. if the random restart problem is not resolved, try next solution
Solution Two – Change the advanced power settings
Windows has inbuilt power policy settings that allow device manufacturers and software developers to extend the power policy model to their applications and hardware. There is a possibility wrong power policy setting is the reason behind random computer restarts.
To resolve the issue and also get rid of your doubts, make a few changes to the advanced power settings and see if it helps in getting rid of the problem. Here are the steps to follow.
Type power options in the Cortana search box
Click Edit Power Plan
Click Change advanced power settings.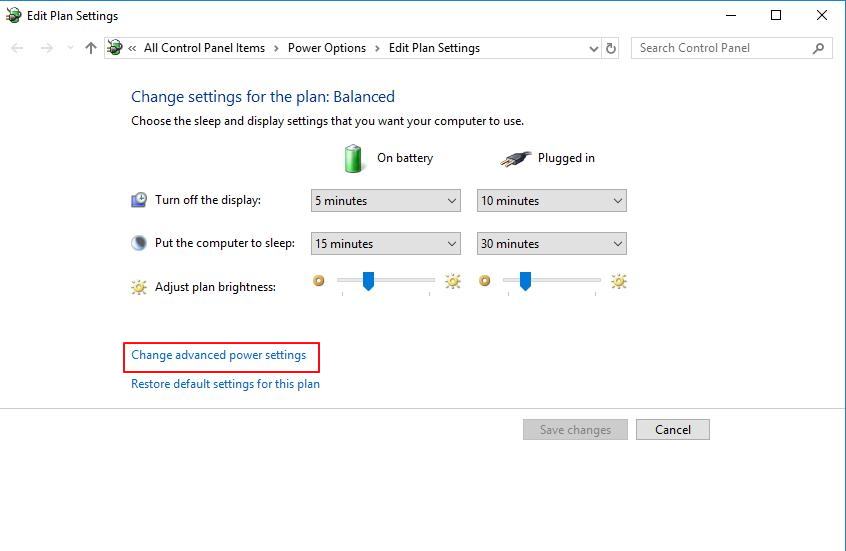 In the Power Options window, make sure the Balanced plan is selected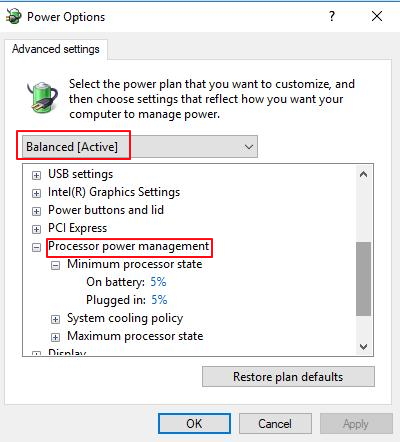 Scroll down to Process Power Management option and expand it
Go to Minimum processor state and expand it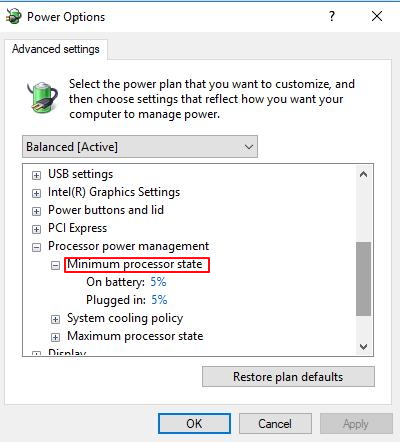 Select 5% as the Setting for both options (On battery and Plugged in)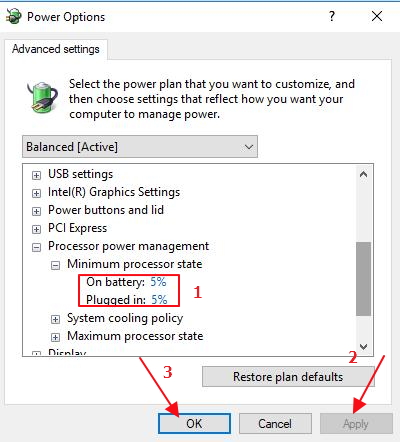 Click Apply followed by OK
Close all windows and work on the computer for some time. if the computer randomly reboots, try next solution.
Solution Three – Update Drivers
Outdated drivers can cause PC performance issues and other problems. It is quite possible that your computer is randomly restarting because of some driver related problems.
That's why it is important you scan your computer using a reliable driver update software tool and update outdated device drivers. We recommend DriverDownloader. It is a top-ranking driver update software tool and automatically updates all outdated device drivers.
You can install and run the tool for free. When you run DriverDownloader, it gives you a free driver report. Among other things, this report tells you how many drivers on your computer are outdated.
To update these drivers automatically, all you need to do is register the software. Along with automatic driver updates, registering DriverDownloader gives you access technical support. The tool comes with a money-back guarantee, so in case you're not happy with it—chances of which happening is almost zero—you can get full refund.
Simply click the green button below to download the software. Once the tool has been installed, run the exe file to install it. Next, register the software to enjoy automatic driver updates. Yes, the whole process is that simple.
Solution Four – Check Power issue
Many users have reported power issue could be the reason behind random computer restarts. The problem could be in the power cables supplying power to the motherboard, hard drive or the power supply unit might have gone bad.
The solution to this problem is getting a new or working power supply unit and use it as a replacement. Try using the computer for some time to see if the issue is resolved. If the computer works well after replacing the power supply unit, you can draw a conclusion; the power supply unit was at fault.
In that case, you can leave the replacement power unit in the computer or get a new power supply unit for your PC.