The Cast to Device is an important feature in Windows 10. If the feature stops working, you won't be able to use Windows Media Player for streaming content to any device.
As you can guess, this could be very frustrating.
That said, help is nearer than you think.
If the Cast to Device is not working on your computer, this post is just for you.
We have provided 3 solutions that could fix the issue — but you need not try all of them.
Start with the 1st solution. If it does not resolve the issue, move on to the next solution and so on.
Now, let's look at the solutions.
Solution One- Turn On Network Discovery and File and Printer sharing
The network sharing feature should be enabled for the Cast to device feature to work.
Also, the Cast to Device also needs the Network Discovery feature to work flawlessly.
You need to check the status of file and printing sharing feature and network discovery and ensure both options are enabled.
Here are the steps to follow.
Click Start
Type network in Cortana search box
From the list of results, click Network status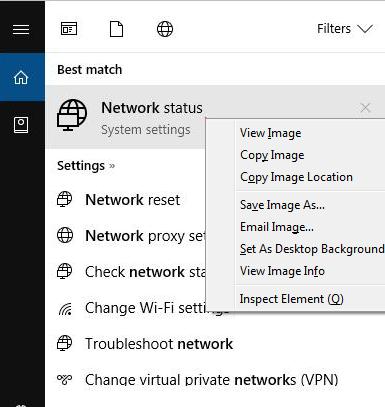 In the next window, click Networking and Sharing Center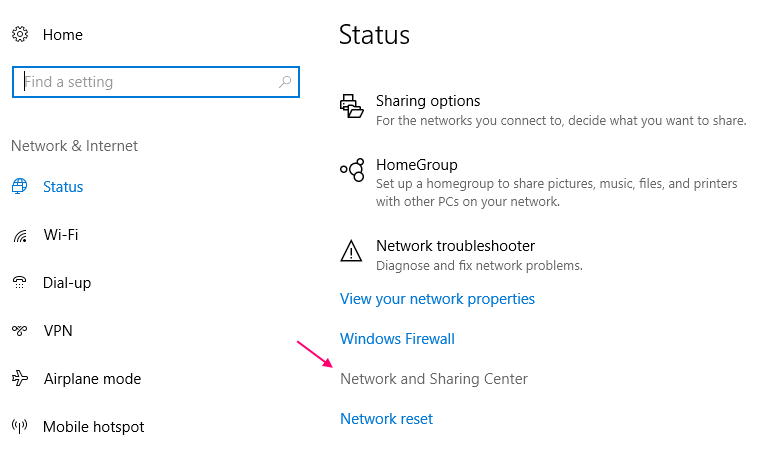 In the Networking and Sharing Center window, click Change advanced sharing settings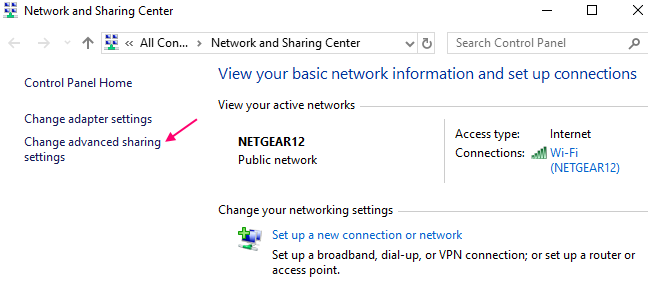 In the Advanced sharing settings window, make sure the two items mentioned below are checked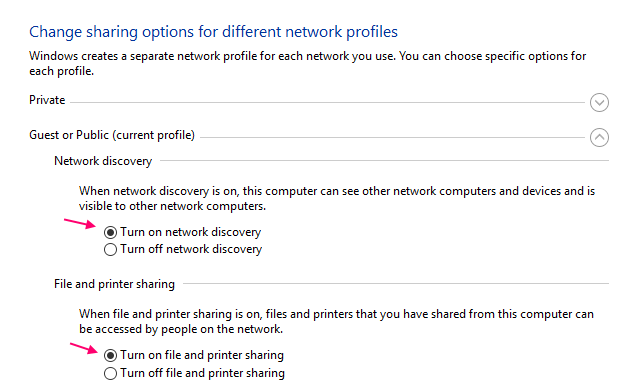 Turn on network discovery
Turn on file and printer sharing
Close all windows
Check whether Cast to Device feature is working. If the problem remains unresolved, move to next solution
Solution Two- Reset Stream Permissions for Windows Media Player
Windows 10 has specific streaming options that allow the user to decide which media would be shared.
If the Stream permissions are not set right, the Cast to device feature won't work properly.
A simple solution to this problem is resetting Stream permissions. This will set the stream permissions to default settings and help fix the problem once and for all.
Here are steps to reset stream permissions for Windows Media Player.
Click Start
Type windows media player in the Cortana search box and hit Enter on the keyboard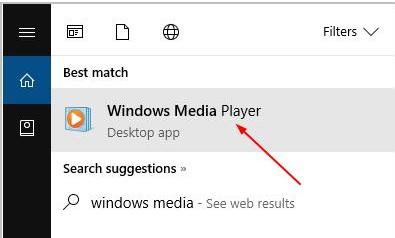 Click Windows media player from the list of results
In the Media Player window, click Stream
Click Allow Internet access to home media…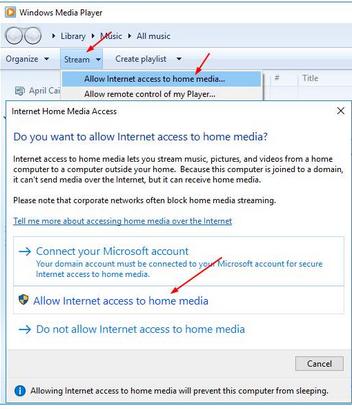 In the pop windows, click Allow Internet access to home media in the pop-up window
In the User Account Control pop-up dialog, click Yes
In the pop-up dialog of Internet Home Media Access, click OK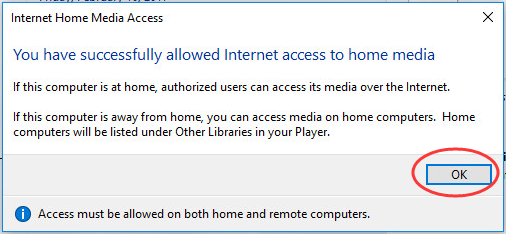 Go to Windows Media Player again
Click Stream
Click Turn on Media Streaming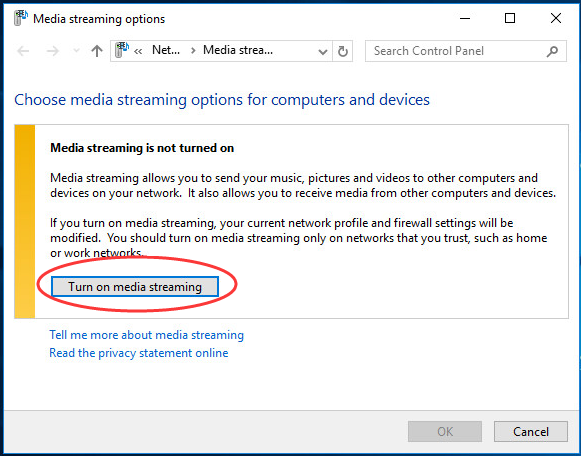 Go back to Windows Media player again
Click Stream
You should see the Automatically allow devices to play my media option checked. If you do not see a tick in the box, click on the box so that the option is checked
Close Windows Media player
Now check whether Cast to Device feature is working properly.
If the problem remains unresolved, move to next solution.
Solution Three- Update Network Drivers
A large number of problems in Windows 10 are related to drivers. If network drivers are older or outdated, it could cause problems like Cast to device feature not working.
There are two ways to update network drivers- manually and automatically.
Method One- Update Network Drivers Manually
Press the key combinations – Windows logo key and R on the keyboard to bring up Run command box
In the Run command, type devmgmt.msc and click OK
In the Device Manager window, go to Network adapter category and expand it
Right-click on the Ethernet controller and click Properties
In the properties window, go to General tab
Note down the name of the Ethernet controller, manufacturer name and other details
Now go to Driver tab and write down the driver version
If you are using Wireless connection, follow the same procedure for a Wi-Fi adapter or Wireless adapter in the list to get the details of the network adapter
(Note-Laptop users who connect to the Internet through Wi-Fi need to download latest drivers for Wireless adapter)
Close Device Manager
Open Internet browser
Go to Network adapter manufacturer website and type the name of the network adapter in the search box.
You will see the list of downloads available for the network adapter. You need to be careful when downloading network drivers. For example, if the system architecture of Windows 10 installed on your computer is 32-bit, you need to download and install 32-bit network drivers. Similarly, if you have 64-bit Windows 10 OS, you need to download 62-bit network drivers.
Once the network drivers are downloaded, double-click on the setup (.exe) file and follow on-screen instructions to install network drivers.
If the driver setup file is in .zip format, unzip the file contents to a folder and then double-click on the setup(.exe file)
Restart PC after installing network drivers
Check whether Cast to Device feature is working on your computer. If the issue remains unresolved, move to next solution.
If you feel the method of manually updating drivers is difficult, you can choose to update drivers automatically.
Method Two- Update Network Drivers automatically
As you can see for yourself, updating drivers manually can be quite a challenge.
But it gets worse:
Sometimes, you can download malicious programs camouflaged as driver files. This typically happens when you use third-party sites for downloading drivers that aren't listed on the manufacturer site.
You can save time and energy and keep your PC safe by downloading driver files automatically.
The simplest way to do is by using DriverDownloader, a reputable driver automatic tool that solves all your driver-related problems in a jiffy.
And the best part is:
It comes with a 30-day money-back guarantee. So you can use it without a worry in the world.
Sounds good—right?
So just click the green button to download DriverDownloader — and say goodbye to all driver-related errors like this one.