The HP DeskJet 360 is designed for home use as well as small office use. It is a popular printer in this category, owing to its modern design, small footprint, affordable price, and wireless connectivity. You can use it for small office use, but not for bulk printing. That is because its commercial ink cartridges is more expensive than that of other similar models. You can buy an Instant Ink solution from HP, in which prices are based on the amount of paper you print each month. While small offices can use this option, it must be said the subscription for Instant Ink doesn't offer a great deal of savings. So, if you are going to have high usage month after month, this is not likely to prove a cost-effective solution.
The DeskJet 3630 Printer is a robust printer and not one of those that throw an undecipherable error every now and then. That said, you may encounter an issue when you use it on a Wi-Fi network. Actually, this issue has got nothing to do with an error with the printer, but rather you having forgotten the Wi-Fi Direct password. All the same, this is a fairly easy issue to resolve, so there is no need for you to worry too much.
Finding Password for HP DeskJet 360
If you do not remember the Wi-Fi Direct Password, you can fix the issue in two ways. You can reset your printer's network settings to its default settings. Or, you can print the latest network information from your printer directly. When your device, a PC, a laptop, or a tablet, asks you feed in the Wi-Fi Direct Password to complete a print job, simply generate the report on your device.
How to Print Wi-Fi Direct Password on HP DeskJet 360
All the network information is recorded by the HP DeskJet on the onboard device. If you want to connect it with an additional PC, you will need to feed in the password on each device that you wish to use.
Press Power button that is there on the your printer's panel to switch it on
You can generate network diagnostic report by pressing and holding the button for Wi-Fi Direct
The HP DeskJet 360 will now generate the required report. Wait until the printer is done. You will able to find all the relevant information regarding the Wi-Fi Direct settings on the page it has just printed. You will see the network name, status, hostname and the password. Now, check the printed information and enter Wi-Fi Direct password on the device that you want to connect to your printer
In case the problem is not resolved, we recommend first turning off the Wi-Fi Direct. Next, connect the printer to a network to use it.
How to connect the printer to a Wi-Fi Network Rather Than Using Wi-Fi Direct
In case the problem persists even after you have updated Wi-Fi Direct password, it probably means that there is something the matter with printer's hardware. The best solution in this situation is resetting the settings of your printer to its default settings and then trying printing pages over the Wi-Fi network.
Turn the printer on and check whether it is able to establish a connection with your Wi-Fi network. You will see the status on the display panel. A blinking Connection LED indicates the printer is still trying to connect. If it connects, you will see the signal strength on the screen
If the blinking continues, it indicates the HP DeskJet 3630 is unable to connect. By performing a hard reset on your printer, you can reset Wi-Fi settings
Power on your printer. Wait until it completes the startup process
Once your printer is turned on, press down and hold its power button as you perform the steps shared below
You will see a Copy button (Black) on the Display panel. Press it twice while still pressing down the Power button
Next press Cancel (the button with a red cross) three times. You must keep the Power button pressed as you do this
The Connection LED will start blinking as the current settings are deleted. Once this process is complete, configure your Wi-Fi settings for HP DeskJet 3630 on the PC
How to set up Wi-Fi Network for your Printer
After you have reset the network settings of your printer, reconnect it to your PC's Wi-Fi network. Before you do that, however, you must make sure you have all the latest HP drivers and software on your PC. Sometimes, a new Windows update can cause issues with your printer's software and drivers.
Navigate to HP support website, locate the latest software you need and then download it
Wait until the download process is complete. Save the installer file in a suitable location
Open the folder with the installer file. Double-click this file to launch installation
You may receive a security prompt. If so, click the Run button to proceed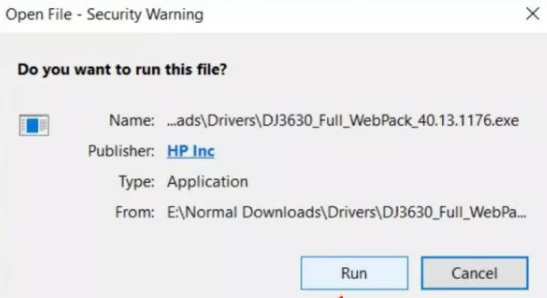 Note: Have you earlier installed the HP software? If yes, uninstall it first. Only then proceed with the installation of the latest software version.
Now wait until the installer extracts the complete package

Make sure your printer is turned on before you click the Continue button on your screen
Click the first option, Connect to a New Device, that you see on the Setup screen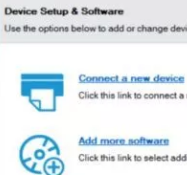 You can configure your HP DeskJet 360 in two ways — manually or automatically. If you opt for the latter, the printer installer will collect wireless network information on its own and set up the required settings. The automatic option will discover and locate your printer on your network and then install new settings
In case the software is unable to add your printer to Wi-Fi network, you will need a USB cable to connect it and upload all network settings on your PC or laptop
Once you have correctly set up the HP DeskJet, send it a print test job using your Wi-Fi connection
Some more troubleshooting steps
In case you are still not able to connect the printer to your Wi-Fi network or using the Wi-Fi Direct method, probably you need to update the printer drivers.
You can update the printer drivers either manually or automatically. While the automatic method is easier and faster, we have listed both, so you can pick the one that works best for you.
Manual update printer drivers
Windows computers include a built-in utility — called the Device Manager — for managing your hardware devices and their drivers. Here's how to use it to update your printer drivers manually.
Click the Window key and R key simultaneously to launch the run dialog box
Type devmgmt.msc and press Enter
In the Device Manager window, expand print queues
Locate and select the HP DeskJet 3630 printer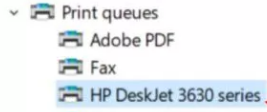 Then right-click it and select Update driver

Click Search automatically for updated driver software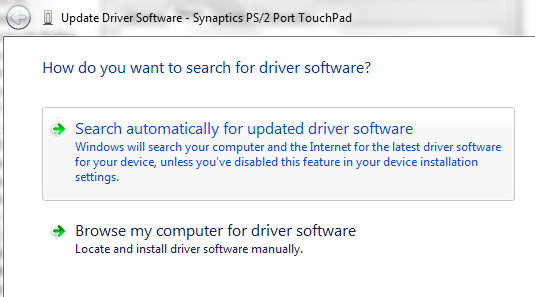 Windows will automatically connect to internet and locate the newest drivers for your printer. Once Windows have done searching, you will be prompted to install the newest driver (unless you are already using one, in which case Windows will inform you that the installed driver is the latest one)
Follow the on-screen prompts to update the printer driver. If prompted, restart Windows. Check whether you are able to print now or not
Automatically update printer drivers
If you want an easier approach to update device drivers, it would be best to use DriverDownloader. It is the most advanced driver update software on the market and is backed a generous 30-day money back guarantee (no questions asked).
Some of the main advantages of DriverDownloader are:
It is fast, easy-to-use, and reliable
Finds you the latest drivers in no time at all
It is free to download, install, and run. But to get automatic updates, you will need to register
Backed by a friendly customer support team. Any time you have a question or a concern, simply shoot an email to the support team and they will get back to you within 24 hours
Here's the link to download DriverDownloader