Are you getting "A Network Changed Was Detected" error?
If yes, this post is just for you. We'll be discussing several solutions to this error, which rears up its ugly face usually when you are using Google Chrome. You don't have to try all the solutions; start with the first one and work your way down until the problem gets resolved.
Solution 1 – Restart Your Computer
Sometimes, restarting the computer does the trick. You may well find the error gone after Windows reboot.
Turn off your computer (If you are using a desktop, unplug its power cable)
Turn the computer on (Desktop users will need to first plug in the power cable)
Open Google Chrome and check if the error is fixed
Solution 2 – Reset network settings
This error can occur in case of a corruption issue with your computer's network settings. The good part is resetting the network settings will solve the problem.
Here are the steps to follow:
Type cmd in the Start Search box
Right-click Command Prompt and choose Run as administrator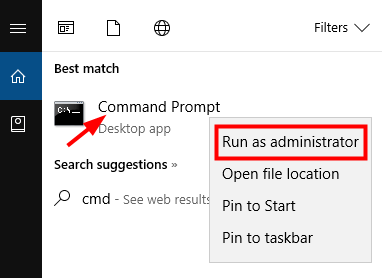 Next, type the following commands in the order they appear below and press Enter after each command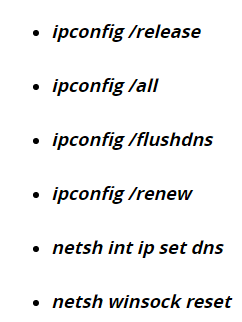 Solution 3 – Update the network driver
One of the most common causes of this error is outdated or corrupt or missing network driver. You can update your network driver automatically as well as manually. The first method is easy and quick, the second a bit complicated and tedious. All the same, we have described both for your reference.
Update network driver manually
Press Windows logo key + R together to bring up the Run command
In Run command, type devmgmt.msc and click OK
In the Device Manager, go to Network Adapters and expand it
Select your device and right-click on it
Select update driver from the list of options
In the next window, select Search automatically for updated driver software.
Windows will search your computer and the internet to find a driver update and install it. If it does not find a driver update, you have to manually download the mouse driver and install it.
Open Internet browser
Go to the Mouse manufacturer website
Go to the Download section and select your product
Download mouse driver compatible with your OS version (Windows 7/8/8.1/10) and save the driver file on a suitable location on your computer. Before you download the driver file, make sure it corresponds to your PC type. That basically means, if you have Windows 10 32-bit, the file should be for 32-bit Windows 10 PCs. Likewise, Windows 64-bit users need to download the driver file meant for 64-bit Windows 10 version.
Double-click on the driver setup file to install the driver
Restart your computer
Update driver automatically
As you can see, the manual method is complicated and time consuming. A far easier option is to use a driver update tool such as DriverDownloader.
DriverDownloader is free to download, install, and run, but to get automatic driver updates, you'll need to register it. The software has a 30-day money-back guarantee, so you can try it without any tension. If you don't like it (chances of which are almost zilch because it is a top-rated tool), you can get your money-back.
Here are the steps to download, install, run and register driver software.
Download
Click the link below to download DriverDownloader .
Click Run or Save
Depending on your browser, you'll either see message in a dialog box or a pop-up window on your screen.
If you click 'Run', simply go to the next step.
If you click 'Save', browse to the 'download' folder on your pc or to the location where you've have saved the executable file and double-click driverdownlaoder.exe to launch it.
Install
Just click the 'Install' button and follow on-screen prompts to complete the installation process, which shouldn't take more than a minute or two.
Register
This is the last step. To get automatic driver updates, register DriverDownloader.
Solution 4 – Power cycle the router
Connection issues with the router can also cause a network changed was detected error. By power cycling the router, you can remove such issues.
Here are the steps to follow:
Turn the computer off. Also switch off the router
Unplug the power cable of your router
Leave the cable unplugged for several minutes
Plug it back
Start the router and then turn on the computer
Now check whether the issue has got fixed or not
We hope one of these solutions would have worked for you. Leave us a comment to tell which one.