You may come across the following error when you try to open a website using Google Chrome:
this plug-in is not supported
When this error message appears, the content of the webpage you are trying to open fail to load. While an annoying issue, it isn't a serious one. You can easily resolve the problem yourself. In this post, we'll show you three simple, DIY fixes for this issue.
Solution 1 – Install the latest Adobe Flash Player
You can receive this error if Adobe Flash Player is not installed on your computer or outdated. In either situation, Google Chrome will fail to load the plugin in the normal manner.
You can visit the Adobe website and download the latest version of Flash Player and install it. Once you've installed the software, don't forget to reboot Windows.
Solution 2 – Clear the browsing data
Another reason behind the titled error is corrupt browsing data. Google Chrome may fail to load some plugins in that case. For this reason, we recommend you to clean the data. Many users were able to fix the error by doing so, and there's every chance you may be able to fix the problem as well.
Here are the steps to follow:
On the Google Chrome, press Ctrl + Shift + Delete together
 Select the beginning of time in the drop down menu next to Obliterate the following item from. Next, select all the listed items and then click Clear browsing data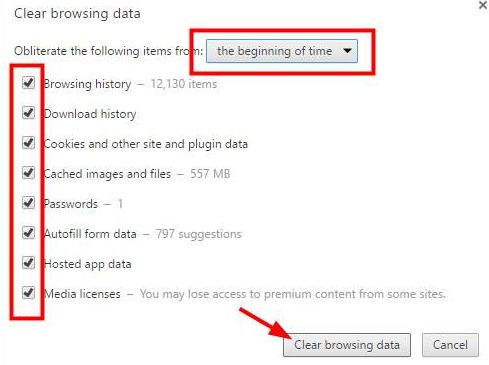 Solution 3 – Try another browser
From the version 45 onward, Google Chrome stopped support for NPAPI. This is an interface which Java plugin uses. For this reason, your Chrome may not be supporting the Java plugin. In case the content which is blocked needs the Java plugin, you may want to consider using a different web browser like Internet Explorer.