Fix Problems and Update Ethernet Drivers for Windows 7
Ethernet Controller Driver missing after installing or upgrading to Windows 7?

Drivers are not only device specific, they are also Operating System specific, this means that if you change or update your Operating System, you must also update your software Drivers.
Even without such a change, Drivers are regularly updated and you should ensure that your PC has all the latest updates. You can do this automatically by downloading a Driver Update Tool, or to troubleshoot the problem yourself.
The article below provides details on how to manually or automatically update your Drivers.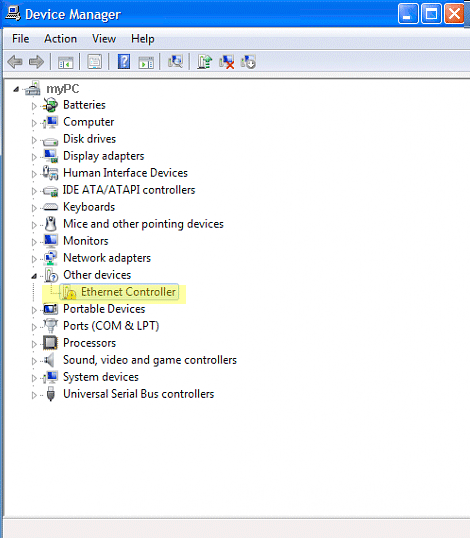 Windows 7 update and Ethernet Drivers
If you have recently installed Windows 7 and are having issues with your network (accessing the internet, emails etc.), then the problem is most likely that the installation has removed the network Drivers.
You can confirm this in the Device Manager by doing the following:
Open the Device Manager
Scroll down to Ethernet Controller, this may be listed on its own or under Other Devices
A yellow exclamation mark beside the device in question indicates there is a problem such as missing Drivers, if this is the case you need to update/ replace your Ethernet Controller Drivers
Get Automatic Drivers Updates for Windows 7 Ethernet Driver
If you are having problems locating Windows 7 Ethernet Driver updates (such as Realtek Ethernet Controller Driver) then you can use a Driver Update Tool to automate this process for you.
Most driver update tools will let you run a free scan of your system. This will provide you with a free drivers report, you can then choose to register if you wish to get automatic Driver Updates. So, if you are running Windows 7 and experiencing some Ethernet problems, you can use this free scan to test if these problems are Driver-related or even to rule it out if you think the source of the problem may lie elsewhere.
The difficulty here is getting a network connection to update the Drivers, one possible way around this is to try tethering your PC to another device and using that network connection.
Manually fix Ethernet Controller problem in Windows 7
To manually update your Ethernet Drivers in Windows 7, you will need to go to the manufacturers Website (such as Dell or Acer) and then search for the relevant Drivers there.
Again the problem here may be with your internet connection on the device in question. You could use another device to browse for the drivers and then download them to an external hard drive. Access this external hard drive from the PC in question and install the Driver files from there.