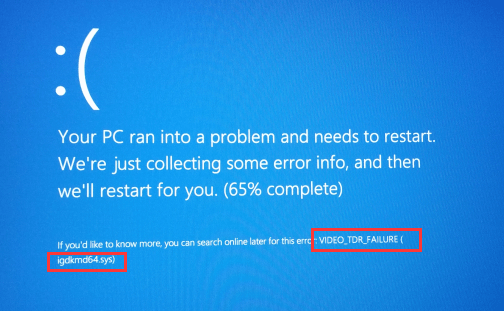 A blue screen of death error is not new to Windows users. BSODs indicate a fatal error that leads to a system crash. The BSOD error is generally accompanied by an error code and an error message that mentions the name of the component. Many users have reported an igdkmd64.sys BSOD error with an error code VIDEO TDR FAILURE.
What is igdkmd64.sys BSOD error?
IGDKMd64 stands for Intel Graphics Driver Kernel Mode 64-bit. So there is doubt the error is related to the Intel graphics driver. Igdkmd64.sys is a Windows driver that allows your computer to interact with hardware and connected devices.
Intel provides the igdkmd64.sys driver on an OEM basis and laptop manufacturers using Intel graphics chipset. Several problems with this driver have been discovered including a VIDEO TDR FAILURE. If you have been getting this error and looking for solutions, you have reached the right page. Here we have discussed some easy to follow solutions that could help resolve the error.
Solution One – Run SFC
SFC is short for System File Checker. It is an in-built maintenance tool that can detect and fix problems in system files. Here are the steps to run the system file checker tool in Windows 10
Click Start button
In Cortana search, type cmd
From the results, right-click Command Prompt and select Run as administrator
When the system displays the User Account Control Menu prompt, click Yes
When you see a blinking cursor appears in the command window, type SFC /scannow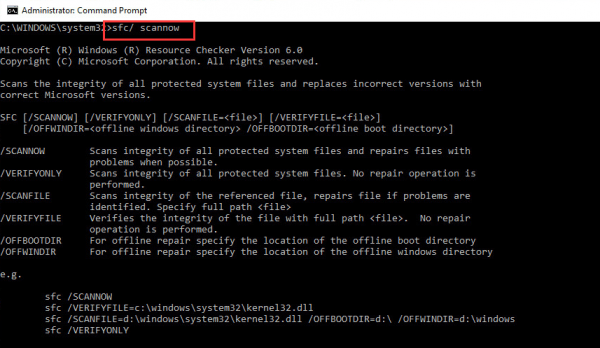 Hit the Enter key on the keyboard.
The System File Checker tool will scan system files for corruption and replace the corrupted files with goods cached versions. The scan will take time. After the SFC scan is complete, use the computer normally and see if you get igdkmd64.sys BSOD error. If the error persists, move to the next solution
Solution Two- Roll back graphics driver
Many users have complained they started experiencing igdkmd64.sys BSOD error after updating the graphics driver. If that is true in your case, there is an easy solution available. All you need to do is roll back the graphic driver by following the steps given below. Rolling back the driver will reinstall the older Intel graphics drivers that worked well.
Click Start
Type Device Manager in Cortana search
Click Device Manager from the list of search results.
In the Device Manager window, go to the Display adapter section and expand it
Right-click Intel graphics and click Properties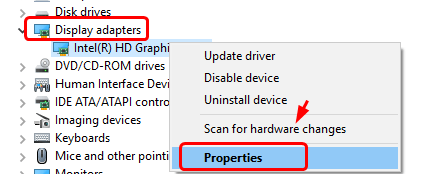 In the Properties window, go to the Driver tab
Click Rollback driver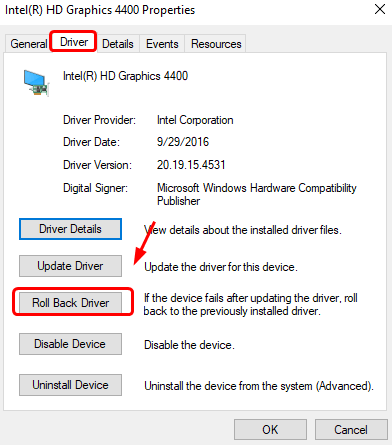 If you see the option – Roll back driver is not available (grayed out), move to the next solution
Solution Three- Disable Intel Graphics Driver
If your computer has more than one graphics card (integrated Intel chip and dedicated graphics chip), it could cause conflict and lead to errors like igdkmd64.sys BSOD error. In that scenario, you can disable the Intel graphics driver and see if it helps. Here are the steps to follow.
Open Device Manager
Go to the Display adapter section and expand it
Right-click Intel graphics
From the menu, click Disable device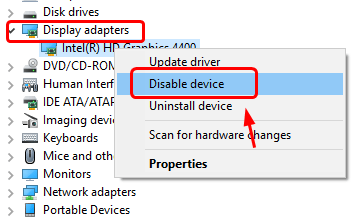 Check whether the problem is resolved. If the error persists, you need to uninstall the graphics driver completely. Here are the steps to follow.
Right-click Intel graphics and click Uninstall device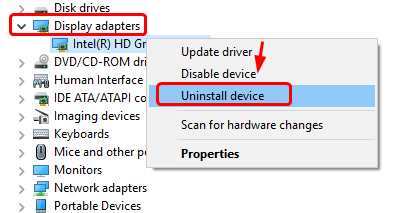 Windows will show a confirmation dialog. Tick the option that says Delete the driver software
Click Uninstall.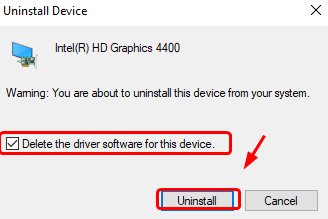 After the Intel display driver has been uninstalled, restart your computer and check whether igdkmd64.sys BSOD error has been resolved. If the error persists, move to the next solution.
Solution Four – Update Intel graphics driver
You need to go to your laptop manufacturer's website and check whether there is an update for the Intel graphics driver. If you are a desktop user, you need to go to the Intel website and check whether Intel has offered any graphics driver update. If there is a driver update available, download and install it.
A much easier way to install the graphics card driver is by using a reliable driver update software. We recommend you use DriverDownloader. It is not only quick but also very fast and accurate. In a matter of couple of minutes, the tool will update the outdated drivers.
And the best part is that the software comes with a 30 day money-back guarantee. So you can try without any worry. Also, registered users enjoy customer support should they have any question or get stuck somewhere, which is an added bonus to register.
Here's the link to download DriverDownloader