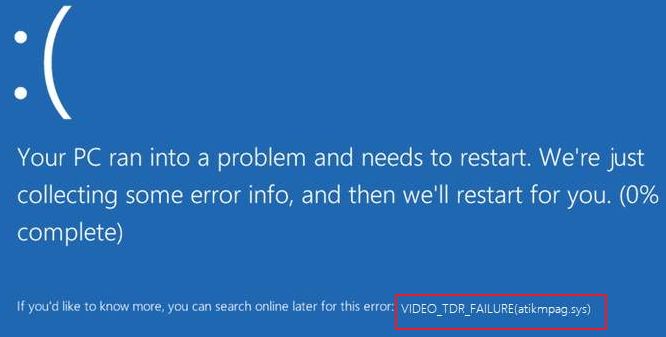 Blue Screen of Death error is one of those things that you never want to see on your computer screen, particularly when you're doing something important. However, Windows is often notorious for throwing a puzzling error when you least expect it.
One such error is atikmpag.sys or Video TDR Failure error.
Users who have recently updated their Windows 10 have complained of a recurring Video_TDR_Failure error that makes it impossible for them to work on their computer.
While an irritating error, atikmpag.sys issue can be resolved fairly easily. So if you are facing a similar problem, don't worry as it won't take much to get your computer up and running again.
In this post, we have offered four easy solutions that could fix the issue. Before looking at the solutions, let's try to know more about this error.
What is a Video_TDR_Failure error?
You are more likely to get the Video_TDR_Failure error if your computer has ATI or AMD graphics processing unit.
When this blue screen of death error occurs, your system crashes and you lose all unsaved work. There can be various reasons for this error but most of the times, the problem lies with drivers.
Over the years, GPUs have become more capable of handling complex graphics rendering on the screen. Today, a large number of users enjoy high definition multimedia content on the video that also includes playing multimedia games and computer simulations.
The genuine atikmpag.sys file is a software component of ATI graphics card manufactured by AMD. The atikmpag.sys is a kernel driver that gets installed with ATI graphics cards. Since it is a kernel driver, it directly works with the Windows operating system and needs a very stable environment to function.
(Note- Some users may see atikmpag.sys instead of atikmdag.sys in the ( ) after the Video_TDR failure error. There is not much difference in both files and you can follow the solutions given here confidently.)
You don't need to perform all the solutions given in this post. Start with the first in the list, and if doesn't work, move on to the next one and so on, until the problem is fixed. And of course, we would love to hear from you which of these solutions worked for you.
Solution One – Reinstall drivers in Safe Mode
There is a possibility the AMD graphic drivers are corrupt. A simple solution to this problem is uninstalling AMD graphics drivers and installing latest AMD GPU drivers.
Here are the steps to follow.
Boot your computer in Safe Mode
Press Windows logo key and R to bring up Run window
In the Run window, type devmgmt.msc and hit Enter on the keyboard
In the Device Manager window, go to the Display Adapter category and expand it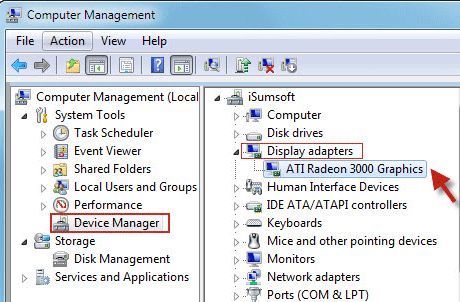 right-click AMD display adapter and select Uninstall
when asked for confirmation, click OK
Reboot your computer in Normal Mode
Install latest Intel chipset driver for your PC
Reboot your PC again
Go to AMD website
Select your product from the list and download latest drivers for your Windows operating system
After downloading latest AMD graphic drivers, install them
Reboot your computer and check whether the issue is resolved.
If the issue persists, move to next solution
Solution Two- Use an older version of AMD graphic drivers
Many times the latest graphics drivers may not be the best for your Windows computer. It is possible that the newer graphics drivers might have compatibility issue with your version of Windows, which in turn might be the root cause of the BSOD error.
A simple solution to this problem is using an older version of AMD graphics driver that worked well on your computer.
Here are the steps to follow.
Open Device Manager. You can refer to steps given in Solution One
Right-click on AMD Display adapter and select Update Driver software.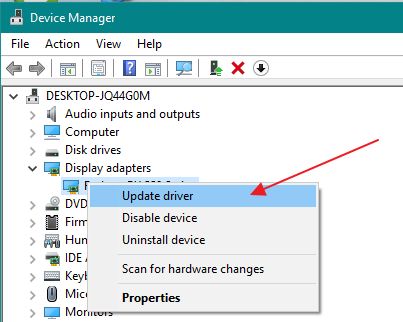 In the next window, select Browser my computer for driver software.
In the next window, select Let me pick from a list of device drivers in my computer
Under Model, you need to select an older version of AMD driver. You can know about the older version by looking at the version dates
Click Next and wait for the process to complete
Restart your computer and see if the issue is resolved.
If the issue is resolved, you need to prevent Windows from updating ATI drivers again. Here are the steps to follow.
For Windows 10
Open browser and download Microsoft's Show or hide updates troubleshooter
After downloading the troubleshooter, run it
To run the troubleshooter, open wushowhide. diagcab, and select Next
Uncheck the AMD drivers to be installed
Reboot your computer
For Windows 8/8.1
Go to Control Panel
Click Windows updates -> Optional/Pending updates
right-click and select Hide
If the issue is not resolved, move to next solution
Solution Three – Replace ATIKMPAG.SYS
Since the Video_TDR_Failure error mentions the ATIKMPAG.SYS file, there is a possibility the driver is corrupt. To resolve this problem, you need to replace the current ATIKMPAG.SYS file with a fresh copy. Remember you need to replace all files with ATIKMPAG.SYS name. Here are the steps to follow.
Open Windows Explorer
Navigate to C:\Windows\System32\drivers
Find the atikmpag.sys (or atikmdag.sys) file.
Rename it as atikmpag.sys.old (or atikmdag.sys.old)
Navigate to ATI folder – C:\ATI
find the atikmdag.sy_ or atikmpag.sy_. file
Copy the file to the desktop
Press Windows logo key and X simultaneously on the keyboard to open the Context menu
Select Command Prompt(admin) from the list
In the command prompt window, type following commands and hit Enter on the keyboard after typing each command. Wait for the command operation to complete before typing next command.
chdir desktop

exe atikmdag.sy_ atikmdag.sys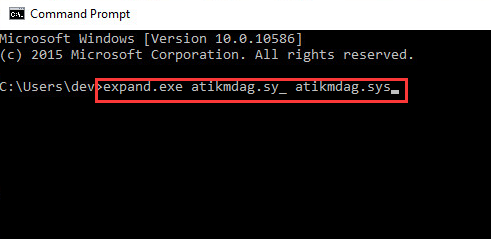 or
expand -r atikmdag.sy_ atikmdag.sys

Now copy the atikmdag.sys(or atikmdag.sys) to C:\Windows\System32\Drivers
Restart your computer and see if the problem is resolved
Solution Four – Update Chipset and AMD graphics drivers
Last but not the least, update chipset and AMD graphics drivers. You can do this manually, but do remember that the process might be time-consuming. If you want to update your drivers quickly, we recommend you use DriverDownloader.
It is one driver update tool that's not only accurate but also superfast. It will update your chipset and AMD graphics drivers within a couple of minutes.
DriverDownloader is free to download, install and run. You'll get a free driver report when you'll run the software program. However, to get the driver updates, you'll need to register it.
Just click the green button below to download DriverDownloader .