If you see a red 'X' on sound icon in your system tray, it means you will not get any sound from your windows computer.
As you can guess, this issue can be frustrating, as you can't listen to songs or watch movies and videos. And if you are playing computer games, you'll have to do so without any audio.
When you place the mouse over sound icon, you may get the following message: No audio output device is installed.
Alternatively, you may see this message: No playback devices.
Both messages point to toward the same direction. Either your computer lacks the newest drivers it needs to 'talk' with the installed sound card or Windows, for some reasons, has disabled the audio device.
There are four ways to fix the issue. All the solutions listed in the post have worked for other Windows users, so there's a strong chance you'll benefit from trying them. Of course, you don't have to try each one of them. Start with the first solution in the post, and if that doesn't help, go to the next and so on.
Solution 1 – Update Audio Drivers
Did you know that the easiest way to update device drivers is by using a professional tool?
Of course, you can update them through device manager, too. However, that workaround is not only a bit technical but also time-consuming.
Precisely for this reason we recommend you to use DriverDownloader.  
We've listed both automatic and manual driver update process. You can see for yourself how easy automatic driver update process is.
Update Audio Drivers Automatically
Simply click the green button listed below to download DriverDownloader.
This tool is free to download, install, and run. However, you can receive automatic driver updates only if you register it.
Once, you've installed and launched the software, you'll get a free driver report, which will look something like this. Just click the Yes button to register the software and get automatic driver updates.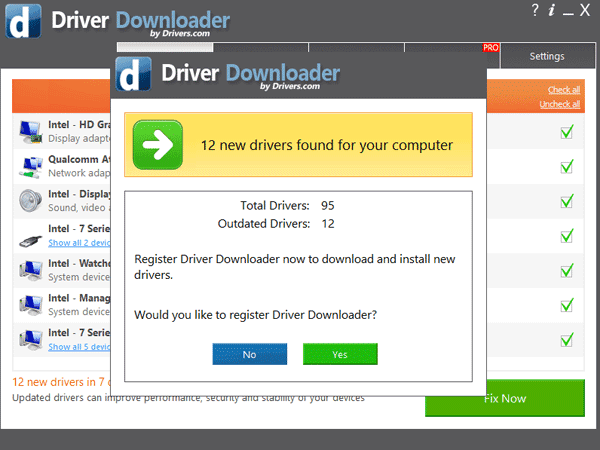 Because DriverDownloader is backed by 30-day money back guarantee, you can try it yourself. If you don't like it, you can easily de-register yourself and get back your money (However, chances of this happening is almost zero because this is ranked as one of the safest and best driver update tool.)
Update Audio Drivers Manually
Windows come with an in-built utility called Device Manager that allows you to manage your devices and their drivers.
You can update audio drivers using Device Managers in two ways, both are discussed ahead.
Solution 1 – Uninstall and reinstall audio device
Here are the steps to follow:
Press Win + R, type msc and press Enter
Expand Sound, video and game controllers
Right-click your audio device and select Uninstall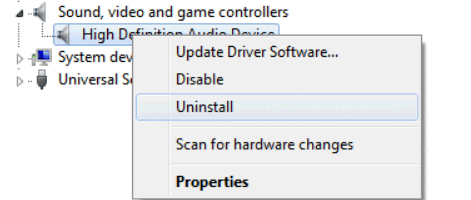 Follow on-screen instructions, if any
Reboot Windows
Upon restart, Windows will automatically install the correct driver for your audio device.
If this solution doesn't work, it means Windows doesn't have the latest drivers. You'll have to procure them from the manufacturer's site and install them manually (discussed next).
Solution 2 – Download audio drivers manually from manufacturer's website
Go to your sound card's manufacturer's site and download the latest drivers for your sound card (note: make sure the driver you select is compatible with your version of Windows, especially if you are using an older Windows version)
Save the driver file on desktop or some other location
Open the Device Manager window
Expand Sound, video and game controllers
Right-click the audio device and click update driver
Click Browse my computer for driver software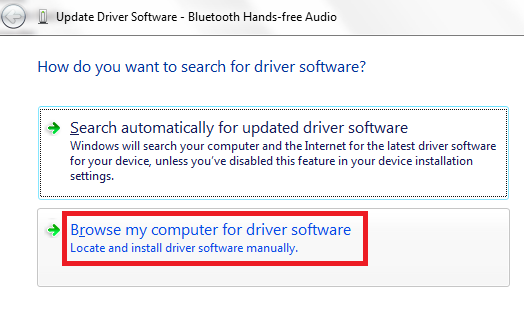 Now browse to the location where you've stored the driver file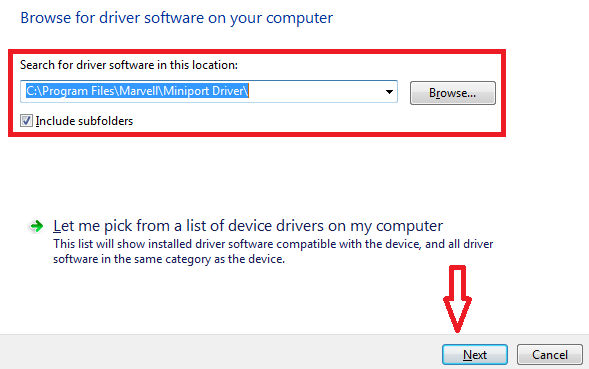 Click Next
Select the driver in the list and follow onscreen instructions
Restart Windows
Solution 2 – Re-enable the device
Here are the steps to follow. (Note: It is possible that the exact steps in your version of Windows might be different than the steps shown below.)
Press Win + R to launch the Run command box
Type devmgmt.msc and press Enter. This will open the Device Manager window
Expand Sound, video and game controllers
Note: If this category doesn't appear in your list, perform the steps listed in the next section.  If it does appear, ignore the next step and go straightaway to the last step
Sound, video and game controllers category not visible
Click the Action menu in the Device Manager window and then click Add Legacy Hardware
Click the Next button
Now select the first option in the list: Search for and install hardware automatically (recommended)
Add Hardware Wizard will now try to locate new hardware. If it fails to do this, you need to click the Next button
A list with different hardware types will appear on your screen. Scroll down till you find Sound, video, and game controllers
Select this hardware type and then click the Next button
Now you will need to select the sound card manufacturer as well as model. Once you done that, click the Next button
The device will now be installed. Click Finish when installation completes
Now launch Device Manager and perform the last step given below.
Last Step
If Sound, video and game controllers category was visible in your Device Manager window, you just need to follow this step
Expand Sound, video and game controllers
Right-click the audio device and click the Enable option
Follow onscreen instructions, if any, and then reboot Windows
Solution 3 – Run Windows 10 Audio Troubleshooter
Windows 10 users can run the in-built Windows Audio Troubleshooter.
Here are the steps to follow.
Press Win + X
In the search box, type troubleshooter and press Enter
Now select View all
Next choose Playing audio
Follow the onscreen instructions
If the problem still persists after you've ran the troubleshooter, go to the last solution.
Solution 4 – Replace faulty sound card
It is possible that you may be getting the error because of a faulty sound card. If nothing has worked, replacing the sound card might be the only option.