When it comes to convenience, wireless printers are miles ahead of their non-wireless counterparts. Nonetheless, wireless printers, like any other peripheral device, can throw up errors every now and then. In this situation, users are likely to go back to the old method of printing via USB. But what if this fails too?
If your HP DeskJet 2652 doesn't print via USB, don't panic. In most cases, the underlying issue is usually a simple one and so is the solution. However, before you can began troubleshooting, it is necessary to find out exactly what the problem is.
Why HP DeskJet 2652 Won't Print?
This may happen due to many reasons, including not having downloaded the latest window updates or out-of-date printer device drivers.
The first thing you should when you encounter this issue is check when was the last time you had updated your Windows computer. It's possible your printer is not working as it should because it doesn't have a recent update. It's equally possible that you are facing this issue because your computer is behind on updates.
So, first check when the last time your computer was updated. First, click the search bar and then type "update." The system will tell you if your PC requires an update.
If you last updated your Windows computer a long time back, you may see a message similar to the one displayed below
Make sure all the recent updates are installed. If possible, try printing a test page. Running this simple test will confirm whether or not your system is communicating with the HP printer
Here are the steps you need to perform for printing a test page:
Click the Windows icon and then click Settings
In the Window Settings, click "Devices"

Next, click "Printers and scanners"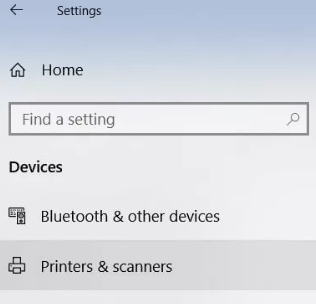 Select your printer and click "Manage"
You will now see various options. Click the "Print a test page" option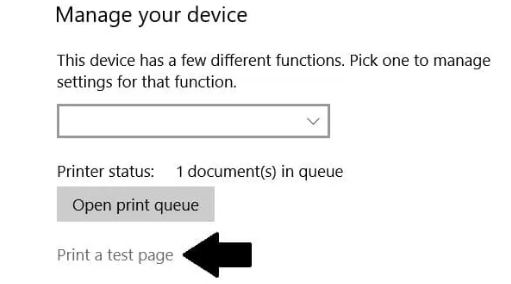 Note that a test page looks different than a usual page. So, if the test print page looks strange, don't worry about it. Generally speaking, a test page is likely to have lines and bars of various colors, besides alphanumerical characters.
If your HP printer, instead of printing the test page, adds another command to print queue, you will need to dig deeper to find out the root cause and remedy the situation.
How to Troubleshoot HP DeskJet 2652 Issues
Your HP printer has self-diagnostic capabilities. If it is not working properly, it can diagnose the error and offer potential solutions. The printer troubleshooter is located in the Settings app itself. Here's how you can find and use it:
In the Settings app window, click "Devices"
Click "Printers and Scanners"
Click "Manage"
You'll see various options. This time click the "Run the troubleshooter" option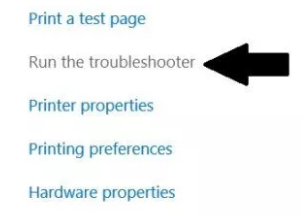 In case the Printer troubleshooter is able to identify the problem, you are a step closer to resolving the issue and print via USB. However, it's possible that it fails to identify the root cause. This can happen, so don't worry too much if you see a message on your screen similar to the one shown below.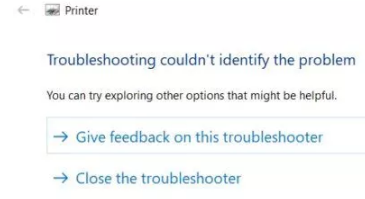 In this situation, you can try the following two solutions in the order they appear.
Solution #1 – Reset the Printer
You will need to uninstall the printer to fully reset it and its software. Here's what you need to do:
Turn the printer off
Click the Start icon and then select Control Panel
In the Control Panel window, click "View devices and Printers" (as the image below shows)
Now you will see all the hardware devices that are attached to your system
Browse through the list to identify the HP DeskJet 2652 printer. Once you have done that, right click its thumbnail and select "Remove device"
Follow onscreen instructions, if any
Restart Windows
After Windows restarts, reinstall the printer and then check whether it is working fine or not.
Solution #2 – Uninstall Drivers and Reinstall them
Drivers are behind-the-scene software that makes sure you computer and its accessories work efficiently. You may not notice them much while using your Windows computer on a daily basis, you would surely notice them if they are faulty, outdated, or missing.
Like any other program that suddenly stops working, drivers too may benefit from your uninstalling and reinstalling them. Performing this is relatively easy and painless.
Here are the steps you need to perform:
Type "run" in the Start Search box and press Enter
Type "devmgmt.msc" in the Run dialog box and press Enter
In the Device Manager window, you will see all the installed devices and accessories
Locate and click "Print queue"
You should now see the HP DeskJet pop-up window. Click the Details tab to find all relevant information about the printer driver. Check whether the printer driver requires an update. You may also consider removing the driver and installing it again. This will likely fix the problem of your printer not printing via USB.
You can access the printer drivers by pressing Win + R keys. This will open the Run dialog box on your screen. Type "printmanagement.msc" and press Enter.
Now, locate the appropriate printer and its driver. Next, right-click it and choose "Remove Driver Package." Windows will uninstall the printer driver
Next, go to the printer manufacturer's website and download the latest driver. Make sure you pick the printer driver designed for your version of Windows. That means if you use a 32-bit Windows 10 PC, you should download the driver designed for 32-bit systems. Likewise, users who are using a 64-bit Windows need a driver designed for 64-bit systems.
After you have downloaded and saved the driver file, double-click it and run the executable file (the one with .exe extension). Follow onscreen instructions, if any, to complete the installation process.
Keep your drivers up-to-date with DriverDownloader
As you can see, manually updating printer drivers — or any other device drivers, for that matter — is time consuming. You also require a bit of technical knowledge. But what if you don't have the time to go through all these hoops or are not very tech-savvy? In either case, using a reliable driver update tool, like DriverDownloader, is the best option.
DriverDownloader is an advanced tool that can update all your outdated device drivers with a single click. Cool, eh? What's more, it is backed by a no-questions-asked 30-day guarantee. Registered users also enjoy round-the-clock customer support, should they need any help.
Here's the link to download DriverDownloader