Android fans have waited a considerable time for 7.0 Nougat. Thankfully, the more efficient displays and faster speeds of Android's 7.0 Nougat have more than made up for this long wait. While Nougat might not be as dense as previous updates from Android, it is packed full of excellent new features.
Top 5 additions in Android's 7.0 Nougat
Instant Apps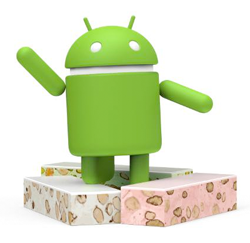 A real game-changer, the Instant Apps feature is perhaps the most exciting new addition. As a matter of fact, many have called it the biggest change to happen to the app stores since the Apple's on-device app portal quite a while back.
Thanks to this feature, users now can use any app in the Play store without buying it or even downloading it.
All you need to do is open an app's store page … and that's all! You can immediately start testing it to see if it is something that you might want.
Power-saving Features
Google introduced its smart power-saving feature called "Dove" in Android 6.0 Marshmallow. The original "Dove" feature ensures your smartphone or tablet goes into a dormant state when it's not being used in order to save power—but in Android 7.0 the power-saving feature goes a step further.
Nougat's "Doze on the Go" feature offer better power-saving capabilities. It puts your smartphone or tablet into the battery-saving mode even when the device is in motion. That is, anytime the display is off, the Doze's power-saving feature kicks in.
Multi-window Application Support
Multitasking has just got a whole lot easier. Now users can open 2 applications side-by-side on their Android screen, a feature that was until now available only on Samsung's Galaxy Note smartphones and limited Android phones.
Background System Updates
With Android 7.0 Nougat, Google has introduced seamless updates to allow installation of system updates in the background in new Android devices.
The system updates will be installed in the background now, same way as they are done in Chrome OS. OTA updates will be downloaded over WiFi and installed in the form of a unique system image. Next time when you reboot your device, the system will automatically update to the new image.
Virtual Reality
Last in the list, but by no means the least, is Daydream. To unify VR experience on mobile devices, Google has launched Daydream, which obviates vendors like LG and Samsung from making their own VR platforms or partnering with separate third-parties. It also allows developers to make a single VR app that will function on every Android device.