A yellow exclamation mark on the Wi-Fi name in the system tray is nobody's idea of fun. It indicates something is amiss. Windows like a good friend offers its help, but when you accept it offer to troubleshoot the underlying issue, it may leave you high and dry with the following message: Windows could not automatically detect this network's settings.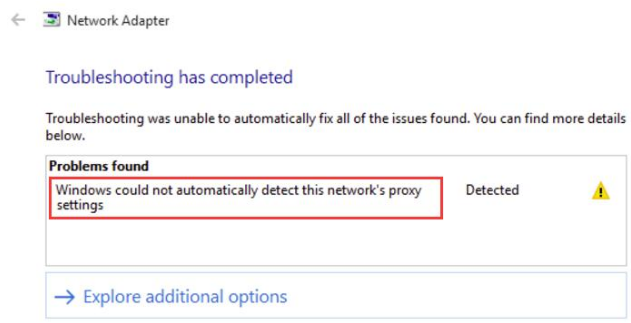 But that's okay.
What Windows couldn't do, this post will. It offers you multiple ways to fix the problem and get back to surfing the net. You don't have to try all the solutions listed here; simply start with the first one and work your way down till your internet is up and running.
Why Does This Error Occur?
As often as not, this issue crops up due to a change in the proxy settings of your computer. That, in turn, can occur because of several reasons, including a malware infection, file corruptions, and a change in network settings or system files. Even an old, outdated network driver can trigger this issue.
We recommend you start with general troubleshooting solutions before moving on to more technical ones.
Solution 1 – Update your network driver
Connection problems can arise if the network driver is outdated. Likewise, a botched update for the network driver can also create problems left and right. In either case, updating to the latest network driver works like a charm.
Updating the network driver is not difficult, particularly if you use an advanced driver update tool. For your convenience, we have shared the steps for updating network driver manually as well as automatically. You decide which one suits you better.
Updating the network driver manually
Here are the steps to follow:
Press down Windows key and R key simultaneously
In the Run dialog box, type devmgmt.msc and press Enter
In the Device Manager window, locate Network Adapters and then double click it
Now you will see all network devices on your computer. Select the right network device and select Uninstall
Once the device has been uninstalled, exit the device manager window
Reboot Windows
Windows will now automatically install the most appropriate driver, which in turn should solve the problem
If the problem persists, that means Windows doesn't have the right driver for the network device. In that case, you can manually download the latest network driver from the manufacturer's website. Make sure you download the driver suitable for the type of Windows you are running. That is, if you have 32-bit Windows 10, download the driver meant for 32-bit PCs. Similarly, those with 64-bit Windows 10 should download the network driver meant for 64-bit systems.
Once you have downloaded the driver file, double-click it to start the installation process. Follow the onscreen prompts (if any) to complete the process.
Update the network driver automatically
A much easier, simpler, and quicker way to update the network driver is to use a top-ranking driver update tool, such as DriverDownloader.
It updates your network driver—and other outdated drivers—in a blink. All you have to do is register the software after you have installed it.
You can download DriverDownloader by clicking the link below.
Solution 2 – Use Windows Network Adapter Troubleshooter
Some users were able to fix the problem by using the Network Adapter Troubleshooter built-in into Windows. Since the troubleshooter solves the issue on its own, you don't have to do anything—other than running it, of course.
Here are the steps to follow:
Press the Windows key
In the Start Search bar, type control panel and then click Control Panel in the search results
Next, click Network and Internet and then click Network and Sharing Center
Now click Troubleshoot problems and then click Network Adapter
Click Advanced and select the option Apply repairs automatically
Click Run as administrator and then click Next
Let the Network Adapter Troubleshooter do its thing. Once it has run, check if the error is fixed.
If not, try resetting Internet Explorer, which is up next.
Solution 3 – Reset Internet Explorer
This solution worked for many users, but resetting the Internet Explorer will remove any personal settings that you might have set, so bear that in mind.
Here are the steps to follow:
Press Windows key and R key
In the run dialog box, type inetcpl.cpl and then press the OK button
Now click the Advanced tab and then click Reset
Select the option Delete personal settings
Now click Reset
Reboot Windows and check if the issue is resolved.
Solution 4 – Uncheck "Use a Proxy Server" option
Here are the steps to follow:
Press Windows key and I Key together
Click Network and Internet
Click Proxy (in the left pane)
Deselect the option Use a Proxy Server. Next, select the checkbox before Automatically detect settings.
Click OK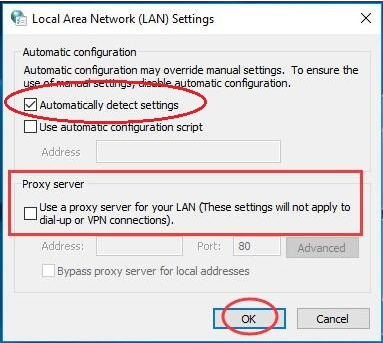 Now see if the problem is solved. If not, it's time to try more complicated solutions. Don't worry, for each solution below, we have listed all the steps, so all you have to do is follow them.
Solution 5 – Use Winsock Reset Commands
Change the Winsock settings to default and see if that fixes the issue. Here are the steps you need to follow:
Press Windows key
In the Start Search box, type cmd
Right-click Command Prompt and then choose Run as administrator
Now type this command and then press Enter

Reboot Windows to see if the issue is fixed. If not, repeat the first three steps given above
Now type this command and then press Enter

Now type the below-listed commands in the order they appear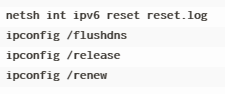 Type exit and then press the Enter key
See if the issue is solved. If you are still getting the error, reboot Windows once and then check.
Solution 6 – Deselect Proxy Server Option
Deselecting proxy server option is another solution that has worked for many Windows users. Unchecking this option basically means you are giving your Windows computer a free hand to automatically detect proxy settings.
Here are the steps to follow:
Press the Windows key and R key simultaneously
In the run dialog box, type inetcpl.cpl and then click the OK button
Click the Connections tab
Next click LAN Settings
Deselect the option Use proxy servers for your LAN
Click the OK button twice
Check if the problem is now solved.
Solution 7 – Run a virus scan
Malware infection can cause all sorts of problems, including the titled issue. Therefore, running a deep virus scan is worth a shot if you have been unable to solve the problem so far.
We recommend you run a boot-time scan, which runs at start-up before the majority of the applications files and most of the operating system have been loaded. Since not all malware can be detected and consequently quarantined or removed once Windows has booted and is running, a boot-time scan gives you the best chance to remove modern malware.
Solution 8 – Use System Restore
A built-in utility, System Restore allows you to roll back your computer's setting to a previous time. In case the error is due to file corruption, running a System Restore is a viable option. Likewise, if the problem started after you downloaded and installed a particular software, then too System Restore is a good option.
Here are the steps to follow restore the system using System Restore Point:
Search System Restore using Cortana
Click Create a restore point
Click System Restore
In System Restore choose option Choose a different restore point
Click Next
Here you will see all available restore points. Select a suitable restore point and click the Next button
Windows will now reboot and roll back to the selected previous setting.
Solution 9 – Run System File Checker
Windows come with a built-in utility called System File Checker (SFC) which scans system files for errors and automatically repairs them. With its help you can fix errors occurring because of file corruption.
Here are the steps to follow to run system file checker:
Press the Windows key
In the Start Search box, type cmd
Right click Command Prompt and then select Run as administrator
Type the following command and press Enter
Wait for System File Checker to scan the system files and fix any reported error
Solution 10 – Network Reset
Some Firewall configurations or network restrictions can prevent Windows from accessing the net. Likewise, if some network configurations have become outdated, you may not be able to access the web. In both the situations, a simple network reset can do the trick.
Here are the steps to follow:
Press the Windows key and I key simultaneously
In the Windows Settings window, click Network and Internet
Click Status
Now click Network Reset and then click Reset Now
See if now you are able to connect to the Internet.
Solution 11 – Reset Network Adapter
In some cases, the network adapter acquires certain wrong configurations, which in turn prevents the system from connecting to the internet. Resetting the network adapter should do the job in such cases.
Here are the steps you must follow to reset network adapter:
Press the Windows key and R key simultaneously
In the run dialog box, type npa.cpl and then click the OK button
Right-click Network Adapter and choose Disable
Wait for a minute and then right-click network adapter and click Enable
Now check if the problem is solved. If not, try the last solution in the list, enabling Custom 3D Support.
Solution 8 – Enable Custom 3D Support
This solution is mainly for those users who use MSI Afterburner along with Riva Statistics Tuning Server for monitoring how their hardware is performing. Sometimes, you need to enable this setting in Riva Statistics so that everything works seamlessly with the overlay.
Click System Tray
Double click Riva Tuner Statistics Server
In the Settings window, turn on Custom 3D Support
Now check if the problem is resolved.