This exe file is associated with Windows error reporting. Whenever you encounter an error associated to the Windows operating system or Windows features and apps, werfault.exe makes it possible to report the errors to Microsoft. After which, you get information related to how to fix the problem at hand.
You can try these two solutions to fix werfault.exe error in Windows 7 and Windows 10.
You are likely to receive an error message similar to the one displayed below. Of course, the content of the message might vary.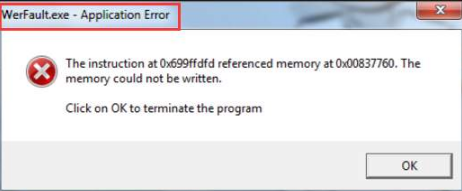 More often than not, this error shows up its face when you try to open programs. In case, you are getting the werfault.exe error with only a particular program, you should first get in touch with the vendor. This is because it is very much possible that the issue is related to some bug in the program, which the vendor might be aware of and, more importantly, able to fix.
In case this error is appearing with random programs, not any specific one, try these solutions.
First Solution – Disable Windows Error Reporting
Here are the steps to follow:
Press the Windows logo and R keys simultaneously
In the Run dialog box, type services.msc and then press OK
Browse through the list until you find Windows Error Reporting Service. Now double-click it and then in the Properties dialog box set the Startup type to Disabled. Finally, Click Apply and then OK to save the changes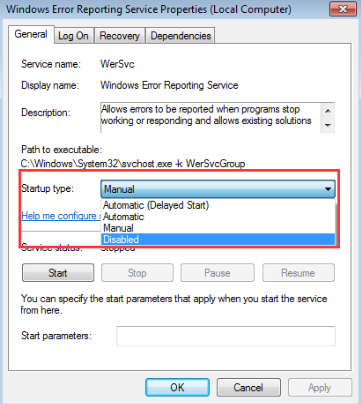 Second Solution – Disable Antivirus Program
You can get this error because of some issue related to your antivirus program. Therefore, disable the antivirus program temporarily and check if the issue gets resolved.
Here we have given the steps to disable Avast antivirus. It is likely that the exact steps for you (if you use any other antivirus) will be different.
Right click the Avast antivirus icon in the system tray
Select Avast shields control and then specify for how much time you want to disable the software
Now confirm your action
If the problem gets fixed after you disable the antivirus, contact your vendor for a solution. Else, use any other protective software.
Third Solution – Update Device Drivers
Many errors occur because of outdated device drivers. This error, too, can occur if there's some problem with your device drivers.
The easiest solution is to update all outdated device drivers. Of course, if you want, you can do this manually, but the whole process will take time and you'll need some amount of tech knowledge.
A better deal, and a faster way to update drivers, is to use a reputable driver software. We recommend you use DriverDownloader.
It hardly takes a minute to download, install, and register it. Yes, you will need to register it to get automatic driver updates, though you can install and run it for free.
Since the software comes with a 30-day money back guarantee, signing up for it shouldn't be an issue. Registered users also enjoy round the clock customer support.
Click the button below to download DriverDownloader .