Are you getting "this site can't provide a secure connection" error in Chrome when you try to open a web page?
If yes, this post is just for you. We'll look at different ways to solve this issue.
Along with this error message, you may get the ERR_SSL_Protocol_Error as well. But that's okay. Whether you are getting just the titled error message or another error message along with it, this issue is fairly easy to solve—and we'll show you how.
However, first let's understand what this error message actually means.
What Does "This Site Can't Provide A Secure Connection" Error Mean?
SSL error typically means there's some problem with the server on which the website you are trying to access is hosted. As a result of which, the communication between your computer and the website in question is not getting established.
There's not much you can do about the website server. That is something that is not in your hands. However, there are simple things you can do at your end which might allow you to access the website.
Solution 1 – Try accessing the website sometime later
In case you are getting the error for the very first time with a particular website, the first thing you should do is close your browser and restart it. If the error reoccurs, try accessing the website with some other browser.
In case you get the error with Chrome but not other browsers, we recommend you to uninstall Google Chrome and reinstall it. That may help fix the issue.
However, if the error is occurring with other browsers as well, there's likely to be a problem at the website server end. Maybe the problem is a temporary one, so try to access the website after some time.
Solution 2 – Use https:// in place of http://
Adjust the URL of the website you are trying to visit to include https:// in the beginning. Look at the images below.
However, this hack may not work with all websites, as some don't allow you to change http to https.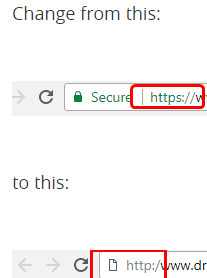 Solution 3 – Get in touch with the website administrator
In case the problem persists even after you've tried the above solutions, there's only one thing left for you to do. Contact the site administrator and inform them of the problem and ask for a resolution.