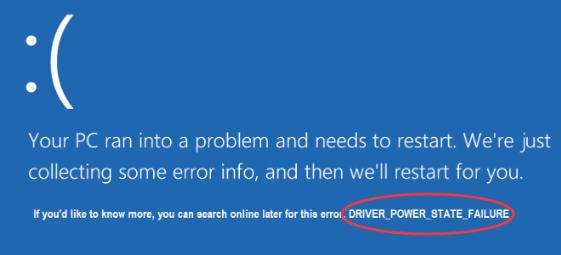 The Driver Power State Failure usually occurs because of bad drivers or incompatible hardware. In certain cases, the issue could crop up due to faulty power settings.
Thankfully, it doesn't take much to resolve the error. In this post we've included six solutions. Of course, there's no need for you to try them all; start with the first one and work your way down till you are able to fix the problem.
Solution 1 – Remove external hardware
Sometimes external hardware devices such as printer, USB driver, scanner, etc. can trigger errors if they are not working in the proper manner. To rule out this possibility, you should disconnect the external hardware devices and then reboot Windows.
In case Windows runs without an issue after the removal of hardware devices, it means one of these devices is causing the issue. To identify the culprit, reinstall one external device at a time and check if the error reoccurs.
In case the error appears even after the removal of peripherals, move on to the next step.
Solution 2 – Uninstall the faulty driver
Go to Device Manager and check if there's a yellow exclamation mark against a device. That would mean the device driver is corrupted or missing. To fix the issue, you will have to uninstall the problematic driver.
Here are the steps to follow:
If you are unable to boot windows normally, boot it in safe mode
Press the Windows logo key and R and then press the OK button
In the run dialog box, type devmgmt.msc
Expand the category to locate the device having a yellow exclamation mark (In case you don't see any exclamation mark, skip this solution and try solution 4 instead)
Right-click device and choose Uninstall device
Reboot Windows
Now check the problem is solved.
Solution 3 – Update Your Device Drivers
Many computer errors occur due to outdated drivers. Therefore, we recommend you to make sure your drivers are up-to-date. You can update device drivers manually, but keep in mind the manual process is not only time consuming but also tedious and a bit complicated.
If you don't have the time or inclination to spend a lot of time manually updating device drivers, consider using a device driver software tool. We recommend using DriverDownloader. It's quick, reliable, and easy to use.
While you can download, install and even run DriverDownloader for free, to get automatic driver updates, you will need to register it. There's a 30-day money-back guarantee on the software, so you can try it without any worry.
Here's the link to download DriverDownloader
Solution 4 – Turn off Power Saving
Power setting issues may also cause this error. Therefore, change the power setting and check if that fixes the issue.
Here are the steps to follow:
If you are unable to boot windows normally, boot it in safe mode
Press Windows key and R key simultaneously to launch the run dialog box
Type control panel and press Enter
Set View by to small icons and then choose Power Options
Make sure Balanced (recommended) is chosen and then click Change plan settings
Select Change advanced power settings
First expand Wireless Adapter Settings and then expand Power Saving Mode. Now select Maximum Performance from the drop-down menu
Now first expand PCI Express and then expand Link State Power Management. Now select Maximum Performance from the drop-down menu
Click the Apply button
Click the OK button
Restart Windows
Solution 5 – Uninstall Your Antivirus Software
Sometimes, third-party software like an antivirus tool may cause blue screen of death errors. Therefore, temporarily uninstall the third-party antivirus program and check if that fixes the error. If it does, you should consider using another third-party antivirus program or the built-in protection tool called Windows Defender. Alternately, you can contact the antivirus tool's manufacturer ask them for a solution (if they have one).
Solution 6 – Refresh Windows 10 PC
In case the above solutions don't work, refresh Windows 10. Here are the steps to follow:
Point your mouse to the upper-right corner of the screen, move the mouse pointer down, and then first click Settings and then Change PC Settings
Click Update & Recovery
Click Recovery
Click Get Started under Refresh your PC without affecting your files
Follow onscreen instructions
In most cases, once you start refreshing your PC, the system will finish on its own. But in case some files are missing, Windows may ask you to insert recovery media.
Once the process is complete, check if the problem is solved.